Trump ObamaCare Reversal Overruled AG and HHS Secretary
The decision to hand Democrats a victory and step on the good news from the Mueller report apparently came from the very top.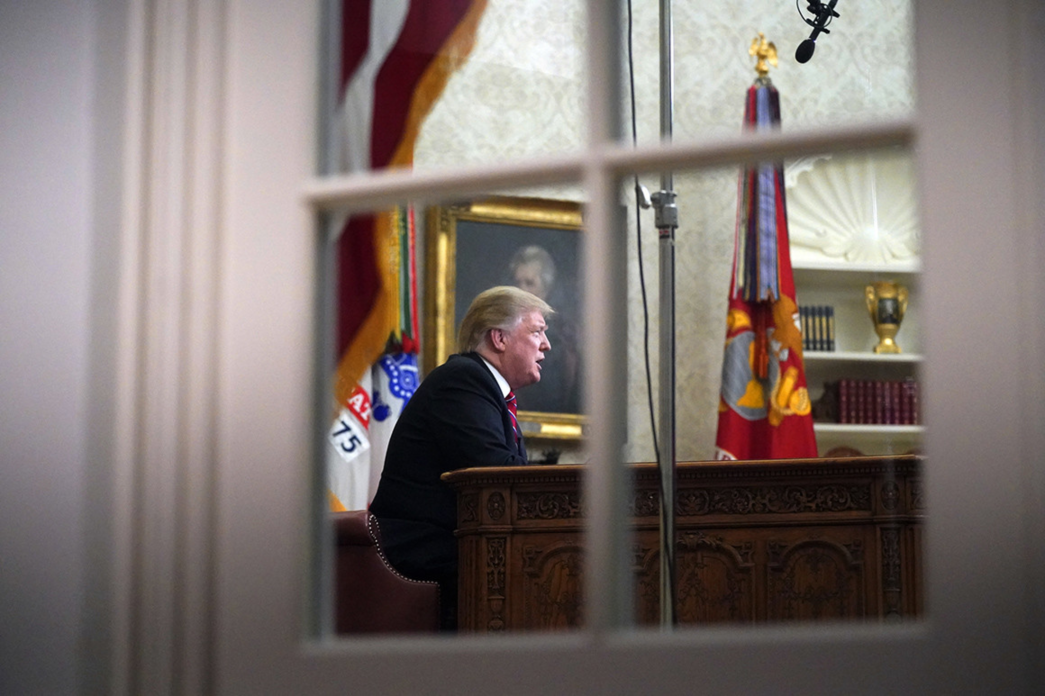 Yesterday, the Trump administration surprised us by reversing course on defending ObamaCare in court. Now we've learned that President Trump overruled his Attorney General and HHS Secretary on the matter.
POLITICO ("White House Obamacare reversal made over Cabinet objections"):
The Trump administration's surprising move to invalidate Obamacare on Monday came despite the opposition of two key cabinet secretaries: Health and Human Services Secretary Alex Azar and Attorney General Bill Barr.

Driving the dramatic action were the administration's domestic policy chief, Joe Grogan, and the acting director of the Office of Management and Budget, Russ Vought, according to three sources with direct knowledge of the decision. Both are close allies of White House acting chief of staff Mick Mulvaney, who helped to engineer the move.

But Monday's terse, two-sentence letter from the Department of Justice to a federal appeals court, which reversed the administration's previous partial opposition to a lawsuit challenging the 2010 health care law, took many Republicans aback — in part because they see it as bringing high political risk for a party that has failed to unite behind an Obamacare alternative and which lost House seats in the 2018 midterms when Democrats made health care a focus of their attacks.

The new challenge to Obamacare follows a heated internal administration debate that began late last year and continued through yesterday's announcement. Azar argued against backing a lawsuit seeking the full repeal of the health care law at a White House meeting in late December, citing the lack of a Republican alternative, according to two sources briefed on internal discussions, while Mulvaney said that taking a bold stance would force Congress into repealing and replacing the law.

[…]

"It's weird. It just doesn't make a lot of sense legally and it doesn't make a lot of sense in terms of the way DOJ normally approaches these things. DOJ normally tries to make litigation go away and tries to defend federal statutes," said Jonathan Adler, a professor at Case Western Reserve University School of Law who has been a vocal opponent of the Affordable Care Act. "The substantive arguments in favor of that position aren't very strong and you can't find very many people who think the arguments in favor of that position are strong."
Sam Stein, Sam Brodey, and Asawin Suebsaeng focus on the politics for The Daily Beast ("WTF Is Wrong With Them': Republicans Horrified as Trump Goes After Obamacare Again"):
Over the past 24 hours, Republican officials have watched in horror as the Trump administration once again fully embraced the repeal of Obamacare, just over a year after the issue proved toxic for the party at the ballot box.

The embrace came in two steps: with the Department of Justice siding with a lower court ruling that declared the health care law invalid in toto, and with the president tweeting that the Republican Party would become the party of health-care reform. And it quickly complicated what had been widely viewed as one of the best weeks of Trump's presidency. Ebullient over a four-page summary of Special Counsel Robert Mueller's investigation into Russia's meddling—a summary that said the president was not guilty of collusion—Trump suddenly found himself back in a debate that has vexed his administration.

GOP officials couldn't help but marvel at Trump's inability to enjoy a rare grace period. "They are completely tone deaf," texted one of the party's top strategists. "How bout a few more victory laps on Mueller while you can get away with it? WTF is wrong with them?"

But seasoned Trump hands were hardly surprised at the rake Trump had placed his foot on. "And there's something unusual about him stepping on a good message?" one former administration official said, laughing when asked about the timing of the announcement.

Some of the timing of Trump's foray back into the health-care wars was dictated by his own Justice Department. On Monday evening, DoJ announced its support for U.S. District Court Judge Reed O'Connor's ruling that because Obamacare's individual mandate had been zeroed out, the entirety of the law was now constitutionally illegitimate. O'Connor's judgement had been widely panned in legal circles and even the administration had, to that point, stopped short of saying all of Obamacare should be undone because of the mandate's demise.

As such, the department's new position set off alarm bells among Republicans who had spent much of the 2018 election cycle trying to alleviate voter concerns that their attempts at health care overhaul would—contrary to the likely outcomes—leave those with preexisting conditions vulnerable to the whims of private insurers. Fergus Cullen, the former chairman of the New Hampshire Republican State Committee and a critic of the party's approach to Obamacare repeal, compared the rejoining of the debate to the famous battle-of-wits scene in The Princess Bride.
Paul Waldman does the same for WaPo ("The Trump administration just handed Democrats their best 2020 issue"):
Why would the administration do something that is both so substantively horrifying and so politically bonkers? I have a theory, one rooted in President Trump's unusual approach to both ideology and politics.

[…]

When he ran for president, Trump made lots of noises that suggested he was something of a moderate, at least on a few issues. He'd claim that he'd protect Medicare and Social Security, and even promised that he'd provide "insurance for everybody." But no one really took those statements seriously, because it was obvious that outside of trade and immigration, Trump has no particular beliefs about any issues, much less a coherent ideology that guides him.

But instead of producing moderation, Trump's ideological blurriness led to a more conservative set of administration policies. His own beliefs provide no borders within which his aides are required to work. And since he is so corrupt and personally despicable, many of the more sensible Republican policy wonks who would have staffed a different Republican administration chose to stay away, leaving the administration to be filled either by people who shared Trump's penchant for self-dealing or by extremist ideologues who correctly surmised that a president who didn't care about policy would give them free rein to indulge their wildest fantasies.

Now add in the fact that unlike other Republican presidents, Trump sees no political advantage in expanding his support. He firmly believes that his political survival depends only on keeping his most ardent supporters satisfied with what he's doing while also keeping them agitated and angry at his opponents. So there is never a moment when Trump will say, "Hold on, that's going too far — moderate and independent voters will be angry if we do that."

When you combine these two factors — Trump's indifference to policy, and his desire to play to his base and only his base — the result is an administration that is in many ways more conservative than any in modern history.

For them, the thought of taking away health coverage from tens of millions of Americans and removing vital protections from tens of millions more isn't an unfortunate consequence of their effort to destroy the Affordable Care Act; it's the whole point. That's what victory looks like to them.
I suppose it's as good an explanation as any. But it still starts with the unproven assumption that Trump has a strategy rather than simply acting on impulse.