Trump Throws A Temper Tantrum As Shutdown Enters Day 20
President Trump stormed out of a meeting with Congressional leaders as the shutdown drags on with no end in sight.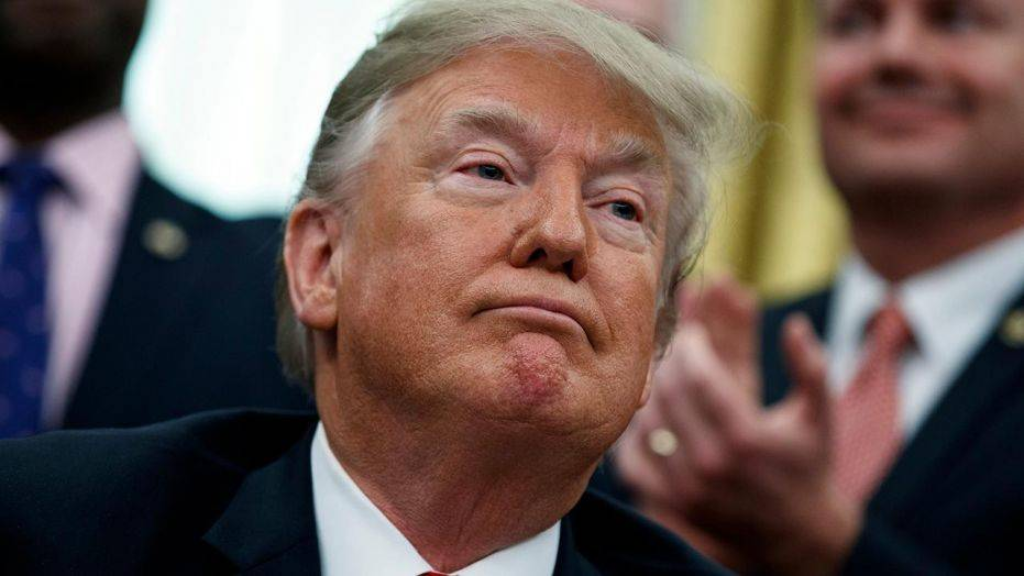 President Trump reportedly stormed out of a meeting with Congressional leaders intended to seek an end to the ongoing government shutdown, setting the stage for Federal workers to miss their paychecks tomorrow and for the shutdown to become the longest in American history on Saturday:
WASHINGTON — President Trump stormed out of a White House meeting with congressional leaders on Wednesday after Speaker Nancy Pelosi said she would not fund a border wall even if he agreed to reopen the government, escalating a confrontation that has shuttered large portions of the government for 19 days and counting.

Stunned Democrats emerged from the meeting in the White House Situation Room declaring that the president had thrown a "temper tantrum" and slammed his hands on the table before leaving with an abrupt "bye-bye." Republicans disputed the hand slam and blamed Democratic intransigence for prolonging the standoff.

When the meeting was over, talks to reopen the government appeared to be in disarray. The contentious, brief and futile session underscored an impasse that is looking each day like an insurmountable gulf between the two sides. Mr. Trump will visit the border on Thursday in McAllen, Tex., leaving little hope of a resolution for a shutdown that will tie the longest in the nation's history on Friday.

"It wasn't even a high-stakes negotiation; it was a petulant president of the United States," Ms. Pelosi said as she returned to the Capitol. "A person who would say, 'I'll keep government shut down for weeks, months or years unless I get my way.'"

Mr. Trump called the exercise "a total waste of time."

"I asked what is going to happen in 30 days if I quickly open things up, are you going to approve Border Security which includes a Wall or Steel Barrier? Nancy said, NO. I said bye-bye," he posted on Twitter.

Day 19 had begun with what looked like signs of splintering support within the president's own party. Senator Lisa Murkowski, Republican of Alaska, pledged to confront Mr. Trump in a closed-door lunch at the Capitol, while more mainline conservatives like Senator Pat Roberts, Republican of Kansas, expressed misgivings about the president's strategy.

Though Senate Republicans had not yet reached a breaking point, Mr. Roberts said, "We're getting pretty close."

But those differences largely had been papered over by day's end. The House voted 240 to 188 to fund the Treasury Department, the Internal Revenue Service, the Securities and Exchange Commission and other agencies, including White House operations. The eight Republican defections exceeded last week's vote to fund the government by only a single vote.

Mr. Trump, for his part, held out the possibility that he might declare a national emergency to build his promised border wall and circumvent Congress altogether — a deeply divisive option even within his own party that could allow him to use money allocated for the military and one that would almost certainly be challenged in court.

"There was no discussion about anything other than solidarity," Mr. Trump said after his lunch with Senate Republicans and before the White House negotiating session.

As the sides feuded, 800,000 federal workers were going without pay, and government agencies continued to reduce services, part of the cascading effect of a partial shutdown now possibly headed for a fourth week.

So frayed were feelings after a frantic 24-hour period of accusations and recriminations, including dueling nationally televised addresses, that Republicans and Democrats emerged from the White House meeting unable to agree on what had happened in the room.

On this they did: Mr. Trump insisted again on $5.7 billion in border wall funding, and asked Democrats, who he pointed out have supported money for physical barriers in the past, if they would capitulate if he agreed to reopen the government. Democrats told him again that they support increased funding for border security, but refused to commit additional money for a physical barrier that they believe is a waste of money. They laid out what they said was unnecessary damage being done to federal workers.

"You are using people as leverage; why won't you open the government and stop hurting people?" Senator Chuck Schumer of New York, the Democratic leader, asked Mr. Trump at one point during the meeting, according to Democratic congressional officials and a White House official familiar with the exchange.

"Then you won't give me what I want," Mr. Trump replied, the congressional officials said. The White House official said that Mr. Trump added, "I am trying to do the right thing for the country. This isn't about politics."

But there are signs of strain. After his lunch with Senate Republicans, Mr. Trump declared that the party was "totally unified," even if he faced some questions about "strategy."
More from Politico:
President Donald Trump stormed out of a bipartisan meeting with congressional leaders and rallied the Senate GOP to his position on the border wall on Wednesday, raising the prospects for the longest government shutdown of all time and increased speculation that Trump could soon declare a national emergency.

After speaking with Senate Republicans, the president cut short his meeting with Democratic and Republican leaders after House Speaker Nancy Pelosi (D-Calif.) said she would not fund his border wall regardless of when the government reopens. The president tweeted the meeting was a "total waste of time."

"The president stomped out of the meeting when he said to me, 'Will you support a wall?' and I said no. Now they're trying to mischaracterize what he actually said," Pelosi said of GOP leaders. "It was a petulant president of the United States."

Trump made clear to Democrats that "there will be no deal without a wall," said Vice President Mike Pence. It was the third such bipartisan meeting in a week, all of which were unproductive. But this was the shortest, clocking in at about 30 minutes.

In the bipartisan meeting, Pelosi, Senate Minority Leader Chuck Schumer (D-N.Y.), Trump, Pence and Homeland Security Secretary Kirstjen Nielsen did almost all the talking, according to a person briefed on it.

The president also remained equally defiant in a lunchtime huddle with Senate Republicans on Wednesday, insisting GOP lawmakers are unified behind him even as some GOP senators push for the shutdown to end. Taken together, the two meetings suggest that the government shutdown, already on its 20th day, could drag long into January. The longest shutdown in recent history was 21 days in the 1990s.

Both Democratic and Republican sources questioned the episode Wednesday afternoon, wondering whether Trump had staged the entire meeting to try to make Democratic leaders look unreasonable and better position himself to make an emergency declaration in the coming days.

The president said he has the authority to declare a national emergency but added he prefers not to do so, according to GOP senators who attended the lunch. Trump also said he believes federal unions will put more pressure on Democrats to come to the table, though those unions have largely backed Democratic leaders' position.

"We have a very, very unified party," Trump told reporters after the meeting.
In the wake of what ended up being yesterday's very short White House meeting, there were a few pundits who suggested that the entire event may have been staged to give Trump a forum in which to bring the Congressional leadership into a place where he's in charge, the White House, and appear to be "the tough guy" who isn't going to give an inch. Others have suggested that he's following the script laid out in his 1980's book The Art of the Deal, which was actually ghostwritten by someone else, and hoping that he can somehow rope the Democrats into capitulating on something they have already said they are never going to agree to. Indeed, as Shannon Pettypiece and Margaret Talley note at Bloomberg, storming out of a meeting in this matter has been part of Trump's negotiating strategy both in business and personal affairs. In one well-known incident that occurred during his divorce from first wife Ivanka, Trump walked out of a settlement negotiation being presided over by a Judge and didn't return for more than two hours. In that case, the other side apparently became so concerned that they wouldn't be able to reach a deal at all that they caved on several outstanding issues to get a deal done. Whether this is what Trump was doing here, or whether he's just being the manchild we all know him to be, is unclear, but if he thought that the dramatics were going to suddenly cause the Democrats to change their tune, he was obviously mistaken. If anything yesterday's meeting means that both sides are going to further dig in their heels.
In any case, all of this leaves us in basically the same situation we have been in since the shutdown began. Those agencies and departments impacted by the shutdown remain shutdown, with some 800,000 Federal workers furloughed while a substantial portion of so-called "essential" employees are being required to report to work. Neither group is going to be paid before the shutdown is over notwithstanding the fact that they are supposed to have their paychecks by tomorrow. In addition, we're starting to see stories about the real-world impact that the shutdown is having both on Federal workers and the public as a whole. This includes closed museums in Washington D.C., Federal workers who are finding themselves forced to apply for unemployment compensation as the shutdown drags on, married couples in Washington, D.C. being unable to get marriage licenses since the District's budget is tied up in the shutdown, and Federal Courts facing a funding shortfall in coming days as the efforts to rely on money from fines and other sources comes to an end. The shutdown is also having an impact outside the Federal Government as Federal contractors and businesses that rely on Federal workers are starting to feel the pinch. Finally, people who rely on food stamps and early tax filers looking to get their refunds from the Internal Revenue Service are likely to be impacted as the shutdown goes on. The longer the shutdown goes on, the wider the impact will become. And the President's response to all of this? Slamming his fist on the table, saying "Bye Bye," and walking out of the room. So much for leadership.