Trump To Propose Massive And Unnecessary Increase In Military Spending
Reports indicate that President Trump will seek to increase military spending. We don't need to, and we can't really afford it.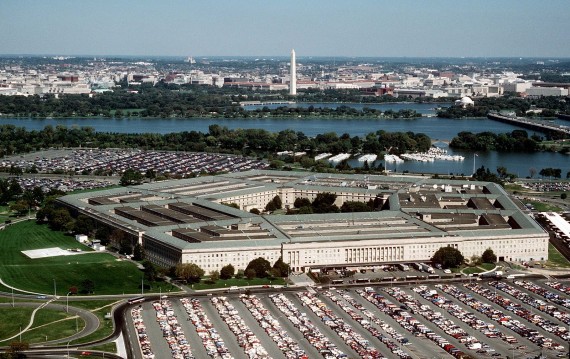 President Trump is apparently set to request a rather significant increase in defense spending:
WASHINGTON — President Trump will propose raising military spending by $54 billion — a nearly 10 percent increase — and reducing spending by the same amount across much of the rest of the government, White House officials said on Monday.

In remarks to the nation's governors during a White House meeting, the president said he would propose a "public safety and national security" budget for the coming fiscal year that prioritizes the military and other public safety requirements.

"This budget follows through on my promise to keep Americans safe," Mr. Trump said. "It will include an historic increase in defense spending to rebuild the depleted military of the United States."

He added that the budget would send a "message to the world in these dangerous times of American strength, security and resolve."

And he said that the increases in military spending were required to ensure that the United States emerges victorious when it engages in wars with adversaries around the globe.

"We have to start winning wars again — when I was young, in high school and college, people used to say we never lost a war," the president told the governors. "We need to win or don't fight it all. It's a mess like you have never seen before."

A senior budget official told reporters that most federal agencies would experience a reduction as a result of the increases in military spending. The official, who spoke on the condition of anonymity, said foreign aid would face a significant decrease.

The official did not explain why foreign aid, which is a very small fraction of overall government spending and is connected to security concerns abroad, was being targeted for steep reductions.

The budget outline is an early effort by the new administration to make good on Mr. Trump's campaign promises to drastically reduce government spending in Washington while significantly increasing resources for the military.

Mr. Trump's proposals will shield entitlement programs like Medicare and Social Security from cuts, according to White House officials.

But the increases in military spending will be offset by calls for deep cuts at the Environmental Protection Agency, the State Department and social safety-net programs, the officials said.

The president's detailed spending plan is still weeks away, and the specifics of what he proposes will face intense scrutiny in Congress, where Republicans are likely to seek changes and Democrats are certain to try to block it.

But the White House is eager to show that Mr. Trump is taking action ahead of a speech he will give Tuesday night to a joint session of Congress. The president plans to use those nationally televised remarks to urge lawmakers to embrace his budgetary vision.
Given Trump's campaign rhetoric this hardly comes as a surprise, of course. Throughout his time on the campaign trail, Trump bemoaned the allegedly woeful state of the American military and repeated the nonsensical line that we don't "win" anymore, whatever that means. In this respect, Trump was repeating rhetoric that is really quite common for Republicans, who spent much of the Obama Administration repeating the false claim that the President was neglecting the military and complaining about even the minor budget cuts, which mostly consisted of cuts in the rate of growth of spending rather than actual cuts in baseline spending. that resulted from the agreement that resolved the debt ceiling showdown of the summer of 2011. With the possible exception of Rand Paul, all of the Republicans running for President in 2016 were pressing for increases in military spending, of course, so Trump isn't exactly out of line with Republican orthodoxy on this one, meaning that he's likely to get exactly what he wants, and probably much more.
What's unclear in all of this is how exactly Trump will pay for this increase in spending on the military. The White House is claiming that the President will also propose cuts in spending that will offset much of the expected increase in military spending, but this is difficult to believe. First of all, there are no details as of yet regarding what exactly the White House would cut out of the budget to make up for what would amount to a nearly $60 billion increase in spending on the military. The only program specifically mentioned so far is foreign aid, but that amounts to an infinitessimal portion of the annual Federal Budget, and most certainly not enough to offset the increase in military spending that the President is proposing. There's also talk about unspecified cuts in discretionary spending but nothing specific is being mentioned and until it is it's impossible to tell if it will even come close to offsetting the increases to defense spending. Additionally, it's unclear if the White House is talking about actual cuts in spending or merely cuts in the expected rate of growth of spending, which doesn't really save any money at all. Perhaps most importantly, the White House's discussion so far leaves several parts of Trump's agenda out of the equation, such as the apparent plan to introduce an infrastructure bill that could amount to more than a trillion dollars, his plan to build a border wall, which alone would cost hundreds of billions of dollars according to the most reliable estimates, and his plans for cuts in taxes on individuals and corporations. Finally, of course, there's the fact that the White House can't guarantee that Congress will agree to the spending cut requests that the White House might make even if they are real. As a result, what we're likely to get is a budget with massive spending increases, tax cuts, and an end to the trend of decreasing deficits that started with the budget deal in 2011. All around, a bad deal for the American people.
What's not clear is what purpose of all this new spending actually is under present circumstances. As Daniel Larison points out, and as I've noted on numerous occasions in the past, the United States presently spends far more on its military than any other nation on the planet. According to the most recently available figures, American military spending ranks first in the world, with the next largest budget out of China being some $400 billion fewer than what the U.S. is spending on an annual basis. The comparison to Russia is even wider, with the U.S. spending outranking Russian spending by more than $500 billion per year. Indeed, according to the available figures, the United States spends more on its military than the next seven nations in the top ten list combined, and that includes both Russia and China. If you add in spending by our NATO and other allies such as Israel, Japan, South Korea, and other nations, to our own then the spending differences become even more stark. What, exactly, do President Trump and the Republicans think massively increasing this difference will accomplish? What need that is presently being unmet by the $600 billion per year we're spending on the Pentagon would an additional ten percent accomplish? Unless there is a coherent answer to that question, then there doesn't seem to me to be any need for such a massive increase in spending. Moreover, as Larison points out, we could actually cut military spending with no real threat to American national interests if we had a more restrained, less confrontational foreign policy. It's clear, however, that Trump has no intention of adopting a foreign policy of this type. Indeed, he seems intent on becoming more confrontational, especially with regard to China as well as the war against ISIS. Additionally, Trump's rhetoric on the campaign trail indicates we're likely to see a more confrontational approach to the world in general. In that case, it's no wonder that Trump wants such a massive increase in defense spending.