Trumpian Leadership
The formula: promote an image until the jig is up.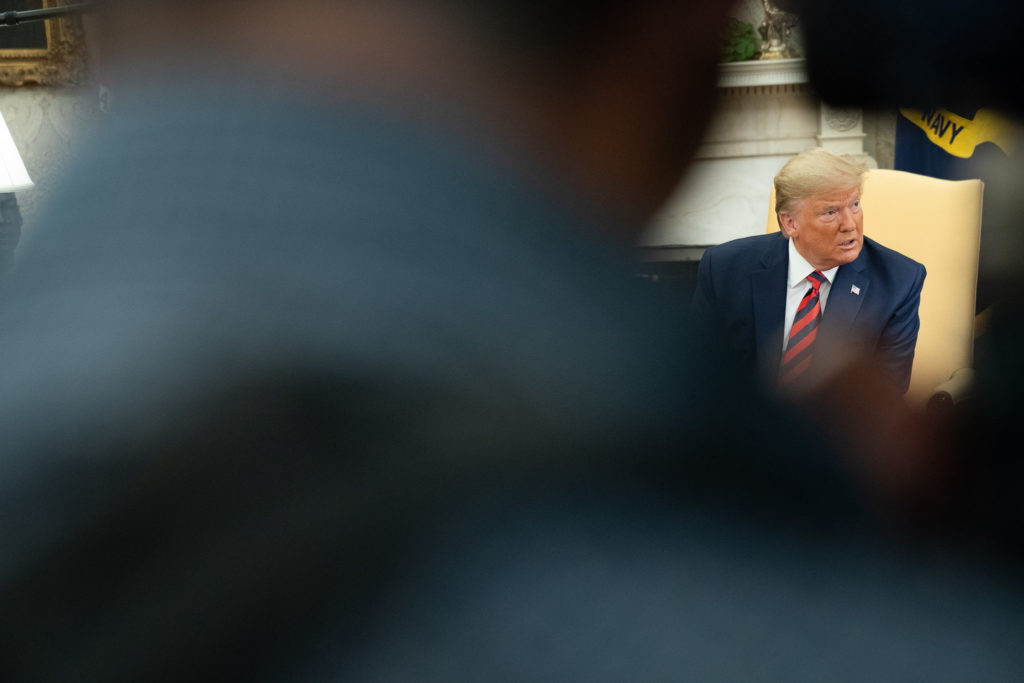 As James Joyner noted in a post this morning, revelations in Bob Woodward's new book, and specifically in recorded interviews with Trump show that the president purposefully downplayed the threat of the coronavirus pandemic from the very beginning. This provides yet more proof of his unfitness for his current position and what happens when a person whose main skill set is self-promotion is put in a position of power.
Consider these quotes from yesterday's press event.
Q Mr. President, can you address the concerns from the Woodward book in regards to whether — did you mislead the public by saying that you downplayed the coronavirus and that you repeatedly did that in order to reduce panic? Did you mislead the public?

THE PRESIDENT: Well, I think if you said "in order to reduce panic," perhaps that's so. The fact is, I'm a cheerleader for this country, I love our country, and I don't want people to be frightened. I don't want to create panic, as you say. And certainly, I'm not going to drive this country or the world into a frenzy.

We want to show confidence. We want to show strength. We want to show strength as a nation. And that's what I've done. And we've done very well. We've done well from any standard. You look at our numbers, compared to other countries, other parts of the world. It's been an amazing job that we've done.
Later he said:
We have to show leadership. And leadership is all about confidence. And confidence is confidence in our country.
There is more here than I fully have to fully unpack, but let me focus on two aspects.
First, "I don't want to create a panic," is a remarkable and untrue thing for this president, who started his campaign for his office by talking about murders and rapists coming over the border. This is the individual who has constantly tried to scare us with visions of immigrant caravans and the ever-present specter of MS-13. This is the president who is currently telling us that his political opponent wants to take the suburbs away and who is asserting that cities will burn if Biden is elected president.
This is the president who described an "American carnage" in his inauguration that he had told us he alone could fix.
So, the notion that he likes to be calm and not cause panic is, well, absurd and the record demonstrates this quite plainly.
Second, these statements, provide further and deep evidence of what we already knew: Trump is a conman and charlatan, not a leader. He knows how to license his name for buildings and products and he was quite good at pretending to be a big boss and a mogul on television, but when it comes to actually having to lead in a crisis, he lied and tried to do what he has always done: promote an image until the jig is up.
To what should be no surprise to anyone (but plenty of folks will remain in denial), this is Trump Steaks, Trump Wine, Trump, Vodka, and Trump University on a grand scale. This is going bankrupt running a casino.
And I hate to tell him (well, I don't, actually), but leadership is not just "show[ing] confidence [and] show[ing] strength." Leadership requires doing. It requires hard work and hard choices. It includes making hard choices and trusting the right people. It isn't just cheerleading and hoping for the best.
And when he was out in the public telling us how it was all going to go away, or when he asserting we had the whole thing under control (as he did repeatedly) he was trying to keep himself from panicking, because clearly all he knows how to do is spin yarns about himself and his prowess.
It is his brand, and it is laid bare (yet again) at this moment.
And, as has been true his whole life, others bare the brunt of his failures and inadequacies.