Trump's Advisers Are Feeding Him Genuinely Fake News, And That's A Problem
The President is being fed "news" from questionable news sources, and that's a problem.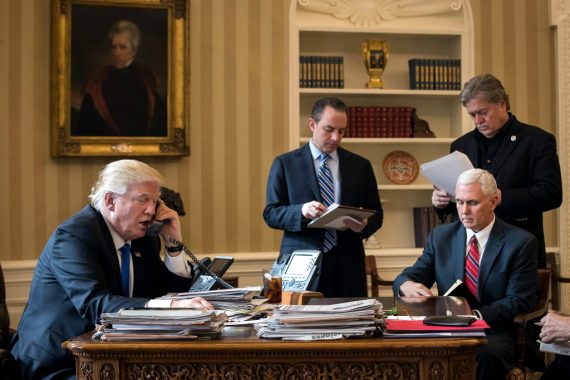 President Trump's staff appears to be slipping him news items that aren't entirely accurate, and it's likely having an impact on his state of mind and the decisions he makes:
White House chief of staff Reince Priebus issued a stern warning at a recent senior staff meeting: Quit trying to secretly slip stuff to President Trump.

Just days earlier, K.T. McFarland, the deputy national security adviser, had given Trump a printout of two Time magazine covers. One, supposedly from the 1970s, warned of a coming ice age; the other, from 2008, about surviving global warming, according to four White House officials familiar with the matter.

Trump quickly got lathered up about the media's hypocrisy. But there was a problem. The 1970s cover was fake, part of an Internet hoax that's circulated for years. Staff chased down the truth and intervened before Trump tweeted or talked publicly about it.

The episode illustrates the impossible mission of managing a White House led by an impetuous president who has resisted structure and strictures his entire adult life.

While the information stream to past commanders-in-chief has been tightly monitored, Trump prefers an open Oval Office with a free flow of ideas and inputs from both official and unofficial channels. And he often does not differentiate between the two. Aides sometimes slip him stories to press their advantage on policy; other times they do so to gain an edge in the seemingly endless Game of Thrones inside the West Wing.

The consequences can be tremendous, according to a half-dozen White House officials and others with direct interactions with the president. A news story tucked into Trump's hands at the right moment can torpedo an appointment or redirect the president's entire agenda. Current and former Trump officials say Trump can react volcanically to negative press clips, especially those with damaging leaks, becoming engrossed in finding out where they originated.

That is what happened in late February when someone mischievously gave the president a printed copy of an article from GotNews.com, the website of Internet provocateur Charles C. Johnson, which accused deputy chief of staff Katie Walsh of being "the source behind a bunch of leaks" in the White House.

No matter that Johnson had been permanently banned from Twitter for harassment or that he offered no concrete evidence or that he's lobbed false accusations in the past and recanted them. Trump read the article and began asking staff about Walsh. Johnson told POLITICO that he tracks the IP addresses of visitors to his website and added: "I can tell you unequivocally that the story was shared all around the White House."

White House chief strategist Steve Bannon defended Walsh, who has since left the administration to advise a pro-Trump group, in a statement to POLITICO: "Katie was a key member of the team and is a trusted friend and ally of the White House. No one in the White House took that article seriously." Walsh declined to comment.

But the smear of one of Priebus' closest allies – Walsh was his chief of staff at the Republican National Committee – vaulted from an obscure web posting to the topic of heated conversation in the West Wing, setting off mini internal investigations into who had backstabbed Walsh.

When Trump bellows about this or that story, his aides often scramble in a game of cat-and-mouse to figure out who alerted the president to the piece in the first place given that he rarely browses the Internet on his own. Some in the White House describe getting angry calls from the president and then hustling over to Trump's personal secretary, Madeleine Westerhout, to ferret who exactly had just paid a visit to the Oval Office and possibly set Trump off.

Priebus and White House staff secretary Rob Porter have tried to implement a system to manage and document the paperwork Trump receives. While some see the new structure as a power play by a weakened chief of staff – "He'd like to get a phone log too," cracked one senior White House adviser—others are more concerned about the unfettered ability of Trump's family-member advisers, Jared Kushne and Ivanka Trump, to ply the president with whatever paperwork they want in the residence sight unseen.

"They have this system in place to get things on his desk now," the same White House official said. "I'm not sure anyone follows it."

Lisa Brown, who served as White House staff secretary under President Barack Obama for two years, said it can be "dangerous" when people make end-runs around paperwork procedures, leaving the president with incomplete or one-sided information at key junctures.

"It's even more important with someone like this," she said of Trump, a president notoriously influenced by the last person he has spoken to, "but the challenge is he has to buy into it."

"You know that people are going to go around the system. But then it's up to the principal to decide how to handle it," Brown added. "You need the president to say 'thanks, I appreciate it' [when he receives stories] and to hand it off to get it into a process."

McFarland, who is expected to leave the NSC for the ambassadorship to Singapore, did not respond to requests for comment about bringing the president a fake news magazine cover. But another White House official familiar with the matter tried to defend it as an honest error that was "fake but accurate."

"While the specific cover is fake, it is true there was a period in the 70s when people were predicting an ice age," the official insisted. "The broader point I think was accurate."
The article goes on to repeat the reports that we've read before regarding how the President's news consumption habits have impacted his public statements both in Twitter, in speeches, and in later television interviews. For example, it's known that the President spends most of his evening, and even a good part of the working day, obsessively watching cable news, especially CNN and the evening opinion show lineup on Fox News Channel that now consists of Tucker Carlson, a panel show called The Five, and Sean Hannity. Ever since that report went public, several news organizations have been able to document times when a story reported on one program or another would be followed by some statement or action from the Administration, or by statements made by the President via Twitter or somewhere else. Whether these statements were accurate or not would end up being something that White House staffers, spokespersons, and surrogates would be left to deal with when confronted with a media that would raise obvious questions that would arise in wake of anything a sitting President says. Earlier this year, for example, the newly inaugurated President made mention in a speech about what he referred to as "what happened last night in Sweden," by which he meant an apparent terrorist attack that the American media declined to report. As it turned out, there was no attack in Sweden, as the Swedish government made clear in a statement shortly after the President's comments. Instead, Trump's apparently stream of consciousness mention of an incident in Sweden was based on a report he had seen on Fox News Channel earlier in the week regarding Sweden's Muslim immigrant community that has been debunked by fact checkers.
In the recent past, of course, we haven't really had a President who is obsessed with consuming news as Donald Trump. Instead, most President got their news and information mostly through a process that was closely monitored by their Chief of Staff and other close advisers and who maintained an Oval Office in which access to the President was tightly restricted unless necessary and usually only available with the consent of the Chief of Staff or other senior advisers. Trump, by contrast, seems to be running an "open door" policy not dissimilar to the one that he maintained as a businessman in which access to the inner sanctum was far more widely available than it has traditionally been in the Oval Office in recent times. In some sense, perhaps, there is some value in this in that there's an obvious danger for a President who news is mainly filtered through his or her adviser, that's why most recent Presidents have also maintained their own news consumption habits once they took office. Presidents such as Reagan, both Bush 41 and Bush 43, Clinton, and Obama, were known for reading several newspapers in the morning prior to heading down to the Oval Office for the start of the day. More recently, of course, the Internet has meant that a sitting President can do that more easily via a laptop, tablet or smartphone. Trump apparently reads newspapers in the morning as well, but he also spends what seems to be far more time watching cable news shows than his predecessors, although perhaps the fact that he's largely alone in the evenings given that his wife and youngest son are still in New York City until the end of the school year has something to do with that. In any case, that habit, combined with the fact that Trump's "open door" Oval Office access policy is apparently allowing aides to put information before him from questionable news sources that haven't been vetted by Chief of Staff Reince Priebus or anyone else creates obvious problems.
Commenting on the Politico report, Philip Bump raises important questions:
That's the question underlying McFarland's action. Why? What point was she trying to make to the president? Was she simply passing on something funny that she'd seen online? Was she actively trying to influence his decision-making process? If the latter, why, then, not rely on the experts who study the issue within the government? (We'll note here that McFarland was closely allied with former national security adviser Michael T. Flynn who, during the 2016 campaign, shared a fake news story about Hillary Clinton.)

More broadly though: What if McFarland is passing along a spurious rumor that hasn't been widely debunked online? The picture Goldmacher paints is of a quick scramble to fact-check the subject of Trump's furor in the moment, before he seized his phone and tapped the Twitter icon. If McFarland, or anyone else, is presenting Trump with unverifiable rumors in any other context — such as, say, that Trump Tower was wiretapped during the presidential campaign — what's the fail-safe?

In this scenario, McFarland was bringing Trump untrue information that he wanted to hear. What happens in the mirror-image case: when you bring Trump true information that he doesn't want to hear?
More importantly, what happens if the President is making important policy and action decisions based on what he believes to be true, but that what he believes to be true has been unduly influenced by inaccurate news sources, "news" items that are really nothing more than opinion pieces such as the speculative "Got News.com" report about leaks in the White House that resulted in the departure from the White House or news that that is just plain inaccurate? Potentially, the consequences could end up being quite serious, which is one reason why those closest to the President ought to be responding to reports like this by taking better control of how information gets to him.
Interestingly, all of this comes on the same day that other news outlets are reporting on rumors coming out of the White House of major shakeups in the White House staff, with everyone from Chief of Staff Reince Priebus and Press Secretary Sean Spicer to senior advisor Steven Bannon reportedly to be potentially on the list of people who could be let go. These rumors aren't uncommon for an Administration that's obviously in a state of crisis of course, and they're often an indication that there are advisers close to the President using leaks to the media to advance their own interests and push out the people on the other side. In this White House, that would usually mean that Bannon and Priebus are once again jockeying with each other for position as they were shortly after the Inauguration. It's also possible that these reports are being spread by people close to Jared Kushner and Trump's daughter Ivanka, who may be seeking to enhance their own influence over who has the President's ear. Whoever ends up winning that battle will have major implications for the future direction of the Trump White House, especially if it does end up being Priebus, because he's the one who's in the position traditionally charged with controlling access to the President. As these reports show, though, either Trump isn't letting his Chief of Staff do his job, or Priebus isn't doing it very well. Whether he stays or goes, and who might replace him, will tell us alot about where the Trump Administration may be headed.