Trump's Best Speech Was Still Pretty Awful
It was both the best speech Trump has ever given and the worst presidential address I can recall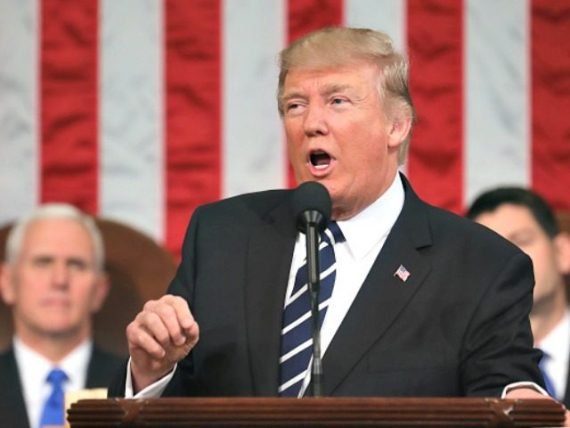 I live-Tweeted last night's non-State of the Union Address.  My closing comment summed up my reaction: "That was both the best speech Trump has ever given and the worst presidential address I can recall."
My opening comment sums up the former: "President Trump appears to have hired an actual speechwriter for the evening." It was based on this opening passage:
Tonight, as we mark the conclusion of our celebration of Black History Month, we are reminded of our Nation's path toward civil rights and the work that still remains. Recent threats targeting Jewish Community Centers and vandalism of Jewish cemeteries, as well as last week's shooting in Kansas City, remind us that while we may be a Nation divided on policies, we are a country that stands united in condemning hate and evil in all its forms.

That torch is now in our hands. And we will use it to light up the world. I am here tonight to deliver a message of unity and strength, and it is a message deeply delivered from my heart.

A new chapter of American Greatness is now beginning.

A new national pride is sweeping across our Nation.

And a new surge of optimism is placing impossible dreams firmly within our grasp.

What we are witnessing today is the Renewal of the American Spirit.

Our allies will find that America is once again ready to lead.

All the nations of the world — friend or foe — will find that America is strong, America is proud, and America is free.
While perhaps pedestrian, that's standard SOTU fare. And beats the hell out of the harsh, divisive tone of his inaugural address.
This was soon followed by the first headscratcher of the evening:
In 9 years, the United States will celebrate the 250th anniversary of our founding—250 years since the day we declared our Independence.

It will be one of the great milestones in the history of the world.
He referred to that milestone again and again and I actually missed the "In 9 years" qualifier live. Having lived through the yearlong pageantry of the Bicentennial as a 9- and 10-year-old, I was confused every time he referred to the 250th anniversary. It's more than a little odd to constantly refer to an anniversary that'll happen in someone else's administration even if Trump serves two full terms.< This was followed by a series of grandiose promises, distortions about the recent past, and taking exaggerated credit for things. Nothing particularly out of the ordinary for him, certainly, or for these speeches.
This was somewhat groan-inducing:
To protect our citizens, I have directed the Department of Justice to form a Task Force on Reducing Violent Crime. I have further ordered the Departments of Homeland Security and Justice, along with the Department of State and the Director of National Intelligence, to coordinate an aggressive strategy to dismantle the criminal cartels that have spread across our Nation.

At the same time, my Administration has answered the pleas of the American people for immigration enforcement and border security. By finally enforcing our immigration laws, we will raise wages, help the unemployed, save billions of dollars, and make our communities safer for everyone. We want all Americans to succeed — but that can't happen in an environment of lawless chaos. We must restore integrity and the rule of law to our borders.

For that reason, we will soon begin the construction of a great wall along our southern border. It will be started ahead of schedule and, when finished, it will be a very effective weapon against drugs and crime.

As we speak, we are removing gang members, drug dealers and criminals that threaten our communities and prey on our citizens. Bad ones are going out as I speak tonight and as I have promised.
Mostly, I think, this is problematic in the context of Trump. It seems vaguely authoritarian to have a task force with that name and, given what we're already doing in the way of rounding up illegal immigrants, it looks like the start of something sinister. Coming from an ordinary Republican president, however, it would probably just seem like standard tough-on-crime rhetoric.
He continued in that vein for a bit and came to this:
Our obligation is to serve, protect, and defend the citizens of the United States. We are also taking strong measures to protect our Nation from Radical Islamic Terrorism.
This represents a victory for the Seb Gorka-Steve Bannon wing of the administration over the Jim Mattis-H.R. McMaster wing. It serves to make the Base feel good and to make the actual job of countering violent extremism more difficult. As I quipped live, "Finally the president uttered the magic words 'radical Islamic terrorism.' As I understand it, this ends terrorism."
This was rather amusing:
As promised, I directed the Department of Defense to develop a plan to demolish and destroy ISIS — a network of lawless savages that have slaughtered Muslims and Christians, and men, women, and children of all faiths and beliefs. We will work with our allies, including our friends and allies in the Muslim world, to extinguish this vile enemy from our planet.
My snark last night captured my thoughts: "Finally, the DoD is working on a plan to defeat and ultimately destroy ISIL."  For those who don't get the reference, those were the words President Obama used in his speech announcing the launch of counter-ISIL/ISIS/IS/Daesh operations.  While there's room to criticize the actual operation, DoD has long since developed plans.
His ObamaCare replacement option was . . . interesting:
I am calling on all Democrats and Republicans in the Congress to work with us to save Americans from this imploding Obamacare disaster.

Here are the principles that should guide the Congress as we move to create a better healthcare system for all Americans:< First, we should ensure that Americans with pre-existing conditions have access to coverage, and that we have a stable transition for Americans currently enrolled in the healthcare exchanges.

Secondly, we should help Americans purchase their own coverage, through the use of tax credits and expanded Health Savings Accounts — but it must be the plan they want, not the plan forced on them by the Government.

Thirdly, we should give our great State Governors the resources and flexibility they need with Medicaid to make sure no one is left out.

Fourthly, we should implement legal reforms that protect patients and doctors from unnecessary costs that drive up the price of insurance — and work to bring down the artificially high price of drugs and bring them down immediately.

Finally, the time has come to give Americans the freedom to purchase health insurance across State lines — creating a truly competitive national marketplace that will bring cost way down and provide far better care.
This sounds a whole lot like ObamaCare plus some vague promises to make ObamaCare better and cheaper.
Next came the part of all these speeches I hate the most:  the trotting out of victims as stalking horses for pet programs:
Today is Rare Disease day, and joining us in the gallery is a Rare Disease Survivor, Megan Crowley.  Megan was diagnosed with Pompe Disease, a rare and serious illness, when she was 15 months old.  She was not expected to live past 5.

On receiving this news, Megan's dad, John, fought with everything he had to save the life of his precious child.  He founded a company to look for a cure, and helped develop the drug that saved Megan's life.  Today she is 20 years old — and a sophomore at Notre Dame.

Megan's story is about the unbounded power of a father's love for a daughter.

But our slow and burdensome approval process at the Food and Drug Administration keeps too many advances, like the one that saved Megan's life, from reaching those in need.

If we slash the restraints, not just at the FDA but across our Government, then we will be blessed with far more miracles like Megan.
The most cringe-worthy and egregious episode, however, was this:
For two minutes, forty-seven seconds, the widow of a fallen Navy SEAL was used to score political points. I understand why she would want to be there to have her husband honored. And it's quite possible that she felt honored and not exploited. Regardless, the clear intent here was to use emotion to drown out legitimate criticisms of the way the new administration approved a military operation that went tragically wrong. I found it simply shameful. The off-the-cuff quip (at least, it was not in the prepared remarks) about setting a record with the length of the applause added to the tackiness.
Little else in the speech was all that noteworthy.  There were repeats of bogus crime statistics and the like that Trump and company have been spouting for weeks.  There was the standard laundry list of undeliverable and unquantifiable promises.  And there were a few attempts at unification.
Most of the press commentary, including the bit of "Morning Joe" I caught while shaving and suiting up, were positive, spinning this as a potential "pivot" of Trump into a normal president.  Color me skeptical on that front. But, certainly, this was the closest I've seen Trump as a candidate or new president acting in something approaching a normal fashion.  That is, however, an exceedingly low bar.