Trump's Bizarre, Anti-Veteran Rant
The Toddler-in-Chief strikes again.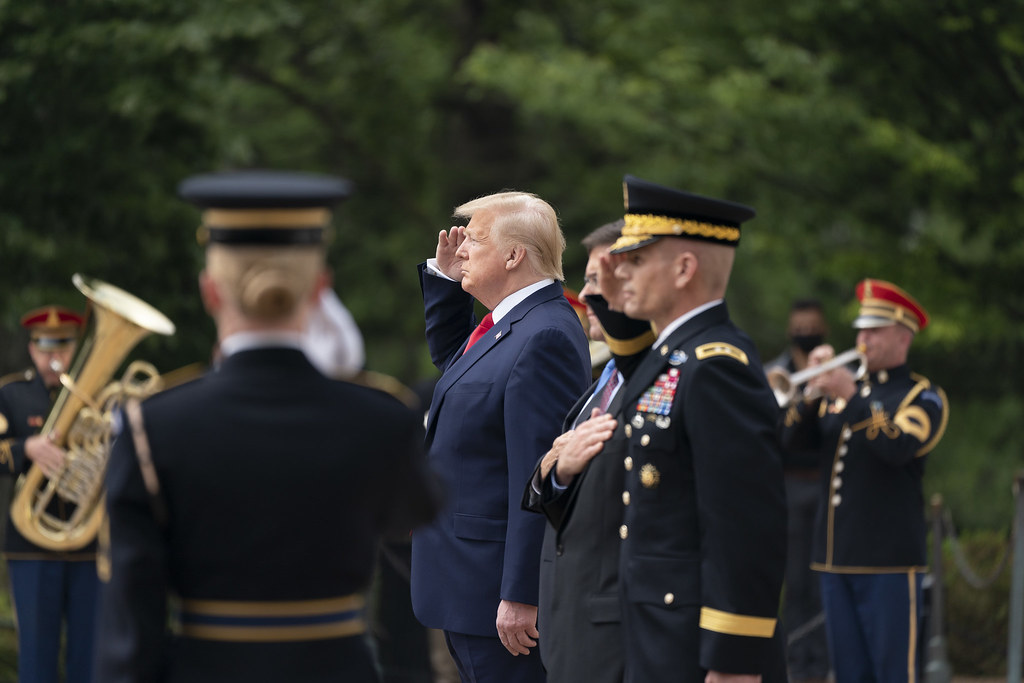 I've been busy with the start of our new academic year and bit under the weather so haven't written much the last few days. President Trump's bizarre and outrageous remarks about American's lost in wars have garnered some discussion in the open fora but they're worth a bit more examination.
The story broke in The Atlantic ("Trump: Americans Who Died in War Are 'Losers' and 'Suckers'") by editor-in-chief Jeffrey Goldberg:
When President Donald Trump canceled a visit to the Aisne-Marne American Cemetery near Paris in 2018, he blamed rain for the last-minute decision, saying that "the helicopter couldn't fly" and that the Secret Service wouldn't drive him there. Neither claim was true.

Trump rejected the idea of the visit because he feared his hair would become disheveled in the rain, and because he did not believe it important to honor American war dead, according to four people with firsthand knowledge of the discussion that day. In a conversation with senior staff members on the morning of the scheduled visit, Trump said, "Why should I go to that cemetery? It's filled with losers." In a separate conversation on the same trip, Trump referred to the more than 1,800 marines who lost their lives at Belleau Wood as "suckers" for getting killed.
While I would be outraged if President Obama had said this (which is frankly unimaginable), my initial reaction to the news was a shrug. Trump is an imbecile and quite probably mentally ill. He's said this sort of thing before. It doesn't even strike me as a well-formed thought so much as a simpleton's view of the world: good soldiers win.
Goldberg, though, starts with the presumption that we're dealing with a normal President.
Trump's understanding of concepts such as patriotism, service, and sacrifice has interested me since he expressed contempt for the war record of the late Senator John McCain, who spent more than five years as a prisoner of the North Vietnamese. "He's not a war hero," Trump said in 2015 while running for the Republican nomination for president. "I like people who weren't captured."

here was no precedent in American politics for the expression of this sort of contempt, but the performatively patriotic Trump did no damage to his candidacy by attacking McCain in this manner. Nor did he set his campaign back by attacking the parents of Humayun Khan, an Army captain who was killed in Iraq in 2004.

Trump remained fixated on McCain, one of the few prominent Republicans to continue criticizing him after he won the nomination. When McCain died, in August 2018, Trump told his senior staff, according to three sources with direct knowledge of this event, "We're not going to support that loser's funeral," and he became furious, according to witnesses, when he saw flags lowered to half-staff. "What the fuck are we doing that for? Guy was a fucking loser," the president told aides. Trump was not invited to McCain's funeral.
While I very much remember Trump's crude remarks about McCain, I had forgotten the timing: they were reported by POLITICO in July 2015—months before the first votes were cast in the Republican primary. So, it's not that partisans stuck with a choice between him and Hillary Clinton simply swallowed their frustration; literally a dozen objectively-more-qualified Republicans were still in the race (as were a handful of others). His supporters simply didn't care.
In the cases of McCain and the Khan family, it was at least understandable: they were attacking him and he was "fighting back." Repugnant, sure, but that was his way and his supporters ate it up.
Trump's understanding of heroism has not evolved since he became president. According to sources with knowledge of the president's views, he seems to genuinely not understand why Americans treat former prisoners of war with respect. Nor does he understand why pilots who are shot down in combat are honored by the military. On at least two occasions since becoming president, according to three sources with direct knowledge of his views, Trump referred to former President George H. W. Bush as a "loser" for being shot down by the Japanese as a Navy pilot in World War II. (Bush escaped capture, but eight other men shot down during the same mission were caught, tortured, and executed by Japanese soldiers.)

When lashing out at critics, Trump often reaches for illogical and corrosive insults, and members of the Bush family have publicly opposed him. But his cynicism about service and heroism extends even to the World War I dead buried outside Paris—people who were killed more than a quarter century before he was born. Trump finds the notion of military service difficult to understand, and the idea of volunteering to serve especially incomprehensible. (The president did not serve in the military; he received a medical deferment from the draft during the Vietnam War because of the alleged presence of bone spurs in his feet. In the 1990s, Trump said his efforts to avoid contracting sexually transmitted diseases constituted his "personal Vietnam.")
Again, Goldberg is inexplicably operating under the assumption he's dealing with an intelligent man with a coherent worldview. Few Americans, relatively speaking, have served in the military. Most instinctively understand why we honor those lost in our wars—even wars they personally disagree with. And Trump famously went to a military-themed prep school; he was certainly trained in the ways of honor, courage, and commitment—it just didn't take.
The anecdote which has drawn the most attention is this one:
On Memorial Day 2017, Trump visited Arlington National Cemetery, a short drive from the White House. He was accompanied on this visit by John Kelly, who was then the secretary of homeland security, and who would, a short time later, be named the White House chief of staff. The two men were set to visit Section 60, the 14-acre area of the cemetery that is the burial ground for those killed in America's most recent wars. Kelly's son Robert is buried in Section 60. A first lieutenant in the Marine Corps, Robert Kelly was killed in 2010 in Afghanistan. He was 29. Trump was meant, on this visit, to join John Kelly in paying respects at his son's grave, and to comfort the families of other fallen service members. But according to sources with knowledge of this visit, Trump, while standing by Robert Kelly's grave, turned directly to his father and said, "I don't get it. What was in it for them?" Kelly (who declined to comment for this story) initially believed, people close to him said, that Trump was making a ham-handed reference to the selflessness of America's all-volunteer force. But later he came to realize that Trump simply does not understand non-transactional life choices.

"He can't fathom the idea of doing something for someone other than himself," one of Kelly's friends, a retired four-star general, told me. "He just thinks that anyone who does anything when there's no direct personal gain to be had is a sucker. There's no money in serving the nation." Kelly's friend went on to say, "Trump can't imagine anyone else's pain. That's why he would say this to the father of a fallen marine on Memorial Day in the cemetery where he's buried."
Again, this would be shocking coming from anyone else. Bill Clinton famously dodged the draft and his administration was constantly forced to answer for inside-the-house quotes that the military brass found disparaging. But Clinton had the decency and good judgment not to say this sort of thing even if he believed it—and he was a much younger man. (Recall that Trump, elected in 2016, is two months older than Clinton, elected in 1992.)
White House sources and Trump himself have vehemently denied the story. But even Fox News has confirmed the main points. (They were unable to corroborate pieces of it, though.)
But this should have been baked into our understanding of who Trump was five years ago. It's why so many Republicans—including just about anyone who was anyone in the Republican national security establishment—abandoned Trump. He's simply unfit to sit at the Resolute desk, much less serve as commander-in-chief of our armed forces.