Trump's Crazy Immigration Plan
The President unveiled some incoherent ideas yesterday that have no chance of becoming law.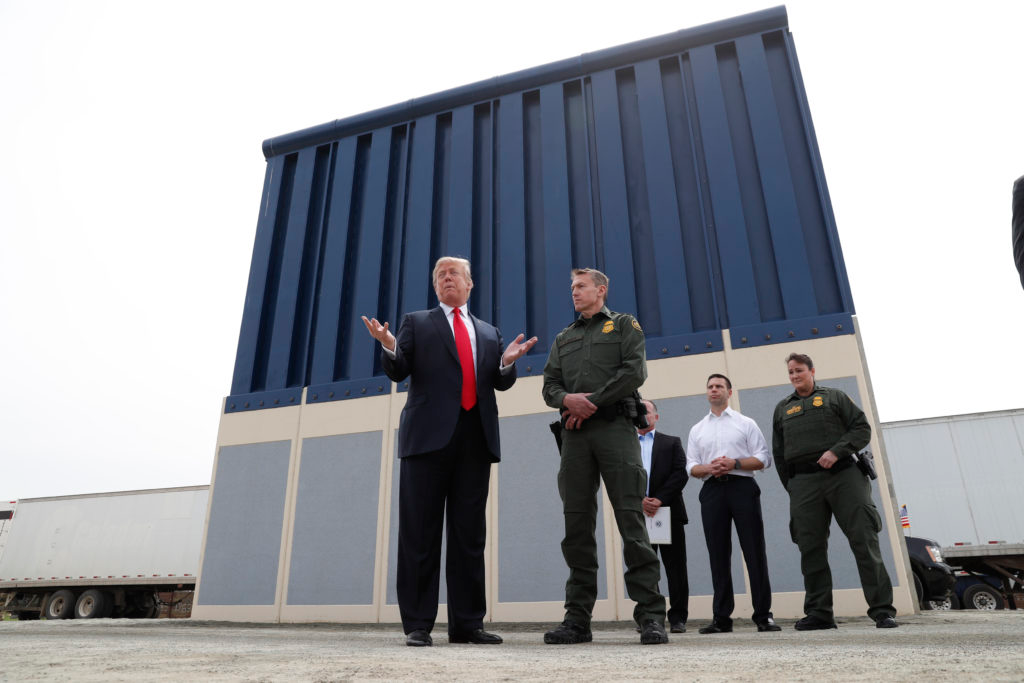 President Trump outlined a plan to reform America's immigration policy. Some of it makes sense:
The changes to the United States immigration system announced by President Trump on Thursday amount to a sweeping overhaul of the legal immigration process, intended to prioritize highly skilled workers over immigrants with family-based ties.


But the details of the plan the White House previewed, which have not yet been codified into a bill, were vague.


The proposal does not seek to change the number of green cards allocated each year (approximately 1.1 million) but rather the process by which they are granted and to whom.


The U.S. system offers four main pathways to obtaining legal permanent residency (green cards): family ties, employment, humanitarian protection and the diversity lottery.


Currently, immigrants with family living in the United States have priority and represent the largest number of green card recipients. Highly skilled workers with employer sponsorships make up just 12 percent of newly granted legal permanent residents each year. Trump's proposal seeks to radically change those proportions, by giving nearly 60 percent of annual green card grants to immigrants with special skills or offers of employment.

Under his administration's proposed merit-based immigration system, Trump explained, admission to the United States will be determined by points, with more points going to younger workers, people with valuable skills and advanced education, as well as immigrants with their own businesses who can create more jobs for Americans.


"We lose people who want to start companies," Trump lamented.
He did not mention that last year, his administration killed an Obama-era initiative to allow foreign-born entrepreneurs (many of whom were educated here) create new businesses in the United States.
"We discriminate against genius. We discriminate against brilliance," he said.


Trump's characterization of the existing system as based on "random chance" is misleading. Contrary to his claim that 66 percent of legal immigrants are "admitted solely because they have a relative in the United States and it doesn't really matter who that relative is," 44 percent of green cards go to the immediate relatives of U.S. citizens, while around 20 percent go to more distant relatives of citizens or legal permanent residents.


Trump said on Thursday that his new plan would "prioritize the immediate family of new Americans, spouses and children, loved ones you choose to build a life with … they go right to the front of the line where they should be." But spouses and children already "go to the front of the line." The difference is that Trump's plan would actually limit family-based immigration to those two categories of relatives, eliminating opportunities for citizens and legal permanent residents to sponsor other relatives, like siblings and parents.

–— YahooNews, "Trump proposes overhauling legal immigration"
Whether this is good policy is debatable. I've long supported giving foreign graduates of US universities with especial promise the option of becoming permanent residents and eventually citizens. And the value of putting distant relatives of naturalized citizens at the head of the line isn't clear when there is a relatively small number of spots to be had. Reasonable people can disagree on both fronts.
But parts of the plan seem out of left field, at best.
This idea doesn't withstand 10 seconds' scrutiny:
President Donald Trump announced a sweeping immigration proposal Thursday that would alter the way legal immigrants are allowed into the U.S. The plan includes a civics test, a measure that experts said was highly unusual and could exclude high-skilled applicants from entering the country.


"This test is at best unnecessary and could screen out some very skilled, ambitious immigrants who are ready to be productive in America, whatever the test says," said Daniel Griswold, senior research fellow at the Mercatus Center at George Mason University and co-director of its Trade and Immigration Project.

"It could be a barrier to very productive immigrants becoming a part of American society," he said.


Griswold and others said while the details of Trump's proposal remain unclear, they have never heard of such a requirement at that level in the immigration process. Such exams are usually part of citizenship tests, they said.


"It's like asking for people to apply for citizenship when they arrive," said Theresa Brown, director of immigration and cross-border policy at the Bipartisan Policy Center. "It's a big thing to ask of people from other parts of the world."

—NBC News, "Trump's plan for civics test for legal entrants could keep out highly skilled immigrants, experts say"
It makes no sense whatsoever. If the idea is to bring in highly-skilled workers and "geniuses," why require them to pass a test most native-born Americans couldn't?
And then there's sheer capriciousness:
The barrier that President Trump wants to build along the Mexico border will be a steel bollard fence, not a concrete wall as he long promised, and the president is fine with that. He has a few other things he would like to change, though.


The bollards, or "slats," as he prefers to call them, should be painted "flat black," a dark hue that would absorb heat in the summer, making the metal too hot for climbers to scale, Trump has recently told White House aides, Homeland Security officials and military engineers.

At a moment when the White House is diverting billions of dollars in military funds to fast-track construction, the president is micromanaging the project down to the smallest design details. But Trump's frequently shifting instructions and suggestions have left engineers and aides confused, according to current and former administration officials.

Trump has demanded Department of Homeland Security officials come to the White House on short notice to discuss wall construction and on several occasions woke former secretary Kirstjen Nielsen to discuss the project in the early morning, officials said.


Trump also has repeatedly summoned the head of the U.S. Army Corps of Engineers, Lt. Gen. Todd T. Semonite, to impart his views on the barrier's properties, demanding that the structure be physically imposing but also aesthetically pleasing.


"He thinks it's ugly," said one administration official familiar with Trump's opinions, who, like others, spoke on the condition of anonymity to avoid being fired.

[…]

Trump's changing tastes are potentially driving up the price. He remains adamant that the barrier should be painted black, despite warnings that it would significantly increase construction costs and maintenance budgets.


"Once you paint it, you always have to paint it," said another administration official.


Trump also has changed his mind repeatedly about the structure's height, urging engineers to make it as tall as possible, though his desires have been tempered by cost concerns and engineers' worries about structural integrity.


The president's critics are determined to stop or slow down a project they denounce as a wasteful monument to the president's vanity — more symbolic than security-minded along a border that cannot be completely walled off because of rugged geography and the Rio Grande.

—Washington Post, "Trump wants his border barrier to be painted black with spikes. He has other ideas, too."
Further, the plan doesn't bother to account for the most serious issues.
But the proposal also sidesteps some major components of the nation's immigration system that can be far more complex and controversial to resolve, such as the fate of the estimated 11 million immigrants without legal status and visas for temporary, low-skilled workers — issues that have divided the Republican Party and pit the business community against labor unions.

White House press secretary Sarah Sanders said earlier Thursday that the plan does not include what to do with "dreamers" — young, undocumented immigrants brought to the United States as children — because the issue is too divisive. And in a briefing for Republican aides on Thursday, Mercedes Schlapp, another White House communications official, argued that Trump has repeatedly put forward proposals to resolve the Deferred Action for Childhood Arrivals program and that it was Democrats who have refused to cooperate — although Trump in exchange has demanded immigration restrictions that were a nonstarter with most Democrats and some Republicans.

—WaPo, "Trump's plan to overhaul legal immigration draws cool reception"
Still, the President clearly thinks this is politically astute. It's not a widely-shared view.
President Donald Trump predicted Friday there's a "good chance" that congressional Democrats will decide to work with him to pass his recently unveiled immigration plan before next year's election, despite every indication to the contrary.


"Will the Democrats give our Country a badly needed immigration win before the election?" he wrote online. "Good chance!"

[…]

House Speaker Nancy Pelosi (D-Calif.) on Thursday called Trump's plan "dead on arrival" ahead of its release, and the plan has received paltry support even from lawmakers of Trump's own party.


Senate Majority Leader Mitch McConnell was noncommittal, saying Thursday he looked forward "to reviewing the president's proposal."

And Sen. Lindsey Graham (R-S.C.), chairman of the Judiciary Committee and one of Trump's biggest Hill supporters, said that the White House plan is "not designed to become law."


Still, Trump appears eager to use the proposal as campaign issue heading into his reelection fight next year, attempting to paint Democrats as unwilling to cooperate to solve what they have acknowledged is a humanitarian crisis at the border.


At a Rose Garden ceremony Thursday to announce his blueprint, he suggested any lack of Democratic support was "possibly political."


"If for some reason, possibly political, we can't get the Democrats to approve this merit-based, high-security plan, then we will get it approved immediately after the election, when we take back the House, keep the Senate, and of course, hold the presidency," Trump said. "But wouldn't it be nice to do it sooner than that?"


He continued to drive that point Friday, saying in a tweet that "the Democrats now realize that there is a National Emergency at the Border and that, if we work together, it can be immediately fixed. We need Democrat votes and all will be well!"

—POLITICO, "Trump taunts Democrats with his immigration plan"