Trump's Perverse Understanding of Justice
Trump has an autocrat's view of justice.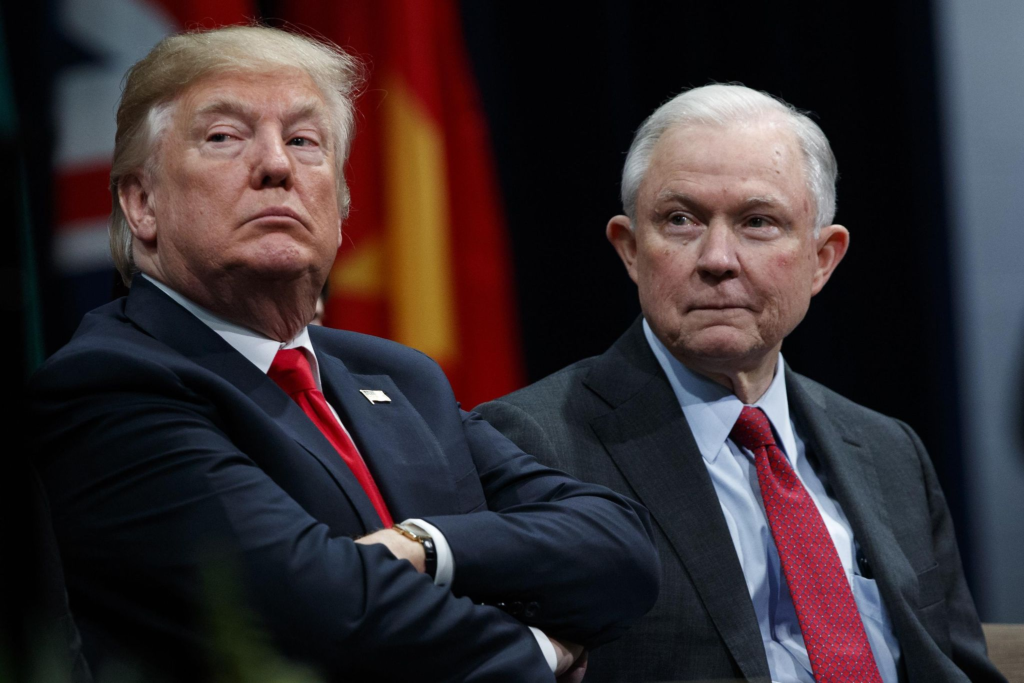 I would like to revisit something from waaaay back almost a week ago (before Woodward book excerpts, anonymous op/eds, the sentencing of a former Trump associate, SCOTUS hearings, and whatever else I am forgetting about at that moment).  That something is a pair of tweets from Trump himself:
Two long running, Obama era, investigations of two very popular Republican Congressmen were brought to a well publicized charge, just ahead of the Mid-Terms, by the Jeff Sessions Justice Department. Two easy wins now in doubt because there is not enough time. Good job Jeff……

— Donald J. Trump (@realDonaldTrump) September 3, 2018
….The Democrats, none of whom voted for Jeff Sessions, must love him now. Same thing with Lyin' James Comey. The Dems all hated him, wanted him out, thought he was disgusting – UNTIL I FIRED HIM! Immediately he became a wonderful man, a saint like figure in fact. Really sick!

— Donald J. Trump (@realDonaldTrump) September 3, 2018
Doug Mataconis discussed these tweets in the context of Trump's general lack of respect for the rule of law last week.
While I agree with Doug that Trump shows an alarming disrespect for the rule of law (and Doug's post details additional evidence to this fact), the more I think about these tweets the worse I realize them to be.  Indeed, I think that because they have been so buried in an avalanche of news that they have not gotten adequate attention.  In normal times this kind of public statement by the president would have been a major scandal.
No doubt, part of the lack of attention (apart from the sheer volume of things to keep track of here) is that these are tweets, and as some argue, tweets should be ignored.  I ask, however:  if Trump had gone to a podium and said to the public in audible words what he said in written tweets, would it have been as ignored? Perhaps–and maybe because of all that happens on a daily basis, and maybe because to some degree we simply do not take this man seriously, this would be ignored in any form, but I wonder.  Certainly if any other president had actively suggested that the Attorney general should hold off on prosecuting co-partisans because an election was on the horizon, then it would have been a scandal (and rightly so). What if we had secret recordings of Trump chastising Sessions in this way, would that not be a huge story?  But, because they are crazy tweets in a sea of crazy tweets, they just don't matter?
Consider what he is saying here:  that the Justice Department should use its power to protect two Republican members of Congress because of the political implications for the president's party.  He further obfuscates the truth as well as heightening the political implications of the statement by inferring that this is all just an Obama-era political attack.  Never mind that both indictments are pretty strong and that at least some of the alleged crimes took place during the Trump administration.  It isn't as if these charges are anything other than solid.  Duncan Hunter, for example, has admitted some level of wrongdoing by his campaign, but he has thrown his wife under the bus since she ran the finances.
In regards to Chris Collins, Doug noted the following in his post on this subject:
In the Collins case particularly, Trump's criticism is utterly absurd. In that case, it's clear that, while Collins and his involvement in a controversial pharmaceutical company may have been under investigation prior to the time that Donald Trump took office, the acts that led to the charges against him all took place after Trump took office and after Trump's own appointees were in office. In fact, the indictment in the Collins case alleges that the Congressman was exchanging text messages with his son about the failure of the key drug being developed by this company while standing on the South Lawn of the White House during last year's Congressional Barbeque at the White House. There is even video available in which Collins can be seen furiously tapping away on his phone while standing in a crowd of other Members of Congress and their families. As it turned out, those messages were to his son and were illegally informing him of the fact that the drug had failed its latest Food and Drug Administration trial, a fact that would lead the FDA to refuse to certify the drug for use and would obviously cause the value of the company's stock to crash. In response to the news received from his father, the younger Collins immediately sold the vast majority of his shares. Thus, it was because of illegal acts committed while Trump was President and Trump's appointees were in charge of the Justice Department that Collins was indicted, to begin with.
There is no evidence that these indictments are anything other than what they appear to be: very serious charges of corruption that are very likely to lead to convictions. There is no hint of political motivation of which I am aware.
But to Trump what matters is that theses are two early supporters of his (indeed, if memory serves, the first two members of Congress to do so) as well as co-partisans.
To steal something that Benjamin Wittes raised on this week's Rational Security podcast:  in Plato's Republic a major part of the dialog is focused on the subject of "what is justice?"  One of the interlocutors, Polemarchus, suggested that "justice is the art which gives good to friends and evil to enemies" (spoiler: that is the wrong answer). It is not insignificant to the current discussion that Socrates notes "I believe that Periander or Perdiccas or Xerxes or Ismenias the Theban, or some other rich and mighty man, who had a great opinion of his own power, was the first to say that justice is 'doing good to your friends and harm to your enemies.'" (emphasis mine).
And yet, Trump thinks that the purpose of the DoJ and the AG is to help his friends and punish his enemies.  Other tweets along these lines:
Attorney General Jeff Sessions has taken a VERY weak position on Hillary Clinton crimes (where are E-mails & DNC server) & Intel leakers!

— Donald J. Trump (@realDonaldTrump) July 25, 2017
Question: If all of the Russian meddling took place during the Obama Administration, right up to January 20th, why aren't they the subject of the investigation? Why didn't Obama do something about the meddling? Why aren't Dem crimes under investigation? Ask Jeff Sessions!

— Donald J. Trump (@realDonaldTrump) February 21, 2018
"The recusal of Jeff Sessions was an unforced betrayal of the President of the United States." JOE DIGENOVA, former U.S. Attorney.

— Donald J. Trump (@realDonaldTrump) May 31, 2018
Jeff Sessions said he wouldn't allow politics to influence him only because he doesn't understand what is happening underneath his command position. Highly conflicted Bob Mueller and his gang of 17 Angry Dems are having a field day as real corruption goes untouched. No Collusion!

— Donald J. Trump (@realDonaldTrump) August 25, 2018
In each case he is asserting either that the AG's job is to protect the president and his interests, or he think that the AG's job is to go after his political enemies.
Neither of these positions is what one would expect from a democrat (note the small "d").  These are the inclinations, on full public display, of a autocrat-wannbe who thinks "l'état, c'est moi" (basically:  "I am the state").
Supporters need to understand what they are supporting.
I will conclude with the following: there are two specific issues that I think this twitter behavior connects to.
First, if Trump is willing to say in public that Sessions should be going light on Republican friends, then it is more than reasonable to take very seriously the charge that Trump asked Comey to go easy on Michael Flynn in private.
Second, it Trump does think that the job of the AG is to serve him personally, it lends substantial credibility that he did ask Comey for his loyalty.
I would note that this further suggests that, as Trump himself admitted in an interview with Lester Holt, that he fired Comey over the Russia investigation.
So, Trump asked for loyalty from Comey, didn't get it, so fired Comey because a disloyal person overseeing the Russia investigation was a threat.  His upset over Sessions' recusal fits the pattern as well.
Really, Trump's own public behavior lends substantial credence to the charge of obstruction of justice.
If one has been paying attention to all of this, none of this is particularly revelatory. But I think it still bears ongoing focus.  Again:  the President of United States rebuked the Attorney General, in public, for prosecuting co-partisans because it hampers the chances that their party will win those seats.  He further, regularly, asserts that lack of personal fealty of the AG to him as president is a problem.
This is not acceptable (or, at least, shouldn't be).