Trump's Run Exasperates GOP Elite, Thrills Dems
Some of the early reactions to the inevitable announcement tell the tale.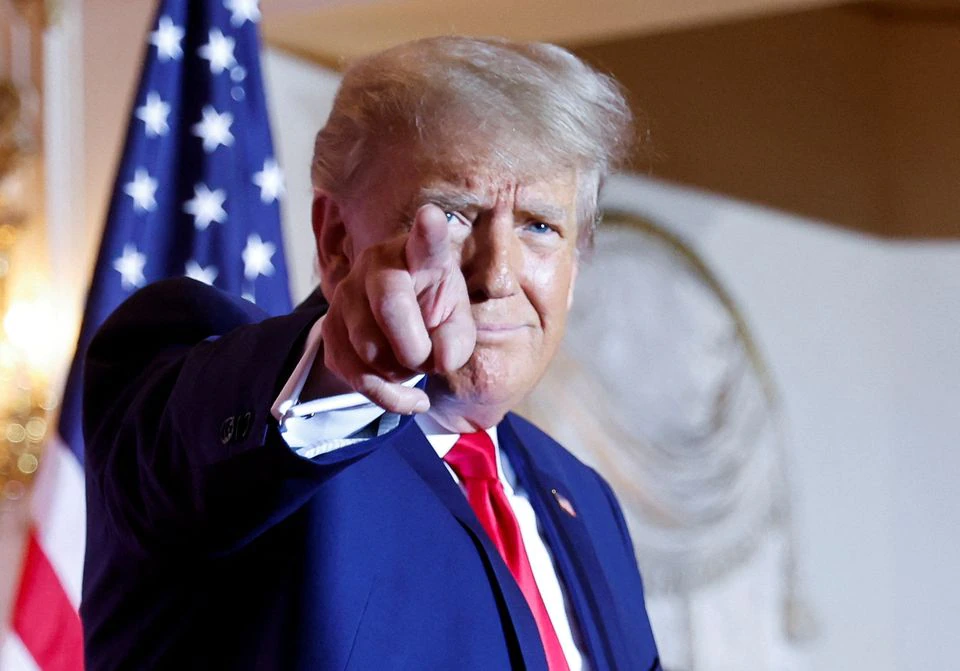 The Editors of National Review, "No."
To paraphrase Voltaire after he attended an orgy, once was an experiment, twice would be perverse.
A bruised Donald Trump announced a new presidential bid on Tuesday night, an invitation to double down on the outrages and failures of the last several years that Republicans should reject without hesitation or doubt.

To his credit, Trump killed off the Clinton dynasty in 2016, nominated and got confirmed three constitutionalist justices, reformed taxes, pushed deregulation, got control of the border, significantly degraded ISIS in Syria and Iraq, and cinched normalization deals between Israel and the Gulf states, among other things. These are achievements that even his conservative doubters and critics — including NR — can acknowledge and applaud.

That said, the Trump administration was chaotic even on its best days because of his erratic nature and lack of seriousness. He often acted as if he were a commentator on his own presidency, and issued orders on Twitter and in other off-the-cuff statements that were ignored. He repeatedly had to be talked out of disastrous ideas by his advisers and Republican elected officials. He turned on cabinet officials and aides on a dime. Trump had a limited understanding of our constitutional system, and at the end of the day, little respect for it. His inability to approximate the conduct that the public expects of a president undermined him from beginning to end.
Dennis Aftergut, The Bulwark, "The Real Reason Trump Runs"
Former President Donald Trump is expected to announce tonight that he will be a candidate for the presidency again in 2024. Two obvious questions come to mind: Why do it? and Why announce now?

There are any number of reasons Trump might have decided to try for something only Grover Cleveland has achieved before and retake the presidency after a term out of office. It's hard to believe that he has any policy aims driving him, or that he feels he in any sense owes it to the Republican party or the MAGA faithful.

But it's not at all difficult to believe that Trump may be driven by ego, pride, and the competitive instinct; he hates to lose and seems most energized when attacking his potential rivals. He also craves attention, wants to be center stage, and fears losing his place to Florida Governor Ron DeSantis, who proved a big winner in last week's election while Trump—via his many failed endorsees—proved a big-time loser. He's desperate to get the blame off his back and onto someone else's.

And then there is greed. Trump is constantly looking for ways to mix politics and profit, and it's likely that a "potential future president" can cut better deals than a mere "disgraced former president." Yesterday, on the eve of his pre-announced announcement, news broke that his company signed a lucrative contract with a major Saudi developer to brand a golf-housing-hotel development in Muscat, Oman, with the Trump name.

For all the merit of those explanations, though, they pale in comparison to another: He's scared witless at the possibility of prosecution. It seems likely that indictments are on their way from Fulton County, Georgia, District Attorney Fani Willis (over Trump's interference in the 2020 election in Georgia) and from Attorney General Merrick Garland (over Trump's purloined national security secrets taken to Mar-a-Lago).

By formally becoming a presidential candidate, Trump thinks he'll get an edge on prosecutors. He craves his narrative: "Dems are trying to take down an announced Republican candidate for President. UNPRECEDENTED!"

Translation should be unnecessary: "I'm a martyr! Defend me! Go after them." Of course, it won't matter to Fani Willis or the DOJ. He's in their sights, and they'll do what they do.
Timothy L. O'Brien, Bloomberg, "Trump Reminds Republicans He's Not Going Away"
Donald Trump told the world on Tuesday night that he plans to ask voters for a second stay in the White House in 2024 even as the embers from his last one continue to glow.

It would matter, of course, if Trump managed to seize the powers of the US presidency again. But in terms of gauging the influence he wields inside the Republican Party after a midterm election in which voters rejected most of the rodeo clowns he endorsed, his press conference was just performance art. I suspect he engineered his prime-time gala for one main reason: He wants the GOP and the public to know he isn't going away. And he'll try to devour any Republican who gets in his way.

It has always been thus with Trump. He needs the spotlight and affirmation like others need air. There was no chance he would let his last national political act be a midterm train wreck that left him roundly labeled as a loser. He's already assembling a bare-bones presidential campaign operation, and Republicans who tried to coax him into postponing his announcement until after Georgia's December runoff for a Senate seat just don't understand the man.

Trump has a firm grip on the hearts and minds of about a third of Republican voters. A majority of Republicans identify as MAGA, and an abundance of GOP voters want Trump to run for president again. Trump will swing that loyalty like a cudgel against party elders who are considering abandoning him. They may sincerely want to court moderate Republicans and independent voters to avoid repeating the midterm debacle when the 2024 election rolls around, but Trump will start to attack them for it soon enough.

It's also not clear that Republicans truly have the courage to take on Trump in a full-blooded way anyhow. After all, Senator Mitch McConnell and Representative Kevin McCarthy have been here before. They briefly decried Trump after the Jan. 6 insurrection in 2021, and then, in due time, got out of his way or went to work accommodating him once he went on the attack by propagandizing the Big Lie. McCarthy, in particular, has since become so craven about wooing MAGA-teers that he's empowered the likes of Representative Marjorie Taylor Greene.

A Trumpian vise still encumbers GOP discussions about 2024 presidential contenders, even if the midterms signaled escalating distaste for the authoritarian cage matches and vitriol that define Trumpism. While voters rejected most of the prominent buffoons whom Trump backed, more than 200 election deniers were voted into state and federal offices in the midterms, and they'll get to work early next year. Principled, far-right conservatives (such as Representative Liz Cheney) and more moderate Republicans (such as former Maryland Governor Larry Hogan) don't really surface in GOP discussions about possible Trump successors. Culture warriors modeled on Trump and enamored of grotesque political stunts (such as Florida Governor Ron DeSantis) are the ones you hear about.
Chris Cillizza, CNN, "Democrats are openly rooting for another Trump presidential bid"
As Donald Trump announced Tuesday night that he is running for president for a third time, one unlikely group was cheering him on: Democrats.

"As an American, the idea of another Trump campaign and all of his lies and divisiveness and his efforts to undermine American democracy is an absolute horror show," Vermont Sen. Bernie Sanders, an independent who caucuses with the Democrats, told The New York Times ahead of Trump's announcement. "On the other hand, I got to say that as a politician who wants to see that no Republican is elected to the White House in 2024, from that perspective, his candidacy is probably a good thing."

"I think we would all like Donald Trump to run again," Terry McAuliffe, the former Virginia governor and Democratic National Committee chairman, said in a recent interview.

And there's political logic here. The simple fact is that Trump has never won a majority of the national vote. He was president when Republicans lost the House in 2018. He lost the White House in 2020. His false stolen election claims were blamed for Republican losses in the January 2021 Georgia Senate runoffs, which allowed Democrats to take control of the chamber. And this election cycle, Trump-backed Republicans – many of whom were election deniers – lost in critical Senate and governors' races.

National exit polling from the midterms also bears out the fact that Trump may well be past his sell-by date. Just 39% of voters said they viewed Trump favorably, while 58% said they viewed him unfavorably. And 28% of voters said their House vote was cast to oppose Trump, compared to 16% who said their vote was a sign of support for the former president.

Now, of course, if you asked any Democrat (including Hillary Clinton!) which Republican they wanted to run against in 2016, they all would have answered "Donald Trump." And we know how that one turned out.

It's worth remembering, then, that just because Democrats are cheering on another Trump bid, it doesn't mean that he would be easy to defeat (if he winds up as the Republican presidential nominee.)

But there's also little question that the Trump of today is significantly less appealing than the version of the Trump who ran for president in 2016.

Back then, he portrayed himself as the ultimate outsider, someone who could bring his street smarts and business savvy to running the country. People wanted something different, and Trump definitely fit the bill.

But the picture looks very different now. Many more Republican elected officials have been willing to publicly say the party needs to move on after a disappointing midterm election. There has even been some coalescing around Florida Gov. Ron DeSantis as a credible alternative to Trump.

None of the above will affect Trump's decision-making or the kind of campaign he runs, of course. Trump lives in a fantasy world of his own creation – in which he is the hero staving off the forces of evil to save America. Or something.