Trump's Town Hall
CNN gave the former Liar in Chief a huuuge platform.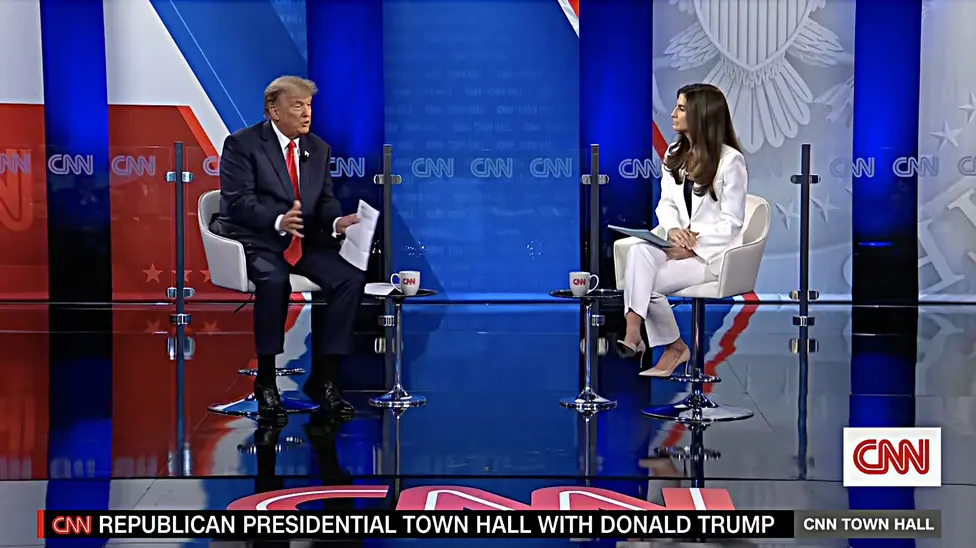 I alluded to the controversy over CNN giving former President Donald Trump a huge national platform shortly after a jury found that he sexually assaulted a woman and then defamed her. The results were pretty much what one would have predicted.
John Hendrickson, The Atlantic, "Entirely Unrepentant"
"Our country is being destroyed by stupid people," former President Donald Trump declared during a CNN town hall tonight, shortly after he endorsed defaulting on the national debt.

Trump remains without shame. Neither impeachment nor indictment nor arraignment nor a barely day-old verdict against him in a civil suit can change the fact that he's still leading the field of Republican presidential candidates—comfortably.

During tonight's hour-plus live broadcast from New Hampshire, Trump steamrolled over the moderator, Kaitlan Collins, at one point calling her a "nasty" person—an echo of his 2016 campaign against Hillary Clinton. Collins did her best to fact-check the former president, but her efforts consistently fell short. Trump's ability to disgorge words is unparalleled. She tried to cut him off, but he battled through it.

Tonight, Trump rattled off myriad conspiracy theories about voter fraud and claimed, as he had at CPAC, that he could end the war in Ukraine in a quick 24 hours. He painted the January 6 insurrectionist Ashli Babbitt as a martyr and called the Capitol Police officer who shot her a "thug." He referred to former Speaker of the House Nancy Pelosi as a "crazy woman." He repeatedly denigrated the writer E. Jean Carroll, who was just awarded $5 million in damages after a jury found that he defamed and sexually assaulted her. Trump repeated his earlier claims not to know her, calling her a "whack job."

But will it matter? Has it ever mattered before?

Trump is currently leading both the incumbent, President Joe Biden, and the top Republican alternative, Governor Ron DeSantis of Florida, in the polls. [The Trump-Biden polls are actually all over the place, but mostly with a slight Biden lead.-ed] Though the 2024 election is still a long way off, the campaign is officially under way—such was the network's justification for tonight's town hall. Many observers on social media objected to the fact that it happened at all.

On set in New Hampshire, Trump was speaking not just to the country, but to a roomful of undecided voters. Most of them seemed eager to applaud and giggle along with the former president, whom nearly everyone addressed as "Mr. President." He's still the star, the draw, the showman. When he theatrically pulled papers out of his breast pocket, the crowd hooted. He teased a few 2024 talking points: The economy? Stinks. Inflation? A disaster. Afghanistan? "The single most embarrassing moment in the history of this country."
Jonathan Allen, NBC News, "Pure Trump re-injected into the main vein of American politics at CNN town hall"
Americans saw a pure version of Donald Trump on Wednesday — fortunately or unfortunately.

For many viewers, a 70-minute town-hall style interview on CNN provided the first long look at the former president and front-runner for the Republican nomination since he left the Oval Office.

For Trump, it was something of a re-injection into the main vein of American politics. His responses to questions from moderator Kaitlan Collins and New Hampshire residents reflected messages road-tested in front of friendly audiences at campaign rallies, through the Truth Social media platform and in interviews with sympathetic outlets.

There were lies. He said, for example, that he finished building a wall between the U.S. and Mexico, and he reiterated his false claim that the 2020 election was "rigged."

There were startling promises, such as how he is "inclined to pardon many" of the Jan. 6 insurrectionists.

And there was familiar defiance: He defended his request for Georgia officials to overturn the 2020 election result in their state.

"Yeah, I called questioning the election," Trump said of a matter that is the subject of a criminal case in Fulton County. "I said, 'You owe me votes because the election was rigged.'"

For better or worse, this is the edition of Trump that has taken a dominant lead in the GOP presidential primary campaign while being indicted over allegedly covering up hush money payments to a porn star, found liable for sexual abuse and defamation of writer E. Jean Carroll and investigated for the Jan. 6 insurrection and taking classified documents from the White House.

Trump, emboldened by surging poll numbers, mocked his leading Republican rival, Florida Gov. Ron DeSantis, questioning whether DeSantis should protect his future ambitions by avoiding a showdown now. Despite the Trump team's ongoing efforts to dissuade DeSantis from getting in, he is expected to launch his bid soon.

Trump advisers and allies crowed afterward that their man had performed well.

"Full-spectrum domination," Steve Bannon, the CEO of Trump's 2016 campaign, said in a text message.

A senior Trump campaign official said angry reactions from Trump's political adversaries were a sign of success.

"When the left's melting, we know it was a good day," the adviser said.
Michael A. Cohen,* MSNBC, "Trump just (essentially) won the 2024 GOP primary. Here's why."
When future historians seek to explain how a failed businessman and reality TV star took over the Republican Party and held it in his grip for nearly a decade, the events of May 9, 2023, would serve as a useful starting point.

On that day, a jury found Donald Trump liable for sexually abusing and defaming E. Jean Carroll, and awarded her $5 million in compensatory damages. As a general rule, if a presidential candidate were found liable in a court of law for sexual abuse, it would sound the death knell for their campaign. But as we've learned — painful reminder after painful reminder — when it comes to Trump and Republican voters, general rules don't apply.

At the very least, one might expect that other candidates for the GOP's 2024 presidential nomination would criticize the race's front-runner. Maybe they'd point out that a man repeatedly accused of sexually assaulting women — and now found liable for doing so by a civil jury — is not the best choice to lead the party in the next presidential election. Instead, Republican presidential nominees only offered silence — or, even more bizarrely, defenses of Trump. If they won't attack him for this, will they ever?

Former Vice President Mike Pence told NBC News that "in my 4½ years serving alongside the president, I never heard or witnessed behavior of that nature." It was a notably different tone from Pence's remarks in October 2016, when the infamous Access Hollywood tape was released. "As a husband and father, I was offended by the words and actions described by Donald Trump," Trump's running mate said at the time, even canceling a campaign appearance. "I do not condone his remarks and cannot defend them."

For those who memory-holed Trump's comments in the tape, he boasted about grabbing women "by the p—-." Not only is that behavior remarkably similar to Carroll's allegations, the former president (who in 2016 apologized for his words and pledged to "be a better man") defended those comments in a deposition for Carroll's lawsuit.

Pence, who usually leaps at every chance to talk about morality in politics, shirked the opportunity to criticize Trump. "I think that's a question for the American people," he said instead. "I'm sure the president will defend himself in that matter."

Vivek Ramaswamy, an entrepreneur who has never held elected office but is ahead of Pence in some recent polls of GOP voters, said, "I'll say what everyone else is privately thinking: If the defendant weren't named Donald Trump, would there even be a lawsuit?" Ramaswamy added that "this seems like just another part of the establishment's anaphylactic response against its chief political allergen: Donald Trump." Those words are so pro-Trump that it's as if the former president had written them himself.

What about Trump's chief rival, Ron DeSantis? After all, Florida's governor cultivates a combative reputation. A recent ad from a pro-DeSantis SuperPAC called him a "conservative warrior … who never backs down," who "stood up to Dr. Fauci when others stood aside," and who "refused to let Walt Disney push us around."

But when asked about the Carroll verdict, DeSantis responded: "I've been pretty busy."

Former South Carolina Gov. Nikki Haley similarly dodged, saying in a radio interview that she's "not going to get into" discussing the verdict. The one exception in the GOP presidential field was former Arkansas Gov. Asa Hutchison, who said the Carroll verdict is "another example of the indefensible behavior of Donald Trump." (Unsurprisingly Hutchison is currently polling at around 1 percent among Republican voters.)

On Capitol Hill, with the laudatory exception of Sen. Mitt Romney of Utah, Republicans refused to publicly condemn Trump, though few went quite as far as Sen. Marco Rubio of Florida, who called the jury a "joke," or Sen. Tommy Tuberville of Alabama, who said the verdict "makes me want to vote for him [Trump] twice." 

[…]

Over and over, we hear that Republicans believe Trump damages the GOP's national brand  and that nominating the former president again is the best way to keep Joe Biden in the White House for four more years. Surely, at a time when women voters are abandoning the GOP en masse, having a party standard bearer found liable for sexual abuse won't help the party recapture those voters — or the presidency. And yet, when given the opportunity to take on Trump, Republicans constantly walk away from the battlefield — even those who are his direct rivals for the party's presidential nomination.  
Ryan Bort, Diana Falzone, and Asawin Suebsaeng, Rolling Stone, "'F–king Disgrace': CNN Gifts Trump Primetime Campaign Rally"
CNN INVITED DONALD Trump to lie on its airwaves for over an hour on Wednesday night. The evening was billed as a town hall, but played more like a campaign rally for the former president, who steamrolled and repeatedly mocked moderator Kaitlan Collins, pushing a torrent of misinformation about the 2020 election, the multiple investigations into his conduct, and pretty much everything else he commented on.

One CNN insider who spoke to Rolling Stone called the evening "appalling," lamenting that the network gave Trump "a huge platform to spew his lies."

Collins tried her best to correct Trump as he spoke. And immediately after Trump went off-air, CNN anchor Jake Tapper led a parade of pundits and fact-checkers to counter his dissembling and pan his performance.

Nevertheless, the town hall was "a fucking disgrace," in the words of another network insider. "1000 percent a mistake [to host Trump]. No one [at CNN] is happy."

"Just brutal," added one of the network's primetime producers.

A CNN spokesperson defended the network's decision to host Trump — and Collins, the host who tried to stop his steamroller of lies. Collins "exemplified what it means to be a world-class journalist. She asked tough, fair and revealing questions. And she followed up and fact-checked President Trump in real time to arm voters with crucial information about his positions as he enters the 2024 election as the Republican frontrunner," the spokesperson said in a statement to Rolling Stone. "That is CNN's role and responsibility: to get answers and hold the powerful to account."

But Team Trump didn't seem to feel that the boss wasn't held to much of anything. Even before the conclusion of the town hall's first hour, the reactions within Trump's circle were universally joyous. Some close aides to the ex-president were almost baffled that the night went that well for them, according to sources in and close to the campaign. "We want to thank CNN for their generous donation to President Trump's campaign!" one Trump adviser said late on Wednesday.

"[Trump] should literally do this every night," one operative working closely with the Trump 2024 team said about an hour into the live event. "Nightly CNN hits!"

For Trump's political lieutenants, the evening served as a dose of vindication of his and his staff's plans to heavily saturate the kinds of major media outlets that GOP rivals like Florida Governor Ron DeSantis have largely avoided, people familiar with the plans say. "Part of the idea is to bury Ron [in the media], and to laugh at him for being so weak that he can't even stand up to CNN," another person close to Trump says. "To just completely swamp him."

The strategy is similar to Trump's past tactics — which long predate his presidency — of flooding the press and the tabloids with so much of his presence, even (and perhaps especially) in times of scandal or crisis.

"Control the agenda," as sources with direct knowledge of Trump's past directive put it.

Trump himself was certainly energized by the audience in New Hampshire, which CNN filled with his supporters. During one exchange in which Collins tried, and failed, to get him to take a side in the war in Ukraine — or at least to condemn Vladimir Putin — the crowd applauded his deflections. Collins ultimately moved on after the former president refused to give straight answers to any of her questions, instead pushing his well-worn talking points about the conflict.

"The audience was stacked with his voters," lamented the same CNN insider who called the evening "appalling."

The tone was set early, with Trump lying about the 2020 election results, and then simply lying some more when Collins tried to push back. When Collins asked Trump if he had any regrets about Jan. 6, 2021, Trump continued to spout election falsehoods and boasted about his crowd size. "A lot of the people here probably were there," he said. "It was a beautiful day."
There's quite a lot more where those came from, but you get the point. Trump is as shameless a liar as I've ever seen in American politics—and I've seen Bill Clinton. Clinton, though, was a policy wonk and a lawyer and therefore very much cared about facts; he was just creative in how he parsed them. Trump is oblivious to the facts, much less any larger truth.
As noted in my early-morning post on "Post-Shame America," I've come to the conclusion that it's simply irresponsible to platform Trump in this way, precisely because he lies so shamelessly. But, of course, he's a ratings bonanza and CNN's bottom line will benefit from this.
My only consolation is fatalism: I don't think there's much Trump can so or do at this point that will markedly change people's opinions of him. Roughly 36 percent of Americans support Trump and the MAGA movement while 60 percent do not. Those numbers have fluctuated very little over the last few years. So, it's quite probable that last night's appearance will have very little impact. I know my opinion of him didn't change. I suspect that's true of any regular OTB reader.
______________
*Cohen is the artist formerly known as SpeechBoy, a former Democratic speechwriter and longtime liberal columnist, not the Trump consigliere.