Trump's Rhetoric and the GOP's Test
Spoiler alert: the GOP has already failed this test multiple times.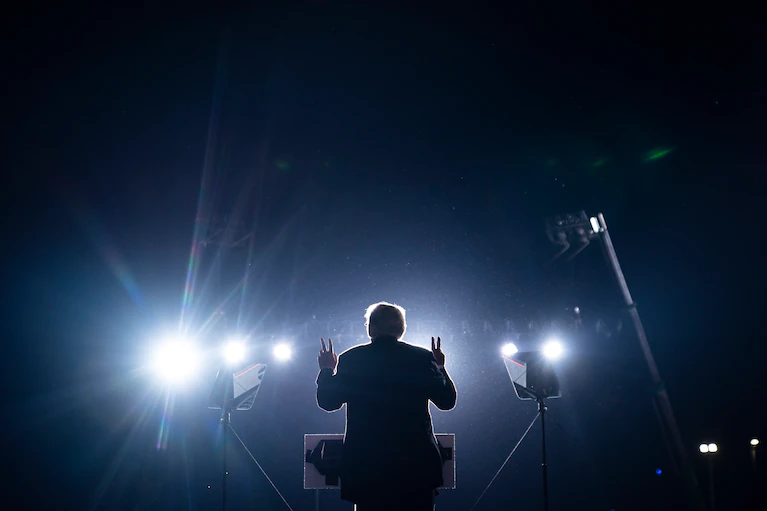 In light of social media calls by Donald Trump to suspend the US Constitution, let me take my colleague James Joyner's description of Donald Trump as "a dangerous nut" (although I will confess that "nut" seems both inadequate and unintentionally lets him off the hook a bit) and add that he is an authoritarian who is saying things that are intolerable and unacceptable from a person seeking office, elected or appointed, in the United States of America (or, for that matter, in any country that even pretends to be a democracy). Even for the "constitutional republic" crowd, I would note that it is deliciously difficult to be a "constitutional" anything if the constitution is suspended because a politician doesn't like the way said constitution functions.
I, unfortunately, have to add the modifying phrase "should be" to "intolerable and unacceptable" because it is quite likely that many Republicans, including Speaker-in-waiting Kevin McCarthy, will downplay, if not outright ignore, these comments.
To ask "for the termination of all rules, regulations, and articles, even those found in the Constitution" is to call for lawlessness (quite literally) and for a coup against the United States government (a term readers know I do not deploy lighlty). It should be the kind of thing that is not tolerated, at all, by our political process. It should be a moment wherein the politicians who said it should be made a pariah by mainstream politicians. It should not be just criticized or condemned.
It should not be tolerated.
It should not be acceptable.
But of course, on a lower level, it should have been unacceptable to say about women that you can "Grab 'em by the pussy. You can do anything." But since fully rejecting that statement would have cost the Republicans the White House, it was best just to decide it was "locker room talk" and move on. I will even say that I understand why a lot of Republicans in October of 2016 had to rationalize this one away, after all, were they really going to hand the White House to Hillary Clinton because of some gross things Trump said?
It should not have been acceptable to state in 2016 that he would not commit to accepting the outcome of the election. Oh no, he was just being dramatic or hyperbolic and we shouldn't take him literally, after all! Yet, we all saw what he really meant in January of 2021.
In January of 2021 it should not have been acceptable to tell the rioters and insurrectionists at the US Capitol:
We love you. You're very special. You've seen what happens. You see the way others are treated that are so bad and so evil.

I know how you feel, but go home, and go home in peace.
Indeed, the Republican Party had the chance to actually demonstrate that Trump's behavior leading up to, and on, January 6th was intolerable and unacceptable. They could have voted to impeach and convict him in the Senate, thus barring him from running again and attempting to set the party on the right pathway. Instead, only a handful of Republican lawmakers chose to do so.
And while Kevin McCarthy said the right things in private, he publicly went down to Mar-a-Lago to kiss the ring.
To fast-forward to the extremely recent past: it should not have been acceptable to dine with Kayne West and Nick Fuentes. But, you know, Trump is gonna Trump, so whatcha gonna do? Although consider where we are: within roughly a week of that dinner, Ye goes on InfoWars and actually said, among other things,
"I like Hitler," a fully masked Ye told Jones. Minutes later, the rapper said, "I love Jewish people, but I also love Nazis."
Any other politician, let alone a declared major-party candidate (and front-runner for the nomination!) for the presidency of the United States, would be tripping over themselves to reject Ye's statements in the strongest of terms. Instead, all of this is just treated by far too many as just a bunch of Trump-related noise.
(I could list a host of other things that should be neither tolerated not accepted, but surely these are enough).
And when I say that all of this should be "intolerable and unacceptable" I mean specifically by party elites in the Republican Party (to be defined very broadly as office-holders, former officer-holders, members of the RNC, GOP-affiliated think tanks, donors, and even media allies).
And yet, while we get some condemnation and complaints, we get nothing that rises to the level of being treated by the GOP as either intolerble and/or unacceptable.
For example, as per Yahoo News: DeSantis silent on Trump's dinner with white nationalist Fuentes, Ye
At the close of a week in which top Republicans roundly denounced former President Donald Trump's dinner with white supremacist Nick Fuentes and increasingly antisemitic rapper Kanye West, now known as Ye, Florida Gov. Ron DeSantis has notably remained silent.

As of early Friday evening, DeSantis had not weighed in on the stunning meeting, and two spokespeople did not return requests for comment Friday. Instead, DeSantis appeared on Fox News cable host Tucker Carlson's program and blasted Apple regarding its work in China, and attacked the communist regime there for its false claims about COVID-19 and its handling of growing protests.
We'll see if he-who-wants-to-lead says anything about the suspending the constitution remarks. I expect, like with the Ye business, and a host of other examples, the tactic will be to ignore in the hopes that it all just blows over.
To be fair, some Republicans have criticized that dinner (examples here), but not to the level of actually totally rejecting Trump (which is what all of this demands). And I would expect all of them to fall in line in 2024 if Trump is the nominee. (As they all did every previous chance they had to say enough is enough).
I understand that there is a risk for these politicians of losing power and influence, and since their lives' works have been to accrue power and influence I am asking them to risk quite a lot, but it needs to be done.
If you took the party labels off of Trump and talked about all of the above as some abstract hypothetical, no one in mainstream politics would jump up and say: now that's a winning formula! Indeed, if we were talking about a character on a TV show or in a movie, we would all consider it an overly broad and lazy characterization without nuance and call the writer a hack.
But we aren't. We are talking about a man who already had substantial power and is now seeking more. And a man whose ongoing bad behavior is shaping a major political party. And if anyone thinks he isn't directly influencing GOP behavior, then re-read this post. The mass willingness of GOP politicians, allies, and voters to gloss over this stuff enables Trump and taints the GOP, full stop.
And you simply do not give power to someone who speaks openly of suspending the constitution (but, then again, you shouldn't give power to someone who openly supported an insurrection, either).
Look, it is easy for opponents to say that Trump is intolerable and unacceptable, but it isn't enough. And as long as people like Kevin McCarthy, who is poised to be third in line for the presidency and is about to hold one of the most consequential positions in the federal government are unwilling to cut Trump out (and indeed, to do the opposite) because doing so would jeopardize his career goals, then the party (and the country) has a profound problem.
It cannot be stressed enough that Trump's behavior is the kind of thing that we would expect from wacky fringe parties run by people serving jail sentences or from some bunker somewhere (i.e., their mother's basement). But, instead, Trump is still the ostensible leader of one of our two major political parties and is still powerful enough that he can have dinner with people who "love Hitler" and it just be a transitory story. That should be very disturbing.
And if one looks at Trump and says, well, at least he got us Dobbs, then at least recognize that you got Dobbs via a deal with a devil to get it. And that devil is cavorting with anti-semites and neo-Nazis whilst talking about suspending the constitution. Meanwhile, all his party can do is some light condemnation, while still being more than willing to nominate him again if it helps them all keep whatever grip on power they think they can manage.
At some point, tolerating and accepting Trump becomes more than just short-term partisan-based practical politics and becomes simply tolerating and accepting, if not fully embracing and mainstreaming (indeed, we have arguably already passed that mark). While I think that the line in the sand that should not have been crossed was drawn in July of 2015 right after he descended that escalator, I am enough of a student of politics to know that that is not the way it works for everyone.
At some point, party loyalty has got to go.
At some point, it has to be worth the political risk of short-term loss to purge the party of cancerous ideas and behaviors.
Or, at some point, you have to acknowledge what you are accepting and tolerating.
Let me stress: a constitutional system cannot long persist if major political actors are willing to call for suspending that constitution when it gets in the way of their personal political goals.
Further, parties that tolerate such statements are, themselves, behaving ways that we should all reject.