Turkey-Syria Quake Kills 1300+
A natural disaster has compounded a man-made one.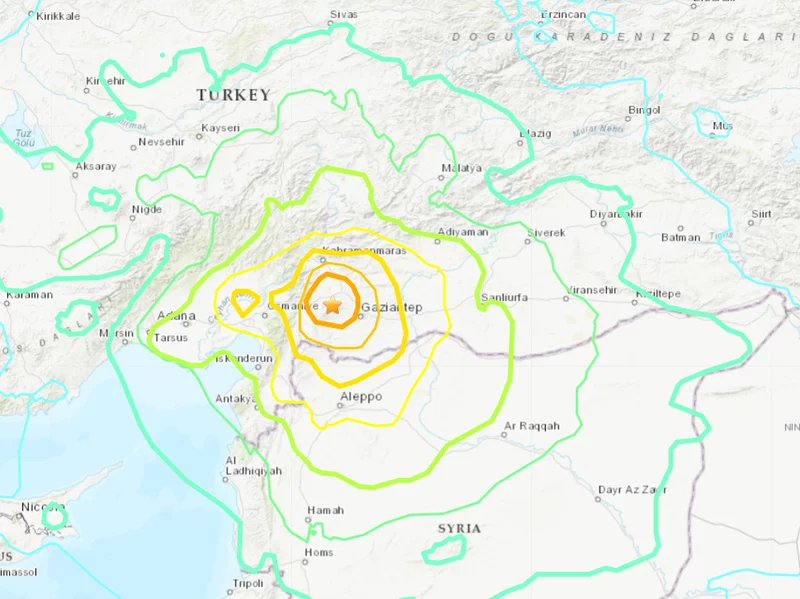 NPR ("More than 1,000 are reported dead from an earthquake that has struck Turkey and Syria"):
Search-and-rescue efforts were underway as the death toll soared from a powerful earthquake that hit southeastern Turkey and northern Syria early Monday. The quake and its aftershocks have triggered a new humanitarian crisis in a region already shaken by more than a decade of civil war in Syria.

More than 1,300 were reported dead and hundreds more injured in Turkey and Syria from the quake, The Associated Press reported. Hundreds of buildings collapsed in cities across the border region.

The 7.8 magnitude quake's epicenter was centered about 33 kilometers (20 miles) from Gaziantep, according to the United States Geological Survey. It was centered 18 kilometers (11 miles) deep. Tremors from the magnitude 7.8 earthquake was felt in Syria and as far as Lebanon, Cyprus, Iraq and Egypt.

The AP, citing Turkey's Disaster and Emergency Management agency, reported that at least 284 people were killed in seven Turkish provinces. The agency said 440 people were injured. The death toll in government-held areas of Syria climbed to 237 with more than 630 injured, the AP reported, citing Syrian state media. At least 120 people were killed in rebel-held areas, according to the White Helmets.
The death toll has quadrupled during the short time I have been catching up with overnight news and, indeed, went up 100 between the time I first loaded the NPR report and commencing to write the post.
There's not much to say about the human tragedy of natural disasters killing families—if not whole villages—and destroying infrastructure, historic sites, and all the rest. But it's particularly noteworthy in this case in light of the long-running civil war.
The earthquake in northern Syria hit parts of the country that have been already been devastated by more than a decade of civil war. In Idlib and Aleppo provinces, basic infrastructure has already been badly damaged by the war. The area is also home to millions of Syrians who fled the fighting in other parts of the country. Many live in refugee camps or basic tented settlements established amid the olive groves that run along the border with Turkey.

The Union Of Medical Care And Relief Organizations (UOSSM), an organization that provides health care in rebel-held areas of Northwest Syria, said "so far our hospitals in northwest Syria have received 91 dead and treated more than 500 severely injured victims of the earthquake. Four of our hospitals were damaged and evacuated. The remaining ones are overwhelmed.

Jomah al Qassim, a Syrian living across the border in the Turkish town of Gazientep works for Bahar Organisation, a charity that operates in Syria and in Iraq.

"According to our team in Syria, there are many casualties and damage to the buildings. Many are reported dead," he told NPR. "This is the last thing people need in Syria. There has been crisis after crisis. People are already exhausted."

The United Nations monitoring body, the OCHA, says of the population of 4.6 million people in northwest Syria, some 4.1 million people are in need of humanitarian aid. More than three million residents of the area are food insecure.

The region's hospitals have been badly damaged in the conflict. Idlib is outside of government-controlled parts of Syria. Its hospitals have been repeatedly hit with airstrikes by the air force of the Syrian regime, or by its ally Russia. The airstrikes have been so frequent that doctors and aid organizations have set up medical facilities underground in an effort to shelter them from the attacks.