Two Nations, Indivisible
We're an incredibly divided country but splitting it into two is impossible.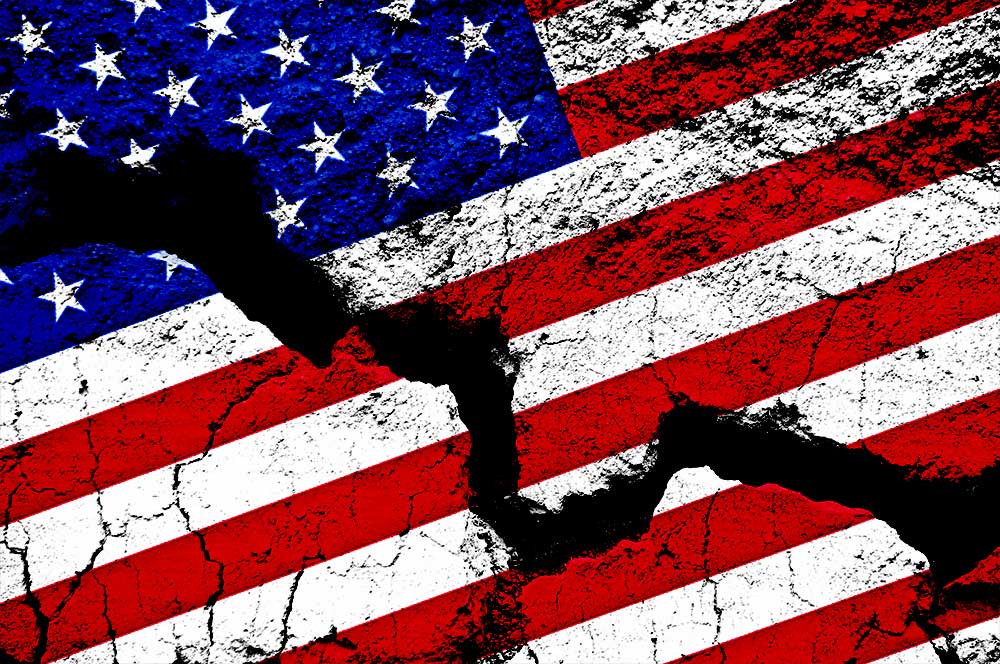 A breathless Daily Mail headline blares "America thinks the unthinkable: More than half of Trump voters and 41% of Biden supporters want red and blue states to SECEDE from one another and form two new countries, shock new poll finds." It's a reputable poll (more on that later) and the results are indeed stark:
According to the analysis from the University of Virginia's Center for Politics, 52% of Trump voters at least somewhat agree with the statement: 'The situation is such that I would favor [Blue/Red] states seceding from the union to form their own separate country.' Twenty-five percent of Trump voters strongly agree. Meanwhile, 41% of Biden voters at least somewhat agree with the sentiment, while 18% strongly agree.  
Having followed polling and political attitudes in general for a very long time now, I'm less than shocked by the findings. Indeed, I've seen many an OTB commenter over the year express this sentiment.
Alas, while the 2000 election cemented in our minds the idea of Red and Blue states, the reality is much more complicated. Because we allocated Electoral College votes in most states on a winner-take-all basis in all but two cases, and most states reliably go the same way quadrennial after quadrennial, it's a useful concept for analyzing Presidential elections and, to some degree, the gerrymandering of House seats.
But let's look at last November's election. As an analysis by USA Today reminds us, most of the country is purple: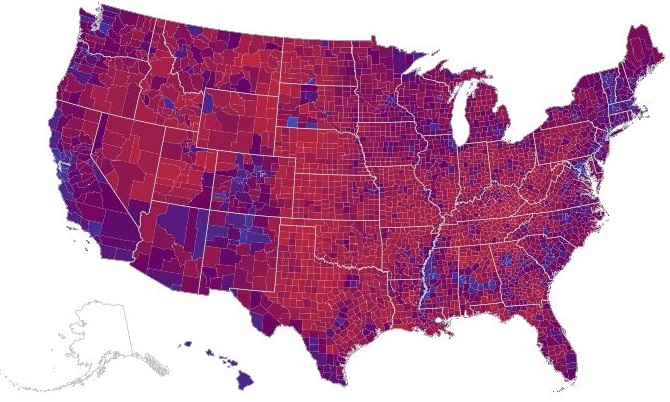 Many counties voted overwhelmingly for Biden or for President Donald Trump, but much of America fell somewhere in the middle. Fewer than 600 out of about 3,000 counties, not including Alaska, voted over 80% for either candidate.
Even that map, though, doesn't tell the whole story because counties vary wildly in population. This second visualization from the same source demonstrates just how starkly: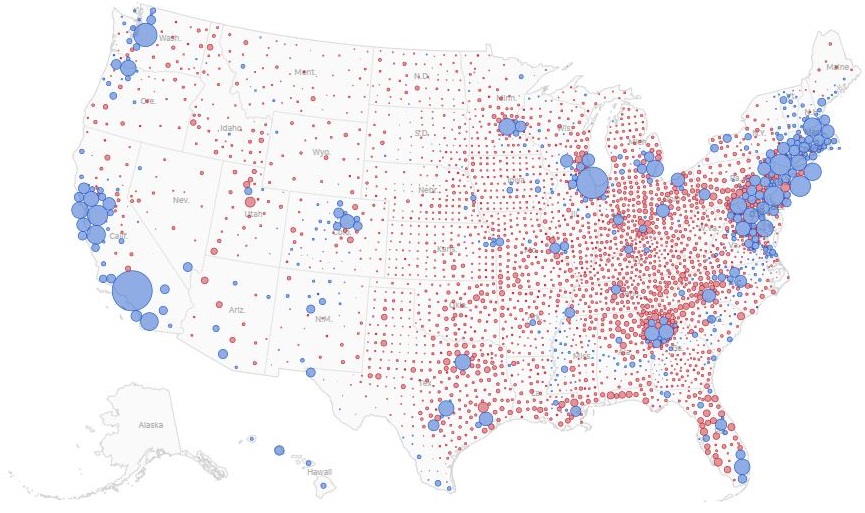 Vast swaths of the country are essentially unpopulated forests, farmland, or deserts. (Both of the live maps at the USA page are interactive.)
The point of all of this is that, like it or not, there is no plausible way for Red or Blue states to secede. As has been noted here more than once, the real divide isn't Red states and Blue states but rural and urban.
Still, the starkness of the divide is something to see. Moreover, turning to a debate that's been ongoing in the comment section here for some time, despite the fact that the Republican Party has undeniably been more aggressive in bending the rules to get what it wants and thereby thwarting the democratic process, supporters of both parties have strong authoritarian tendencies.
The above-mentioned poll, a collaboration with UVA's Center for Politics, led by Larry Sabato, and something called Project Home Fire ("a new initiative dedicated to finding common ground in American politics") has some disturbing findings.
The topline takeaways:
— Majorities of Trump and Biden voters express support for several elements of the bipartisan infrastructure and reconciliation bills being debated in Congress, but there are marked differences in their levels of support. (see Table 1 below)

— Majorities — often large majorities — of both Biden and Trump voters express some form of distrust for voters, elected officials, and media sources they associate with the other side. A strong majority of Trump voters see no real difference between Democrats and socialists, and a majority of Biden voters at least somewhat agree that there is no real difference between Republicans and fascists. (see Table 2 below)

— Significant numbers of both Trump and Biden voters show a willingness to consider violating democratic tendencies and norms if needed to serve their priorities. Roughly 2 in 10 Trump and Biden voters strongly agree it would be better if a "President could take needed actions without being constrained by Congress or courts," and roughly 4 in 10 (41%) of Biden and half (52%) of Trump voters at least somewhat agree that it's time to split the country, favoring blue/red states seceding from the union. (see Table 3 below)
While just released, this is based on polling conducted between July 22 and August 4. I wouldn't be shocked if polling taken today wasn't even more pronounced.
Let's break things down further. Table 1: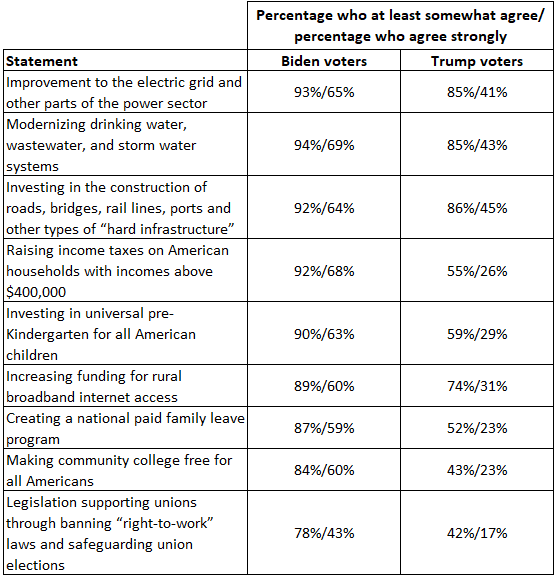 So, on the positive side,
Policy-wise, Biden and Trump voters do express some commonalities. As an example, and thinking about some of the aspects of the infrastructure and reconciliation bills currently being debated in Congress, only two garner less than 50% support from Trump voters: legislation supporting unions through banning "right-to-work" laws and safeguarding union elections (42% of Trump voters express support), and making community college free for all Americans (43% of Trump voters express support). In other words, majorities of Biden and Trump voters express support for several other elements of the infrastructure and reconciliation bills currently being debated in Congress, although Biden voters express stronger support for these issue statements than Trump voters do.
And this provides some support for the David Brooks argument I panned yesterday:
the idea that the "government should work for people" surfaces as a potential compromise corridor for starting a conversation and finding common ground. The opportunity is to leverage this consensus to realize the positive change and action many Trump and Biden voters want.
Alas, the findings in Table 2 undermines the case rather severely: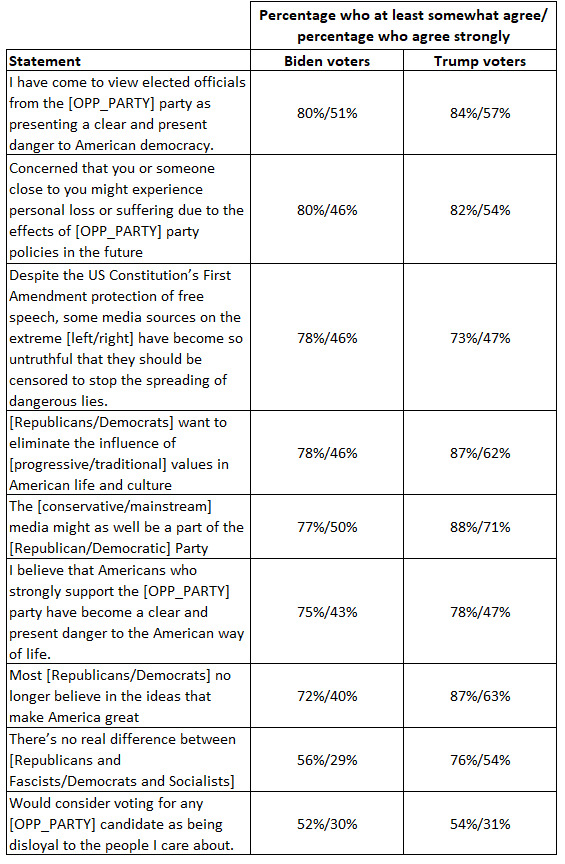 If anything, Table 3 is even worse: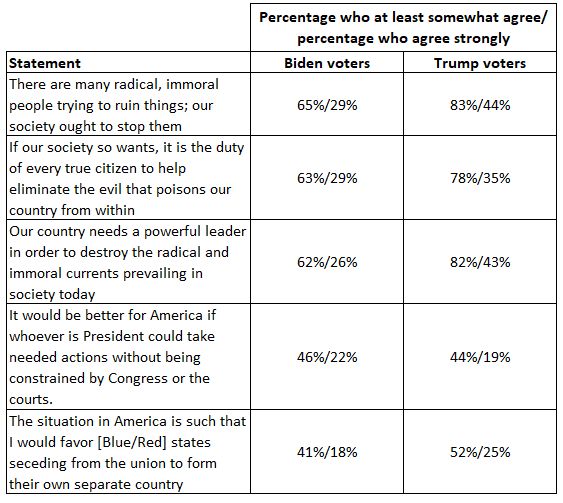 This is a deeply divided country. It's not at all clear how we can govern it with this little trust in our institutions, our core principles, and our fellow citizens.
My small-c conservative impulse here is devolution. Given a lack of consensus on most issues, we should simply defer making massive policy shifts on a collective basis and instead push power to the lower levels. Let rural America run by rules of its own making and ditto urban America.
But it's really not that simple. At very least, it's not completely workable and it's certainly not satisfying.
I'm not sure we can control a global pandemic with localized rules. Even if we decided to let localities that don't want to get vaccinated, wear masks, or take other safeguards to prevent viral spread just suffer the consequences of those decisions, they would soon overwhelm the hospitals and other healthcare infrastructure of the urban and suburban areas.
We could, and in some respects have, effectively localized a lot of our social policy. It's not, therefore, surprising that LGBTQ folks tend to move to metropolitan areas where they're more welcome. But that option isn't exactly available to a trans teen in rural Mississippi.
Nor are issues like environmental policy and climate change localized. Actions in one part of the country impact the rest of us.
Even if localization were practical, it's also rather clear that few would be satisfied simply minding their own business. Most seek more than their own freedom of action but want to impose their values on the broader society. Even aside from the practicalities of the matter, the notion that it's next to impossible to get a legal abortion in Texas angers people in California and people in Connecticut wearing masks at the grocery store seems to irk people in Florida.
Still, absent a radical change in our political culture that makes consensus possible, I see no practical alternative. Certainly, the creation of a Blue America and a Red America as governing entities is not among them.