U.S. Alleges Syria Bombed ISIS Positions Inside Iraq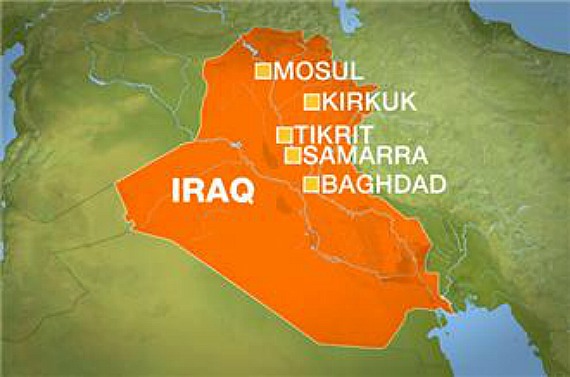 The United States is accusing Syria of launching air strikes inside Iraq against ISIS/ISIL forces:
WASHINGTON (AP) — U.S. officials said Syria launched airstrikes into western Iraq on Tuesday in an attempt to slow the al-Qaida-inspired insurgency fighting both the Syrian and Iraqi governments.

Officials said Wednesday the strikes were the work of Syrian President Bashar Assad's government, which is locked in a bloody civil war with opposition groups. The target of the attacks was the extremist group Islamic State of Iraq and the Levant, which has been fighting along with the rebels opposed to Assad and since has moved swiftly across the border into Iraq.

The White House said intervention by Syria was not the way to stem the insurgents, who have taken control of several cities in northern and western Iraq.

"The solution to the threat confronting Iraq is not the intervention of the Assad regime, which allowed ISIL to thrive in the first place," said Bernadette Meehan, a National Security Council spokeswoman. "The solution to Iraq's security challenge does not involve militias or the murderous Assad regime, but the strengthening of the Iraqi security forces to combat threats."

Two U.S. officials said Iran has been flying surveillance drones in Iraq, controlling them from an airfield in Baghdad. Officials said they believe the drones are equipped for surveillance only, but they could not rule out that the drones may be armed. The officials spoke only on grounds of anonymity because they weren't authorized to discuss the issue publicly by name.

Pentagon officials have said a number of Iranian Quds force commanders and operatives had moved into Iraq in recent weeks when the insurgency began to get a foothold.

In an unusual twist for the long-time foes, the U.S. and Iran find themselves with an overlapping interest in stabilizing Iraq's government. However, while Iran wants to preserve Shiite control of Iraq's government, the U.S. is pressing leaders in Baghdad to create a more inclusive political system.
It's not just Iran, of course. The United States now finds itself on the same side in Iraq as Syria, a nation we threatened to bomb last year over chemical weapons use, and in which we are continuing to provide support to one element of the rebels seeking to other throw the sitting government. So, basically, we are fighting Iran, Iraq, and Syria at the same time that we're on the same side as them. If that's not the definition of a situation we need to stay the heck out of, I don't know what is.