U.S. Becomes World's Largest Oil Producer, Passing Russia and Saudi Arabia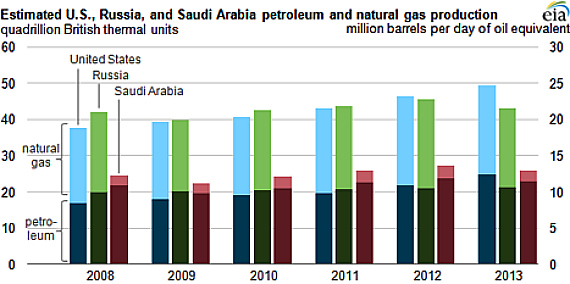 Via John Burgess at Crossroads Arabia comes this from the Oil Price Newsletter:
PIRA, a leader in worldwide energy market analysis, has recently announced that the US has finally surpassed Saudi Arabia as the largest oil producer in the world, after an explosion in the use of hydraulic fracking created the largest oil boom in nearly 40 years, only beaten by the production boom in Saudi Arabia between 1970 and 1974.

The US remains the largest consumer of crude oil and liquid fuels in the world, but the plethora of cheap oil being produced domestically, of which total output has grown by 3.2 million barrels a day since 2009, has actually allowed it to begin exporting gasoline and other distilled fuels.

The constant development of the shale industry, and the vast resources buried in shale formations, mean that "the US position as the largest oil supplier in the world looks to be secure for many years."

PIRA said that the US total liquids production, including crude oil, condensate, natural gas liquids, and biofuels, will average about 12.1 million barrels a day this year, more than the previous top producer, Saudi Arabia.
Much of this growth is thanks, of course, to the vast increase in fracking that has occurred in recent years, as well as to the highly successful, albeit little publicized, oil boom currently going on in places like North Dakota. Additionally, there has been an increase in off shore production notwithstanding the hold on permits that followed the Deep Horizon disaster in 2011. It's quite a change from the days, not too long ago, when we were supposedly (1) running out of oil and (2) becoming too dependent on unstable regimes for our energy supplies.