U.S. Troops In Afghanistan Until 2024?
The U.S may be on the verge of committing the next decade to the future of Afghanistan.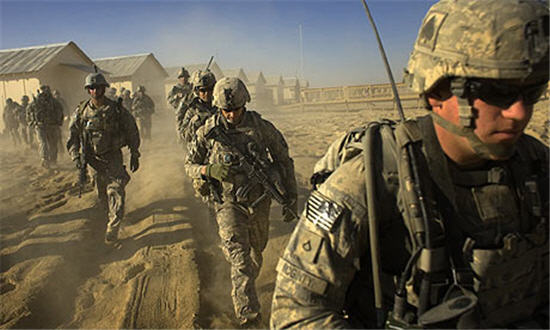 It's gotten buried in all the coverage of Libya, the East Coast Earthquake, the GOP Presidential race, and Hurricane Irene, but a report earlier this week in The Daily Telegraph claims that the U.S. and Afghanistan are negotiating a pact that would keep American forces in the country until at least 2024:
America and Afghanistan are close to signing a strategic pact which would allow thousands of United States troops to remain in the country until at least 2024, The Daily Telegraph can disclose.

The agreement would allow not only military trainers to stay to build up the Afghan army and police, but also American special forces soldiers and air power to remain.

The prospect of such a deal has already been met with anger among Afghanistan's neighbours including, publicly, Iran and, privately, Pakistan.

It also risks being rejected by the Taliban and derailing any attempt to coax them to the negotiating table, according to one senior member of Hamid Karzai's peace council.

A withdrawal of American troops has already begun following an agreement to hand over security for the country to Kabul by the end of 2014.

But Afghans wary of being abandoned are keen to lock America into a longer partnership after the deadline. Many analysts also believe the American military would like to retain a presence close to Pakistan, Iran and China.
Notwithstanding the draw down that is currently underway, the possibility of a long term U.S. presence in Afghanistan should not really come as a surprise considering that it's something that American military officials have talked about openly for quite some time now:
Maybe you thought we'd get out of Afghanistan this very year, the drawdown date President Obama set as he surged U.S. troops into the country in December 2009; or maybe you thought the Obama administration's target for withdrawal might be the last day of 2014, that date certain of recent vintage for turning over U.S. and NATO combat duties to the Afghans; or maybe — if you happen to be a news jockey — you took note when Brigadier General Walter Givhan suggested that the Afghan air force he was training might finally be up and running in 2016; or when his successor Brigadier General Michael  Boera suggested that the date might slip to 2018 if Congress insisted that the Pentagon buy American, not Russian, helicopters for its pilots.  Or maybe you noticed when Lieutenant General William Caldwell, commander of NATO Training Mission Afghanistan, recently suggested that the Afghan military would need the support of thousands of foreign trainers until at least 2020.
Training the Afghan military and police force so that they can defend themselves makes sense, of course. Otherwise the regime will be vulnerable to insurgents both from inside the country and from across the Pakistan border. Isn't that what we're supposed to be doing now, though? Why do we need to keep training forces there for the next 13 years? More importantly, the prospect of  a long term American presence in Afghanistan should raise concern simply the longer we're there there, the less likely it is that we'll be leaving any time soon. And, of course, there's also the prospect that keeping Americans in a country like Afghanistan, even heavily armed Americans, will simply turn them into tempting targets for terrorists.
Of course, this pact won't ever be signed if the Taliban have anything to say about it:
A complete withdrawal of foreign troops has been a precondition for any Taliban negotiations with Mr Karzai's government and the deal would wreck the currently distant prospect of a negotiated peace, Mr Avetisyan said.

Abdul Hakim Mujahid, deputy leader of the peace council set up by Mr Karzai to seek a settlement, said he suspected the Taliban had intensified their insurgency in response to the prospect of the pact. "They want to put pressure on the world community and Afghan government," he said.
Ironically, it seems like this issue is being discussed more in Afghanistan and its neighboring countries than it is in the United States right now. The American public remains deeply opposed to the Afghan War, and strongly in favor of bringing American troops home as soon as possible. The prospect that the Obama Administration is negotiating this pact in secret without any kind of discussion with the American people (and I Status of Forces Agreement would likely not need Senate approval like a treaty would) is incredibly troubling. If we wake up one day in December and its suddenly announced that the President has agreed to a plan that will keep Americans in one of the most dangerous countries in the world for the next decade, I would think that some people are going to wonder how it happened without anyone knowing about it.
The Obama Administration would be advised to tread carefully here, and to think twice before committing America to a policy that could potentially bind the next four Presidents.