U.S. War Veteran Freed By North Korea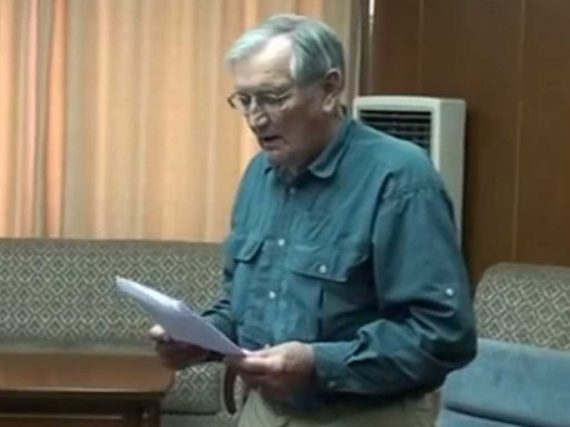 Merrill Newman, the 85 year old U.S. Korean War veteran who was taken off a plane in Pyongyang in late October and held by North Korea for more than a month, has been freed and is back on his way to the United States:
HONG KONG — An American veteran who had been held captive in North Korea for more than a month was headed back home to the United States on Saturday after his captors released him by citing his "sincere repentance" for his acts during the Korean War.

Merrill Newman, 85, of Palo Alto, Calif., took a flight from Beijing back to the United States after rejecting an offer from Vice President Joseph R. Biden Jr. to travel on Air Force Two on Mr. Biden's later flight from Seoul. Mr. Newman's plane was scheduled to arrive in San Francisco International Airport at 9:05 a.m. local time Saturday.

"I feel good," Mr. Newman told reporters at the airport in Beijing, according the The Associated Press. "I am very glad to be on my way home," he said, praising North Korean officials "for the tolerance the government has given me to be on my way."

North Korea's action came after Mr. Newman read a stilted "apology" a week earlier in which he expressed regret for his actions during the war. While serving in Korea, Mr. Newman helped train anti-communist guerrillas, working with a unit that was particularly despised by Pyongyang for its daring raids on North Korean territory. With this trip back there, he was reconnecting with a place that figured so much in his past, but as he was leaving the country Oct. 28 he was pulled of his plane by North Korean officers as it prepared to take off.

On Saturday morning, American embassy officials met Mr. Newman when he landed at Beijing Airport on a flight from Pyongyang, and they bought a ticket for him to fly back to San Francisco Saturday afternoon. An embassy medical officer also brought a supply of Mr. Newman's medications to him and confirmed he was well enough to fly back to the U.S.

Mr. Biden, who was in Seoul meeting South Korean leaders when Mr. Newman was released, praised North Korea's decision to set him free, calling it "a positive thing" and adding that his office extended an offer to take him back to the U.S. on his plane.

"I offered him a ride home on Air Force Two, but as he pointed out, there's a direct flight to San Francisco, his home," Mr. Biden said, later clarifying that he did not talk to Mr. Newman directly. "I don't blame him. I'd be on that flight too."

Mr. Biden also reminded reporters that North Korea continues to hold Kenneth Bae, a Christian missionary who was sentenced in May to 15 years of hard labor for committing "hostile acts" against the North. Mr. Bae had entered North Korea from China to lead a tour group of businessmen.

In recent years, North Korea has detained several Americans, usually agreeing to let them go only after high-profile American figures visited Pyongyang to seek their release. North Korea's state propagandists later described such visits as American capitulation before its leaders, according to North Korean defectors. Analysts suspect North Korea tries to use such arrests to counter Washington's diplomatic pressure over its nuclear and missile programs and force it to engage with the regime.

In 2009, North Korea arrested two American journalists, Laura Ling and Euna Lee, and sentenced them to 12 years of hard labor for illegally entering the North. But the women were pardoned and released five months later, after former President Bill Clinton visited Pyongyang and met with the North's then-leader, Kim Jong-il. In 2010, Aijalon Mahli Gomes, another American held in the North for "hostile acts," was freed after former President Jimmy Carter visited Pyongyang and, according to North Korea, "apologized" for the man's crime.

"I think Mr. Newman's old age was a key reason North Korea released him," said Kim Yong-hyun, a North Korea specialist at Dongguk University in Seoul. "It has likely realized that it cannot hold such an old man too long without getting international condemnation."
In reality, of course, no person who hasn't actually committed a crime should be held in this matter, and Kenneth Bae ought to be released just as Merrill Newman was. For whatever reason, though, that isn't happening and there honestly isn't much that the United States can do about that other than try to urge the Chinese to put pressure on Pyongyang, and its unclear how much that "pressure" really works in cases like this. In any case, it's good to see that Mr. Newman will soon be back home with his family and that his ordeal has finally come to an end.