UK Defense Secretary Tough on Iran, Tougher on Europe
Philip Hammond addressed the Atlantic Council this morning in advance of a meeting with Leon Panetta.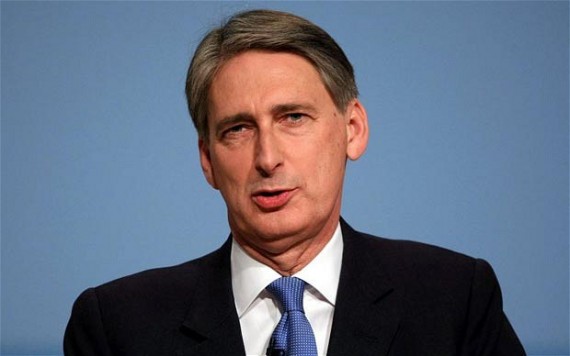 UK defense secretary Philip Hammond addressed the Atlantic Council this morning in advance of a meeting with his US counterpart, Leon Panetta. I've written two longish posts on his speech at the New Atlanticist blog, which I'll highlight for you here.
UK Defense Secretary: No Preemptive Strike on Iran
While declaring "We would not be in favor of a preemptive strike on Iran," UK defense secretary Philip Hammond vowed that any attempt to disrupt the flow of oil through Straits of Hormuz "would be illegal and unsuccessful."

Speaking at the Atlantic Council on NATO and the Case for Collective Defense in the 21st Century, Hammond reinforced transatlantic doctrine dating back to the Carter administration when he stated, "It is in all our interests that the arteries of global trade are kept free, open and running. Disruption to the flow of oil through the Strait of Hormuz would threaten regional and global economic growth."

So, while his government would prefer to avoid the use of force, it would do so if necessary.

He observed, "Our joint naval presence in the Arabian Gulf, something our regional partners appreciate, is key to keeping the Strait of Hormuz open for international trade" and added, "The Royal Navy will continue to play a substantial role as part of the Combined Maritime Forces, both at the headquarters in Bahrain, and through our mine counter-measure vessels which help maintain freedom of navigation in the Gulf."

Of course, the reason Iran is threatening to close off the Strait of Hormuz is because the regime is feeling squeezed by tightening US and European sanctions in response to intransigence on its nuclear program. Asked about that in Q&A, Hammond was blunt: "My working assumption is that they are working flat out" on building a nuclear weapon.
UK Defense Secretary: Europe Failing to Meet Responsibilities
Philip Hammond blasted his fellow Europeans for "failing to meet their financial responsibilities to NATO, and so failing to maintain appropriate and proportionate capabilities."

Hammond declared, "Without strong economies and stable public finances it is impossible to build and sustain, in the long-term, the military capability required to project power and maintain defense." Echoing former US Joint Chiefs Chairman Mike Mullen, he added, "That is why today the debt crisis should be considered the greatest strategic threat to the future security of our nations. The fact is, in this era of austerity not even the United States can afford the astronomical resource commitment required to deal with every threat from every source."

[…]
Yet, despite the obviousness of this fact, many allies are not following through. "Libya and Afghanistan have highlighted the significant difficulties we face in ensuring NATO continues to serve the needs of collective security," Hammond observed. Then, echoing former US defense secretary Bob Gates, he charged, "Too many countries are failing to meet their financial responsibilities to NATO, and so failing to maintain appropriate and proportionate capabilities. Too many are opting out of operations, or contributing but a fraction of what they should be capable of."

Cutting to the chase, he pointed out, "This is a European problem, not an American one. And it is a political problem, not a military one."
It was a very powerful speech. I offer substantial commentary in both posts, especially the latter. Highlights:
It would seem obviously in the interests of all concerned to avoid war in Iran. Despite a lot of saber rattling and talk about a nuclear Iran being "unacceptable," the military option has been only theoretically on the table during the years of tensions over the issue.

One hopes that the Iranian regime receives Hammond's message that this forbearance has its limits. A standoff over the Strait of Hormuz would almost certainly lead to shots being fired. Containment becomes quite difficult, indeed, once that happens.
And:
There was surely little disagreement with any of that in an Atlantic Council audience. The frustrations of NATO allies not pulling their weight, even to the point of meeting the minimum two percent of GDP spending level that all agree to as a condition of Alliance membership, are so long standing that mentioning them amounts to throat clearing.

Yes, the problem is primarily political. But it appears absolutely entrenched. Simply put, most Europeans see little real threat to their security on the horizon; meanwhile, their economies are in dire trouble and the cradle to grave government support system most have become accustomed to is in danger of collapsing.

I'm thus left in the odd position of quoting Donald Rumsfeld in successive posts—or, in this case, Rumsfeld quoting Shimon Peres: "If a problem has no solution, it may not be a problem, but a fact, not to be solved, but to be coped with over time." The bottom line is that, whatever cathartic benefit comes from lambasting the Germans and others for not doing as much as we would like on the security front, it's simply a fact that we are going to have to cope with over time.
More at the links.