Ukraine War Widens
The invasion has led to a series of proxy wars.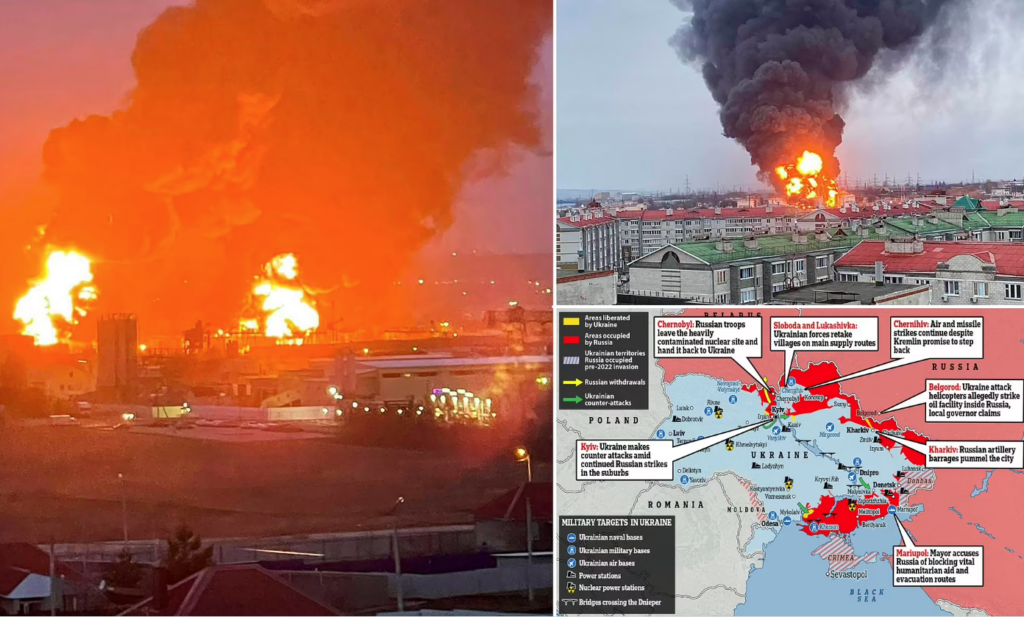 The News:
WSJ ("Ukraine Strikes Russian Military Depot, Russians Say"):
Ukrainian attack helicopters executed a low-flying predawn raid on Russian territory Friday, a Russian official said, eluding air defenses to strike an oil depot and signaling Kyiv's ability to broaden the field of the war.

[…]

If confirmed, the Belgorod raid would be Kyiv's second helicopter operation in as many days, following an attempt to penetrate Russian air defenses around the besieged city of Mariupol, along Ukraine's Azov Sea coast.
NYT ("Syrian Mercenaries Deploy to Russia en Route to Ukrainian Battlefields"):
Hundreds of Syrian fighters are en route to join Russian forces in Ukraine, effectively returning the favor to Moscow for helping President Bashar al-Assad crush rebels in an 11-year civil war, according to two people monitoring the flow of mercenaries.

A first contingent of soldiers has already arrived in Russia for military training before heading to Ukraine, according to a Western diplomat and a Damascus-based ally of the Syrian government. It includes at least 300 soldiers from a Syrian army division that has worked closely with Russian officers who went to Syria to support Mr. al-Assad during the war.

And many more could be on the way: Recruiters across Syria have been drawing up lists of thousands of interested candidates to be vetted by the Syrian security services and then passed to the Russians.

[…]

On Wednesday, Pentagon spokesman John Kirby said that about 1,000 mercenaries from the Wagner Group, a Russian military contractor, were already in the eastern Donbas region of Ukraine, where Russia has installed two separatist enclaves, and that they included Syrians.
NYT ("Russia's War Lacks a Battlefield Commander, U.S. Officials Say"):
Russia is running its military campaign against Ukraine out of Moscow, with no central war commander on the ground to call the shots, according to American officials who have studied the five-week-old war.

That centralized approach may go a long way to explain why the Russian war effort has struggled in the face of stiffer-than-expected Ukrainian resistance, the officials said.

The lack of a unifying military leader in Ukraine has meant that Russian air, ground and sea units are not in sync. Their disjointed battlefield campaigns have been plagued by poor logistics, flagging morale and between 7,000 and 15,000 military deaths, senior U.S. officials and independent analysts say.

It has also contributed to the deaths of at least seven Russian generals as high-ranking officers are pushed to the front lines to untangle tactical problems that Western militaries would leave to more junior officers or senior enlisted personnel.

A senior American official said that NATO officials and the intelligence community had spent weeks waiting for a Russian war commander to emerge. No one has, leaving Western officials to conclude that the men making decisions are far from the fight, back in Moscow: Defense Minister Sergei K. Shoigu; Gen. Valery Gerasimov, the chief of the general staff of the Russian military; and even President Vladimir V. Putin.

[…]

[I]t is hard to run a military campaign from 500 miles away, U.S. military officials said. The distance alone, they said, can lead to a disconnect between the troops who are doing the fighting and the war plans being drawn up in Moscow. Instead of streamlining the process, they said, Russia has created a military machine that is unable to adapt to a quick and nimble Ukrainian resistance.

A second senior American official said that Russian soldiers, who have been taught not to make a single move without explicit instructions from superiors, had been left frustrated on the battlefield, while Mr. Putin, Mr. Shoigu and General Gerasimov continued to plot increasingly out-of-touch strategy.
NPR/AP ("Ukraine top of agenda as China, EU prepare to meet at summit"):
The European Union will seek China's assurances that it won't assist Russia in circumventing economic sanctions leveled over the invasion of Ukraine at an annual summit Friday.

EU officials say they will also look for signs Beijing is willing to cooperate on bringing an end to the war at the virtual meeting.

[…]

The summit takes place amid sharply rising negative sentiment toward China within the bloc, fueled by China's increasingly aggressive foreign policies and trade practices.

Beijing has dismissed European criticisms as biased and driven by an anti-China agenda being pursued by its chief global rival, the United States.

The war in Ukraine has thrown those differences into stark relief, with the EU rallying to the Ukrainian cause and China refusing to condemn Russia, while repeating Russian disinformation about the war and criticizing punishing economic sanctions brought against Moscow.
Some Opinions:
Michael Gerson, WaPo, "How long will the West stay aligned against Putin?"
Some commentators on the Ukraine war — generally in the class of foreign policy realists — are ready for the denouement before the full story is played out.

[…]

How long will Europe stay united against Putin when countries face energy shortages, lost jobs and the reality of accommodating millions more refugees beyond the 4 million estimated to have already fled? How will Britons react when they experience, say, a 50 percent or more increase in energy costs? Won't the German advocates of appeasing Putin — who are only temporarily quieted — eventually remake their argument in an atmosphere of acute economic suffering?

The U.S. economy is not as dependent as Europe's on its economic relationship with Russia. But won't the disruption of global energy markets — resulting in higher prices at the gasoline pump — place tremendous political pressure on Biden? Might this economic dislocation help return one of Putin's few remaining allies — Donald Trump — to power?

[…]

First, any likely, hurried peace that is forced on Ukrainians would almost certainly involve territorial concessions to Russia. This would constitute another massive failure of deterrence, essentially inviting Putin to threaten and intimidate non-NATO countries.

Second, while the gung-ho provision of weapons to the Ukrainian army could eventually raise some risk of direct NATO conflict with Russia, we don't appear close to that point yet. Biden has been correct to avoid a no-fly zone, but he is not yet close to exhausting the number and sophistication of missiles that could be responsibly sent. Missiles to take out more planes, more ships, more tanks. NATO needs to test the further limits of possible victory against Russia in Ukraine. It hasn't yet.

Third, this might be our generation's best, and perhaps only, chance to enforce true limits on the greatest threat to European and world peace. Under Putin, Russia is already a rogue terrorist state, closely aligned with China. How will the effective accommodation of Russia's barbaric aggression make global stability more likely?

Rallying their peoples to accept the temporary economic burdens required to confront Putin is now the main challenge for European leaders and the U.S. president. It will not be easy, but it will certainly be easier than following the Zelensky example.
WSJ Editorial Board, "The European Union's China Choice"
European countries ignored warnings about Vladimir Putin as he built energy and military leverage over the Continent. Will they learn from the experience?

The virtual meeting between top European Union officials and Chinese President Xi Jinping on Friday should be instructive. Beijing wants the event to reboot talks on a stalled EU-China investment deal. Brussels says "the main focus of the summit will be on the war in Ukraine" and the "dramatic humanitarian crisis created by Russia's aggression."

[…]

China's support for Russia is the most serious but far from only reason Europe is losing patience. Beijing has launched an economic war on EU member Lithuania over its upgraded ties to Taiwan. The Chinese Communist Party's human-rights record remains abysmal. Bullying behavior during the Covid-19 pandemic and stonewalling of the origins investigation hurt China's credibility. The question is what Europe will do beyond condemnations, token sanctions and the occasional lawsuit.

Europeans point out that the U.S. led the way on deepening economic ties with China and the hope of change through trade was as much American as German. That's fair, but it's not an excuse to accommodate an increasingly hostile China now. Mr. Xi has made clear that working with Russia and other revanchist powers to overturn the U.S.-led international order is a key aspiration.

Some Europeans are hopeless. "We are very, very far away from considering the China threat at the same level of Russia," EU foreign-policy chief Josep Borrell said Tuesday. "It's not in our interest to lean Russia toward China in order to create a great alliance of China plus other like-minded countries."

But it is in Europe's interest not to make itself vulnerable to Chinese economic extortion on supply chains, critical minerals and business investment. Smart companies are already looking for safer investment options outside China without government forcing their hands. Nearly half of German manufacturers that "source significant inputs from China" have said they plan to reduce reliance on China, according to a new ifo Institute survey.

Diversifying sources for medical supplies and rare-earth minerals, along with other strategically important goods, is sound policy. If China invades Taiwan, does Europe really want to be in an even vulnerable than it now is with Russia?
My Two Cents:
The degree to which the West and many of its partners have rallied against Putin's crimes, often at considerable cost to their short-term interests, has been stunning to see. Bolstered by Ukraine's resiliency and Russia's unexpected incompetence, the resolve seems likely to remain steady.
That Ukraine has started attacking Russian logistics capability in Russia itself is not surprising. It's a natural escalation. That the Wagner Group and various other Russian proxies-mercenaries have entered the fray isn't surprising, either. Still, both indicate a widening conflict.
The China angle has been a backdrop all along but one understandably underplayed given the mass horror unfolding in real time in front of our eyes. The PRC has the capacity to undercut much of the sanctions regime and has been increasingly flexing its muscles on the world scene, making everyone from Hollywood to Silicon Valley genuflect before it. If the EU is willing to stand up and buck that trend over Ukraine, the US should do everything it can to make that easier.