UPS ate my Propaganda
The ongoing pathetic attempt to create a scandal around Hunter Biden.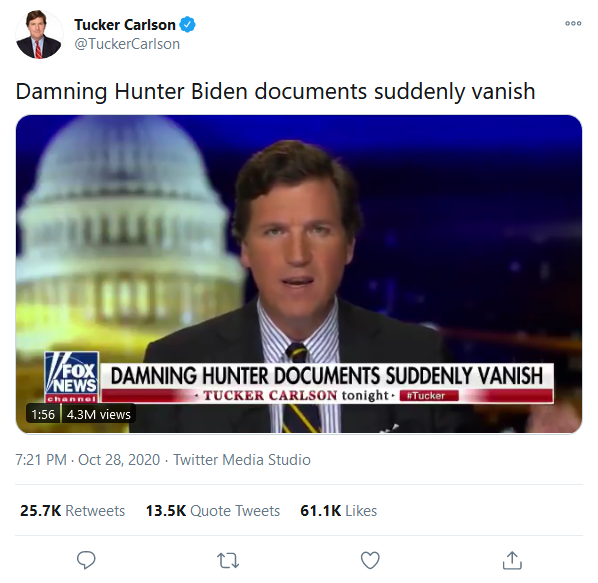 So, on Wednesday we get the following from Tucker Carlson:
When I saw this earlier in the week I couldn't help but wonder why, in this era of cloud computing and fast internet, documents were being sent overnight when there are any number of ways to digitize them and share them almost immediately. Plus, the clip above made it sound like the originals had been lost, and that struck me as a careless thing to have done.
Well, Thursday we find out that the documents were on a flash drive and that that flash drive had been found. To me this really raised the question of why they did not send the documents electronically. If they were already digital, that should have been a snap.
Carlson has also stated that they kept copies before sending the package.
So, despite all the furrowed brows and cloak-and-dagger implications, what we have here is a story about UPS temporarily losing a flashdrive.
The fact that the drive contained copies is really important, insofar as it means that if the originals contained anything that was truly newsworthy, Carlson would be focused on that information instead of spending precious minutes talking about the worst episode of Scooby-Doo ever.
He is able to go on and on and on about "damning Hunter documents" without actually talking about what is in them.
This is a propagandist's sleight of hand. He is giving his audience the impression that there really is something that they need to know and it is so important that someone might have tried to steal it. But, please, pay no attention to the fact that we still have the materials but just aren't talking about them!
But, they are, rest assured, quite damning.
And they are so damning that the most recent two tweets on Carlson's Twitter feed are the two posted above.
What I wish, but will not get, is that viewers of his program would see through the obviously transparent attempt to rile them up without any substance.
Alas, they won't.
Indeed, the ongoing attempt to make anything out of the Hunter Biden story really could be used for a class on lame propaganda. There is a lot of yelling (see, e.g., Rudy Giuliani) and wild claims about how, dare I say, damning the evidence is, but no one ever, you know, wants to show the evidence.
Here's Rudy on Fox Business (especially starting around the 1:00 mark). He has evidence, but he will only show it to you if you'll come to his office. I mean, why show it on TV where people might see it?
And then there's, well, whatever this is:
Even at the height of his career, it was obvious that Rudy was a self-promoter who enjoyed the limelight, but his degeneration into a grifting caricature is rather pathetic.
What truly makes me sad is that anyone falls for it.
---
As to all of this, I would recommend this piece from NBC News: Here's what happened when NBC News tried to report on the alleged Hunter Biden emails.
In regards to Tucker:
An NBC News correspondent asked [former Hunter Biden associate Tony] Bobulinski for an interview and for copies of documents in his possession, but he declined.

"All of your questions will be answered on Tucker Carlson tonight," Bobulinski wrote on Oct. 27.

On air, to make his case that Joe Biden was involved in his son's business dealings, Bobulinski described an encounter he says he had with the senior Biden.

At a meeting in May 2017 in Los Angeles, Bobulinski says Hunter Biden introduced him to the former vice president, saying: "This is Tony, dad, the individual I told you about that's helping us with the business we are working and the Chinese."

Even if that statement was made, it says very little about how much Joe Biden knew, and nothing about whether he was involved.
All I can say to that is that Tucker has gotten more attention from his UPS story than he has from the Bobulinski interview. As such, I guess all of the questions were, in fact, answers on October 27th.
In regards to Rudy:
An NBC News correspondent sent a letter two weeks ago to Giuliani, seeking copies of the materials.

His lawyer, Robert Costello, granted the correspondent the opportunity to review some Hunter Biden emails and other materials in person. The materials included copies of Hunter Biden identification documents that appeared to be genuine. But without taking possession of the copies, it was not possible to conduct the sort of forensic analysis that might help authenticate the emails and documents.

It was Giuliani who ultimately told NBC News he would not be providing a copy of the hard drive. NBC News responded by asking if, instead of a full copy of the hard drive, he could just provide copies of the full set of emails. Giuliani did not agree to that proposal. NBC News then declined an offer of copies of a small group of emails.

NBC News has also requested the documents from Republicans on the Senate Homeland Security Committee, but has not received a response.

Key questions remain about the origins of the laptop and how it got into Giuliani's hands.
In other words: even with the election less than a week away, Rudy wants to insinuate he has evidence of a grand conspiracy but doesn't want to actually share it with anyone. It is as if his goal is to punk his viewers and allies to make a buck rather than actually prove anything.
And, of course, as the NBC piece notes, there is a reason Rudy doesn't want to share:
the Wall Street Journal and Fox News — among the only news organizations that have been given access to key documents — found that the emails and other records don't make that case. Leaving aside the many questions about their provenance, the materials offered no evidence that Joe Biden played any role in his son's dealings in China, let alone profited from them, both news organizations concluded.
Well, then.
As has been noted here at OTB more than once, it is clear that Hunter Biden cashed in on his name. And, beyond that, Hunter has clearly had a fair share of personal failings and problems. I will even state that I would hardly be shocked to find out that he, himself, engaged in business activities that could get him in legal trouble.
Having said that, there has been no evidence presented of criminal activities. And there has decidedly been no evidence thaet Joe Biden was involved in anything shady.
And we won't even get into the stunning hypocrisy of the current administration and it allies ranting about nepotism, corrupt business practices, and shady foreign deals.
Ultimately, it is beyond disconcerting that the allies of the President of the United States are willing to lie and dissemble about all of this in the hopes of influencing the elections (and, of course, to make a few bucks doing so). And, worse, of course, is the fact that President Trump is a willing accomplice in it all.