Vikings Adrian Peterson: NFL Is "Modern-Day Slavery"
If you believe Minnesota Vikings' Running Back Adrian Peterson, the NFL is a modern-day plantation and he's a slave.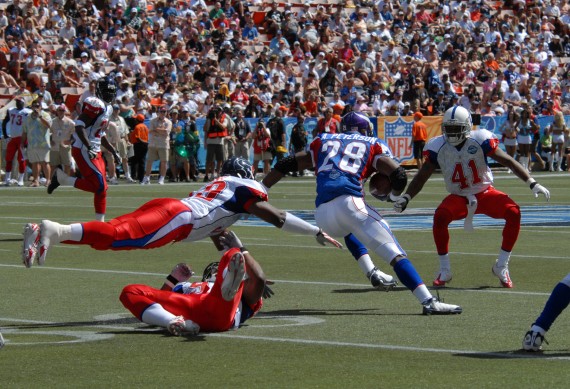 The rhetoric surrounding the dispute between the NFL and the Player's Association has already gotten pretty absurd, with the latest example being the comments earlier this week by Vikings Running Back Adrian Peterson comparing the NFL to slavery:
Vikings running back Adrian Peterson compared NFL owners' treatment of players to "modern-day slavery," according to an online interview published Tuesday by Yahoo! Sports.

Yahoo's Doug Farrar, who conducted the interview Friday with Peterson, removed that comment from the story later Tuesday, explaining on Twitter that he wants to give Peterson the chance to provide context.

(…)

Shortly before the players union decertified, Peterson spoke to Yahoo to promote a recent appearance on the online reality show "Double Take." The NFL declared a lockout when the CBA expired.

"The players are getting robbed. They are," Peterson told Yahoo. "The owners are making so much money off of us to begin with. I don't know that I want to quote myself on that."

When discussing other players feeling the same way, Peterson said: "It's modern-day slavery, you know? People kind of laugh at that, but there are people working at regular jobs who get treated the same way, too. With all the money. … The owners are trying to get a different percentage, and bring in more money. I understand that; these are business-minded people. Of course this is what they are going to want to do. I understand that; it's how they got to where they are now. But as players, we have to stand our ground and say, 'Hey, without us, there's no football.' "
For the record, Patterson's current contract provides that he would make more than $10 million in 2011 in base salary alone, and this is part of a six-year, $40 million deal that he signed back in 2007.
This is slavery? I think not.
Patterson's comment that "without  us, there's no football" displays the same type of idiotic arrogance we saw from baseball players in the early 90s, and from NHL players in the early part of the 2000s, both of whom did more damage to their sports by going on strike than they helped themselves with whatever deal they got in the end.  Baseball didn't recover from the 1994 strike until Cal Ripkin Jr's pursuit of Lou Gehrig's consecutive games record caught the attention of the nation. Hockey arguably still hasn't recovered and remains the only major sport without a nationwide media contract. It isn't so much that the fans like the owners, because they don't, but they also have very little sympathy for multi-millionaires going on strike because they want a few million dollars. If a lockout means that they discover they don't need a particular sport in their life, then getting them back might not be so easy.
No, Adrian Patterson, you aren't a slave. You're a talented and very well compensated athlete who's trying to get more money. I don't blame you, that's capitalism after all, but don't pretend that this is some kind of fight against injustice.
H/T:  The Right Sphere