Virginia Even More Of A Toss-Up
A week or so ago, President Obama seemed to be pulling ahead in Virginia as he was in other parts of the country. In the wake of last weeks debate, though, the Old Dominion seems to be slipping, at least for now, back into the same territory it was in over the summer when the race between the President and Governor Romney was nearly consistently within a few percentage points of each other. I already noted several polls from Friday that seemed to show this phenomenon, and now a new poll from Public Policy Polling seems to confirm the fact:
PPP's newest Virginia poll finds Barack Obama leading Mitt Romney 50-47 in the state, down from a 51-46 advantage three weeks ago. This is the closest we've found the race in Virginia the entire cycle, but Obama continues to find himself at the critical 50% mark in a state where Romney probably can't afford to lose.

Romney's performance in the debate on Wednesday seems to have helped his image with Virginia voters. They think he won the debate by a 61/28 margin, including 71/17 with independents. Compared to our last poll he's seen a 10 point gain in his net favorability rating from -2 at 47/49 in mid-September to now +8 at 52/44. The problem for Romney is that most of that gain has come with Democrats, from 6/90 to 21/76. But still only 8% of those Democrats are actually voting for Romney. Much of the improvement in Romney's image is people going from hating Romney and voting for Obama to respecting Romney but still voting for Obama.

The reason the race hasn't moved much despite the improvement in Romney's image is that Obama's held steady over the last three weeks in spite of his poor debate performance. 3 weeks ago 50% of Virginians approved of him and 48% disapproved. Now 50% of Virginians approve of him and 48% disapprove. There's been no movement whatsoever in perceptions of his job performance. Obama has a 50/47 advantage over Romney in terms of who voters trust more on the economy, and a 51/46 edge on foreign policy.

Obama leads Romney 52-44 with women while keeping things about equal with men, trailing Romney just 49-48. Romney's up 57-40 with white voters, but would need to win them by a lot more than that to overcome Obama's 90-8 lead with African Americans and 59-34 advantage with other nonwhite voters. The future is looking bright for Democrats in Virginia with voters under 45 supporting Obama 59-38. The race is only close overall because of a 55-43 advantage for Romney with seniors.

There was a thought at one point that Virgil Goode might have a real impact on the race in Virginia this fall but that's faded. He polls at just 1% when third party candidates are included in the poll. Gary Johnson gets 4% and Green Party candidate Jill Stein gets less than 1%. When those folks are all named Obama's lead remains pretty steady at 48-44. Goode's candidacy seems to be aggravating Republicans. His favorability with them (13/29) is basically identical to where he is with Democrats at this point (12/29).
All of this leaves the race in Virginia back at a virtual dead heat, with a RealClearPolitics average of +0.3 points in favor of the President, and a race that is basically tied.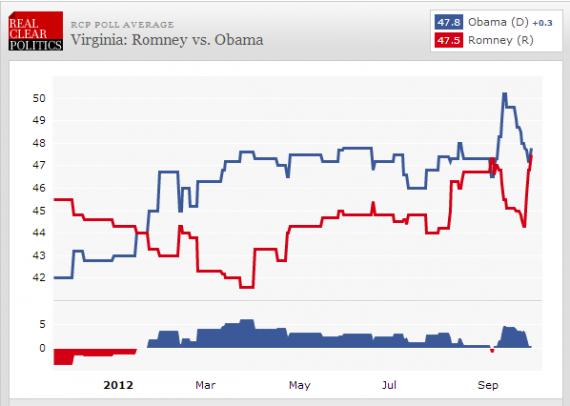 So again we have evidence that the debate is helping Romney in the swing state polls. How long this lasts remains to be seen.