Visas Will be Denied to Online-only Students as Colleges Go Online-only
Harvard joins a growing list of universities who will not offer in-person classes this year.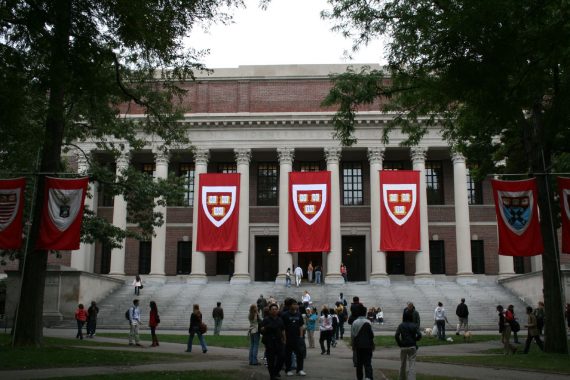 The Trump Administration has issued a bizarre policy that will keep deny immigrant students admission to the United States if their colleges don't offer in-person classes.
For weeks, if not months, America's colleges and universities have been wrestling with how and whether to re-open in the fall. Parents, quite understandably, don't want to pay exorbitant prices for an on-campus experience only to have their students taking classes over Zoom. Professors, especially older and immunocompromised ones, understandably don't want to risk their health during an ongoing pandemic with no end in sight.
Different institutions are making different decisions, based on the conditions of their local area and other factors. My oldest stepdaughter is a rising senior at Temple which had initially decided to open in the fall but then shift to remote classes after Thanksgiving. Last week, the announced they were remote-only for the fall.
Others, frankly, seem to be playing bait-and-switch, being vague about their plans until they get their tuition money.
Yesterday, Harvard sent a shockwave through the system, announcing that they would bring only 40 percent of their students back to campus at one time but that there would be no in-person classes for the entire academic year. So far as I know, they're the first major institution to announce they would remain remote in 2021.
Later in the afternoon, surely by coincidence, a second shoe dropped.
CNN ("International students may need to leave US if their universities transition to online-only learning"):
International students who are pursuing degrees in the United States will have to leave the country or risk deportation if their universities switch to online-only courses, Immigration and Customs Enforcement announced Monday.The move may affect thousands of foreign students who come to the United States to attend universities or participate in training programs, as well as non-academic or vocational studies.
Professors and administrators are scrambling to figure out what this means. My own, decidedly unexpert, reading of the announcement is that the change only applies to students whose institutions are not offering online instruction. The second paragraph explicitly states that, for other institutions, the existing rules would still apply and the third states that students who are taking some classes in-person and some remotely would be allowed to stay.
Some worry that, for example, international graduate students who are finished with their coursework and simply doing doctoral research would be swept into this. That's not my reading but it's entirely possible.
This policy seems unnecessary and cruel. It's hard to read it any other way given the context of this administration's other policies on immigration.
There's an argument to be made, I suppose, that if the only reason an individual is being given a visa is to attend classes, and they can do so from their home country, there's no reason for a visa. But that misapprehends the college experience. There's substantial value in being away from home, making friends, and learning from one another.
To the extent the change is related to stopping the spread of COVID-19—and there is no suggestion that it is—it would seem at best a random measure. The decision isn't based on any characteristic of the student but rather the vagaries of their school's opening status.
Putting these two stories together, though, there will certainly be increased pressure on colleges and universities which have a substantial immigration population to consider the impact of only-only on those students. We may, perversely, put people's lives at risk to prevent immigrant students being left out of the experience.