Vladimir Putin Has Some Praise For Donald Trump
Russian President Vladimir Putin had some praise for Donald Trump of all people.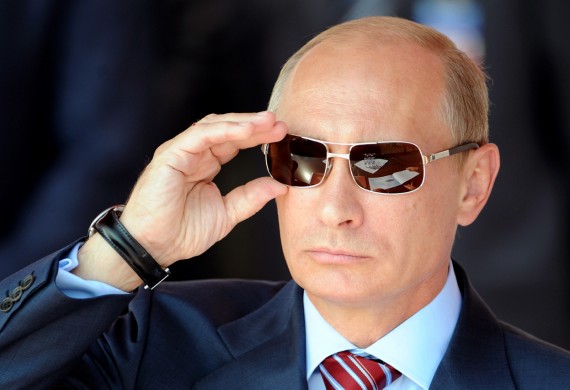 Vladimir Putin had some kind words for Donald Trump at his traditional end of the year press conference:
Donald Trump has said that he would "get along very well" with Russian President Vladimir Putin.
The feeling is apparently mutual.

Putin offered high praise for the billionaire businessman-turned-Republican presidential front-runner on Thursday during an annual news conference with reporters.

"He is a bright and talented person without any doubt," Putin said, adding that Trump is "an outstanding and talented personality."

And in remarks closely mirroring Trump's assessment of the campaign, the Russian leader called Trump "the absolute leader of the presidential race," according to the Russian TASS news agen

While most Republican presidential contenders have demonized the Russian president — including calling him a "gangster" and a "thug" — and pushed plans to isolate Russia on the world stage, Trump has instead touted his ability to improve Washington-Moscow relations by working with the iron-fisted Russian leader.

Trump has repeatedly touted his joint appearance with Putin on an episode of CBS's "60 Minutes" this fall, referring to himself and Putin as "stablemates."

Trump said in October that he and Putin "are very different" but suggested that the two men could move beyond the frigid relations that have come to define U.S.-Russia relations under President Barack Obama.

"I think that I would at the same time get along very well with him. He does not like Obama at all. He doesn't respect Obama at all. And I'm sure that Obama doesn't like him very much," Trump said then. "But I think that I would probably get along with him very well. And I don't think you'd be having the kind of problems that you're having right now."

Putin referenced Trump's reported desire "to reach another, deeper level of relations" with Russia in his remarks Thursday.

"What else can we do but to welcome it? Certainly, we welcome it," Putin said.

While fellow Republican contenders have been highly skeptical of stepped up Russian military involvement in Syria, Trump has welcomed it.

Trump suggested in the his September "60 Minutes" appearance that the U.S. should avoid deepening its involvement in Syria, instead allowing Russia to take a leading role in combating the radical Islamist group that has called for attacks on the U.S.

"Russia wants to get rid of ISIS. We want to get rid of ISIS. Maybe let Russia do it. Let them get rid of ISIS. What the hell do we care?" Trump said, despite U.S. wariness of Russia's presence in Syria, which is mainly aimed at bolstering the Syrian regime of Bashar al-Assad, who the Obama administration has called for to leave.
Trump's comments about Putin and his belief that he could work with him is, of course, all part of the overall message of the Trump campaign that argues that, because of his business and negotiating experience, Trump is the only candidate who is best equipped to represent the United States on the international stage. His comment, then, aren't meant so much to build up Putin with effusive praise but to communicate the message, false though it may be, that Donald Trump can negotiate circles around anyone, even the  supposedly cunning leader of Russia who has seemingly only gained in power and influence over the past decade. Additionally, to some extent one suspects that Trump's seemingly effusive praise for Putin over the past several months is as much about tweaking the Administration, and Hillary Clinton, than anything else. While he has confined most of his attacks to his fellow Republicans, Trump does occasionally slip into criticism of the President and Hillary Clinton and their performance on the world stage. Praising Putin just seems to be another part of that.
As for Putin, I suppose this is just another example of the manner in which he seems to get some joy out of playing with the West in the international media. I don't believe there's any record that Trump and Putin have ever actually met, so it's hard to say if Putin has any personal opinion of the man, but it hardly matters since he is no doubt getting no small degree of enjoyment out of the fact that a billionaire celebrity mostly known for ostentatious displays of wealth and testosterone is presently leading in the race for the nomination of one of the two major political parties in the United States. One also suspects that he sees Trump much they way Trump apparently sees him, as someone he could easily manage on the world stage due in no small part to his inexperience and mostly substance-free bravado. Of course, given the image that both men have sought to project on the world stage it's possible that Putin can relate to Trump, and that Trump can relate to Putin. And, who knows? Maybe this will all end in a Trump-Putin buddy movie.