Voters Like Clinton Better Than Obama On The Issues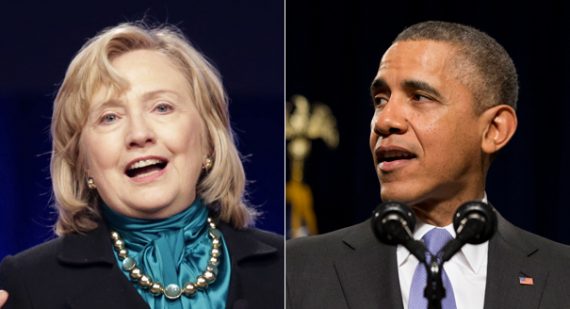 A new CNN/ORC poll shows that voters prefer Hillary Clinton over Barack Obama on pretty much every issue:
Voters believe Hillary Clinton would do a better job on both foreign and domestic policy issues than President Barack Obama, according to a new poll.

In a CNN/ORC International survey released Monday, those polled were asked to rank whether the former secretary of state would do "a good job" handling various issues. For every issue tested, Clinton's scored higher than the president.

"A majority think Clinton would do a good job on all nine issues tested in the poll; Obama's job approval rating never breaks 50 percent on any of those same issues," CNN Polling Director Keating Holland said. "None of this means that Clinton is a lock for the White House, but it is an enviable position for any candidate to be in."

Sixty-three percent of Americans said Clinton would perform well on foreign policy issues, 23 percent more than those who say the president does a good job in that area. Sixty-one percent said she would handle terrorism well.

On domestic issues, 63 percent said she would fare well handling the economy, compared to the mere 38 percent of those who think Obama is doing well in the area. Fifty-seven percent said Clinton would do a good job handling health care.
To a large degree, of course, these numbers are a reflection of the President's declining job approval numbers combined with the fact that, as a (potential) Presidential candidate, Hillary Clinton gets the benefit of not actually being held responsible for anything that's going on in the country. More broadly, though, it could indicate that Clinton herself won't be damaged very much if Obama ends up remaining a relatively unpopular President when 2016 rolls around.