Voyager I, At The Edge Of The Solar System, Finds The Unexpected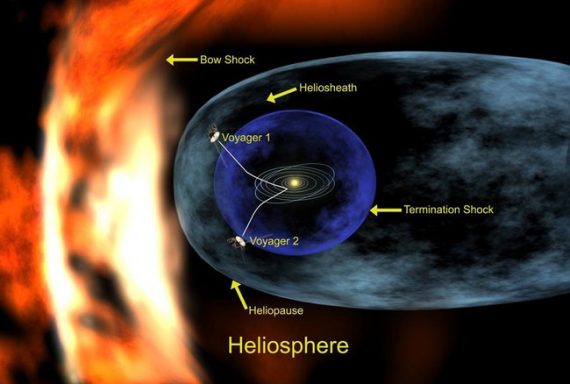 After more than three decades in space, Voyager I is not only still sending back data to Earth, but it is on the verge of becoming the first man-made object to truly enter interstellar space:
On Thursday, scientists reported that, no, Voyager 1 still had not reached interstellar space, but it had entered a region that no one expected and no one can yet explain, a curious zone that is almost certainly the last layer of our Sun's empire — technically speaking, the heliosphere. Three papers published in the journal Science describe in detail the sudden and unpredicted changes encountered in the surroundings of Voyager 1, which left Earth about three months after the original "Star Wars" movie was released and is heading for the cosmos at 38,000 miles per hour.

Scientists had expected that Voyager 1 would detect two telltale signs as it passed through the heliosheath, the outermost neighborhood of the solar system, which is thought to abut the heliopause, as the actual boundary is known. Happily, the key instruments on Voyager 1, as well as those on its twin, Voyager 2, are still working after all these years, and its nuclear power source will last until at least 2020.

Last summer, one of the two events occurred, but not the other, leaving scientists perplexed. Scientists had predicted that at the boundary between solar system and interstellar space, the solar wind — a stream of charged particles blown out by the Sun — would fade away, and that Voyager 1 would no longer detect it. That happened.

They also expected that the direction of the magnetic field would change as Voyager 1 emerged from the Sun's magnetic bubble. That did not.

(…)

"Nature is far more imaginative than we are," said Stamatios M. Krimigis, a scientist at the Johns Hopkins Applied Physics Laboratory who is the principal investigator of an instrument that records charged particles hitting Voyager 1. Dr. Krimigis is an author of one of the papers in Science.

Last July, the spacecraft — which is roughly 1,600 pounds and would fit inside a cube about 13 feet on each side, according to NASA — observed a momentary dip in the intensity of the solar wind. "It was exciting," said Edward C. Stone, the project scientist for the two Voyagers. "We had never seen such a drop before. It happened in less than a day. Then five days later, it was back up."

In mid-August, there was a deeper momentary dip.

Then, on Aug. 25, the solar wind dropped by a factor of more than a thousand, vanishing to imperceptible levels, and it has remained at essentially zero since. At the same time, the number of cosmic rays from outside the solar system jumped by 9.3 percent.

"It looked like we were outside," Dr. Stone said.

But the magnetic field has steadily, stubbornly pointed in the same direction, indicating that Voyager 1 is still ensconced within the Sun's magnetic field. Scientists guess that in this region the magnetic fields of the solar system partly connect to those of the surrounding interstellar space, allowing the solar particles to escape. (Charged particles travel along magnetic field lines.) They have named the zone through which Voyager 1 is hurtling the heliosheath depletion region.

"I think it's clear we do not have a model which explains all of this," Dr. Stone said.
More  from The Atlantic Wire:
[S]cientists are giving Voyager's current home a new name — the heliosheath depletion region. As Kelly Oakes writes in a terrific explanation in Scientific American:

Yep, what Voyager's instruments are now showing us is so odd we need a new name for it. Voyager is, almost literally, pushing the boundaries of our knowledge about the solar system.

Which, if you think about it, is hardly surprising. As Stamatios Krimigis of John Hopkins University, Maryland, and his colleagues write in one of the three papers out today, our ideas about the size and shape of the bubble of plasma we call the heliosphere, created by the solar wind that continuously flows from the sun, are older than the space age.

A trioofpapers published in Science today details what scientists know about this new region, including two temporary shifts in the magnetic field data that occurred on May 29 and September 26 of last year, both times reverting to the data associated with our heliosphere (the bubble of solar winds emanating from our sun).

Voyager 1 launched in 1977 and has been traveling at astounding speeds for nearly 36 years (around 38,000 miles per hour currently). It is now more than11 billion miles away from the sun. As we wait for it to reach its next and perhaps final frontier, scientists don't have a clear idea of what to expect. "I mean this is the first time any spacecraft has been there," Voyager project scientist Ed Stone of Caltech said to me last year.
According some quick Google searching, the total cost of the Voyager program, and that would appear to include both Voyager I and Voyager II has been roughly $250,000,000 over 36 years. During that time, they've encountered Jupiter and many of its significant moons, Saturn and its moons, Neptune and its moons, and Uranus and its moons. Now, Voyager I has apparently discovered something scientists didn't expect to find at all at the edge of our Solar System. In terms of pure science, we've arguably gotten more from these two small unmanned craft than we have from the manned space program itself. That's not too shabby.
Image via NASA