Elizabeth Warren Could Be Trump's Easiest Opponent
Elizabeth Warren is rising tn the polls of the Democratic primary race, but one analyst argues she may be the perfect candidate....to help re-elect Donald Trump.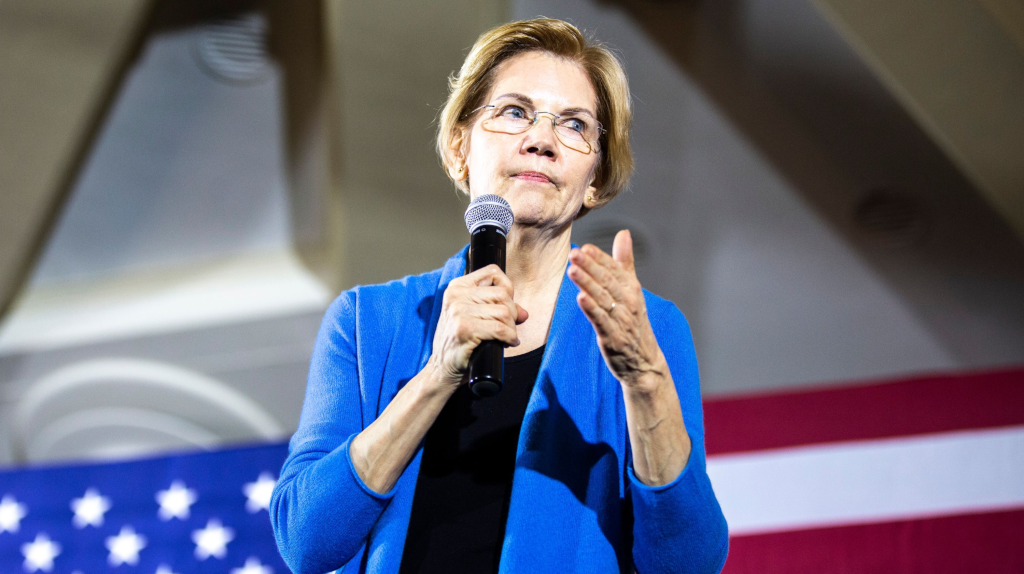 Even as she rises in the polls, National Journal's josh Krausharr argues that Massachusetts Senator Elizabeth Warren would be the weakest opponent that Democrats could put up against President Trump in 2020:
The relevant question isn't whether an ideologically extreme nominee can win a presidential election. As I've written, Trump's consistently weak approval ratings all but guarantee that any Democratic candidate will be competitive. The question is how costly choosing such a nominee will be. The threat that Warren poses to Democrats is that she could turn an easily winnable election into a dogfight.

Even if voters aren't dwelling on policy specifics, their ideological perception of the candidates makes a huge difference. Democrats deliberately avoided invoking polarizing cultural issues when competing for swing districts last year—a strategy that allowed them to comfortably win back the House majority. The relative few who invoked a populist message like Warren's lost winnable suburban seats.

It's Politics 101: When there are more conservative (and moderate) voters than liberal ones, it's very difficult to put together a winning coalition with just a progressive base. The only way to do it is by betting that Trump is so toxic that a critical majority of voters will automatically reject him. That strategy didn't work well for Hillary Clinton in the last election.

Warren also carries other specific vulnerabilities into a matchup against Trump. She currently relies on a faction of white liberal support, struggling to win over African-American voters to her side. If Democrats believe the key to winning is by rallying their diverse base, it's hard to see Warren accomplishing that goal. Her nomination threatens to be a double-whammy: turning off swing suburban voters without any gains in nonwhite voter turnout.

She also would make the election a choice between two different types of disruption. Trump has demonstrated that his chaotic and impulsive approach to governance carries serious risks. But if the economy remains healthy, will voters want to choose an alternative who threatens to abolish private health insurance, redistribute wealth, and take a hostile approach toward Israel?

According to a new Fox News poll, 60 percent of Democratic voters prefer a nominee who will restore politics to normalcy over someone who would fundamentally change how Washington works. That suggests that Warren's message risks alienating critical parts of a winning Democratic coalition.

Most nominees pivot back to the center in a general election, but Warren has staked out so much space on the far left that it will be very difficult for her to do so. Is she suddenly going to become an incrementalist after calling for a revolution in the primary? That's hard to imagine.

Progressives look at Trump's deep and abiding unpopularity, and conclude that this is the time to go for broke. They view Warren representing a movement that has a real chance to gain power and move the country in a leftward direction. They view Trump's against-the-odds election as a model of how unconventional candidates can win power and make history.

But make no mistake: They're playing with fire. Trump is highly vulnerable, but he has the ability to win a second term if the Democratic nominee appears as extreme as he is. Warren has a realistic chance of becoming the next president, but she also could jeopardize it all for the Democratic Party.
To be frank about it, what Krausharr writes here about Warren could easily also be said about candidates such as Bernie Sanders, Kamala Harris, and Cory Booker, all of whom are also running for on a policy platform filled with undeniably radical "progressive" policy proposals and the theory that ideas rather than image are what will beat Donald Trump in 2020. Vice-President Biden and several other candidates, on the other hand, are arguing from a far more centrist policy position that the important thing for Democratic voters to keep in mind in the primary is the fact that beating Donald Trump in 2020 is the most important thing and that the party must put forward a candidate that can do that rather than a candidate that puts forward the most ideal policy platform.
In many respects, this is the same debate that every political party goes through in every primary race. Do you nominate the candidate that is closest to your heart, or the one that's closest to your head? In many cases, of course, the candidate ends up being the same person because die-hard supporters come to believe that the general public will view their candidate in the same manner that they do. That's usually not the case, though, and that's usually why a radical candidate doesn't do so well in a General Election compared to a more centrist candidate.
There are exceptions to that rule, of course, and 2016 is arguably one example of that, but there were several factors at play in 2016 that made a Trump victory most likely. For example, Hillary Clinton's favorable/unfavorable numbers leading up to the election were nearly as bad as Trump's. On the eve of the 2016 election specifically Clinton's numbers were at 41.8% Favorable and 54.4% Unfavorable. (Source) Trump's numbers at the same time were 37.5% favorable and 58.5% Unfavorable (Source) In that sense, Clinton was the perfect candidate for Trump to run against because she was nearly as unliked as he was. Add into this external factors such as the role that Jim Comey's letter two weeks before the end of the campaign played and the fact that the Clinton campaign made several key tactical and strategic errors regarding the Upper Midwest and the perfect storm for Trump's victory becomes easy to see.
That's unlikely to happen this time, but that doesn't mean that Trump is doomed. One way Democrats can lose again is if they end up nominating a candidate that purports to pull the party and the nation too far to left when it comes to policy. This is the problem that nominating Warren, Sanders, or Harris presents. Because of the policy positions they've presented, it is going to be hard for them to pivot to the center, and easy for Republicans to use those policy provisions against them both to rile up their own base and to effectively scare away more moderate voters. Democrats need to keep this in mind as they decide who to support in 2020.