Washington Scandals Just Barely Capturing The Public's Attention
The American public doesn't seem to be following the latest round of Washington scandals with the amount of interest we've seen in the past, according to a new poll:
A majority of Americans are following both the controversy over the attack on the U.S. compound in Benghazi and the brewing IRS scandal – but at levels below historic averages, according to a new poll.

Fifty-four percent said they are closely following the story of how the IRS unfairly targeted conservative groups, according to the Gallup survey on Thursday, and 53 percent are closely following Benghazi. For both stories, 22 percent were following "not too closely" and 24 weren't following at all.

"The level of attention being paid to each is below the average 60 percent of Americans who have closely followed more than 200 news stories Gallup has measured over the past several decades," Gallup editor-in-chief Frank Newport wrote in an analysis of the poll.

Republicans are more likely to be paying attention to both controversies. Two-thirds of the GOP say they are following both scandals. Only 40 percent of Democrats are following the IRS story, with 45 percent keeping a close eye on Benghazi.
Indeed, even independents don't seem to be following the stories that closely: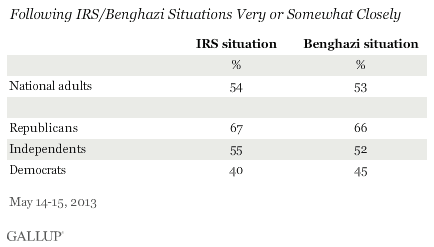 Most likely, I'm guessing that the reason Americans aren't paying attention is because they're viewing it is just another example of Washington engaging in a partisan fight, something that has become all too common in recent years. Perhaps the IRS scandal will resonate at some point, but so far it's not clear that this will happen. One thing this poll does suggest, though, is that it the political impact of these stories may be far less than what Republicans might be hoping for. Of cour