We Don't Need Witnesses
What difference at this point does it make?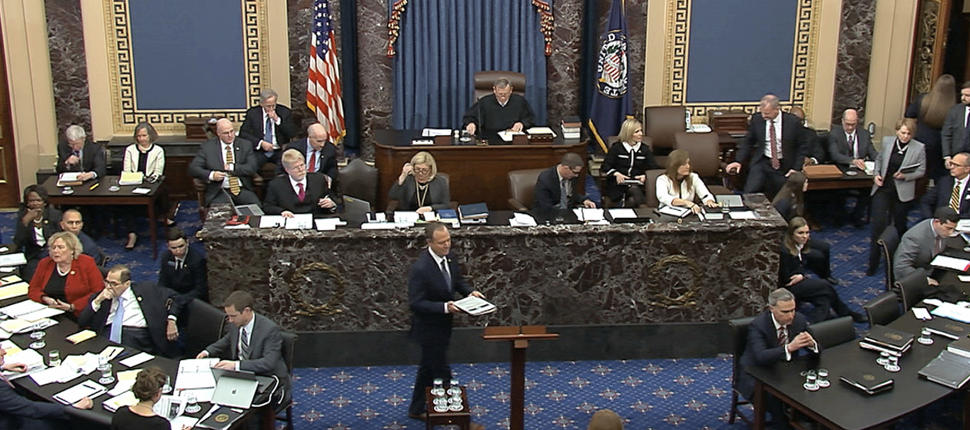 POLITICO has uncovered a memo from Democratic frontrunner Joe Biden during the 1999 impeachment trial of President Bill Clinton arguing that there was no need to call witnesses.
In January 1999, then-Sen. Joe Biden argued strongly against the need to depose additional witnesses or seek new evidence in a memo sent to fellow Democrats ahead of President Bill Clinton's impeachment trial.

Biden circulated the four-page document, titled "Arguments in Support of a Summary Impeachment Trial," on Jan. 5, 1999. In his memo, obtained by POLITICO, Biden cited historical precedents from impeachment cases going back to the establishment of the Senate and asserted "The Senate need not hold a 'full-blown' trial.

"The Senate may dismiss articles of impeachment without holding a full trial or taking new evidence. Put another way, the Constitution does not impose on the Senate the duty to hold a trial," Biden wrote at the time.

The Delaware Democrat added later: "In a number of previous impeachment trials, the Senate has reached the judgment that its constitutional role as a sole trier of impeachments does not require it to take new evidence or hear live witness testimony."

[…]

Biden also said senators should take into account the impact drawing out the impeachment proceedings would have on the country.

"In light of the extensive record already compiled, it may be that the benefit of receiving additional evidence or live testimony is not great enough to outweigh the public costs (in terms of national prestige, faith in public institutions, etc.) of such a proceeding," Biden said. "While a judge may not take such considerations into account, the Senate is uniquely competent to make such a balance."
The article notes that now-Senate Democratic Leader Chuck Schumer joined him in this fight, which they lost.
In fairness, the situation is somewhat different this time, in that President Trump has stonewalled the investigation:
The Senate agreed to depose former White House intern Monica Lewinsky, whose affair with Clinton led to just the second presidential impeachment in history, as well as two other witnesses.

Despite those interviews, Clinton was acquitted by the Senate in February 1999. Clinton's administration cooperated more with the special counsel, leading to a more voluminous record of evidence in his trial. The Trump White House has refused to make officials available for interviews or key documents to House investigators.
Regardless, Biden was almost certainly right in 1999. Not only does the Senate have no obligation to hold a full-blown trial, much less call witnesses, but there are negative consequences to doing so. While I continue to believe Clinton was guilty of the crimes for which he was impeached and should have been removed, I've come to believe our national treatment of Monica Lewinski was shameful. We all knew that Clinton had lied about the affair. What was the point of further humiliating her on national television?
Likewise, I believe Trump attempted to leverage crucial aid to Ukraine for dirt on Joe Biden and then attempted to cover it up once caught, including obstructing the Congressional investigation. He was therefore rightfully impeached.
I'm actually more sympathetic than my colleague Steven Taylor and most legal analysts to Alan Derschowitz' argument that Presidents routinely leverage their office, including in negotiations with foreign leaders, to gain electoral advantage and that doing so is not inherently criminal. Still, withholding Congressionally-authorized funds to get dirt on Biden is arguably beyond the pale and within the discretion of Congress to declare a high crime.
Further, obstruction of Congress' duty to investigate the matter—let alone as part of an impeachment inquiry—is clearly an impeachable and removable offense.
But, as in 1999, we already know two truths. First, the President committed the actions for which he has been impeached. Second, there aren't enough members of his party in the Senate willing to vote to remove him from office for said actions.
So, what purpose does calling witnesses serve?
John Bolton can testify directly that which has already been reported: that he was present when Trump issued an order specifically predicated on a quid pro quo. But Derschowitz, one of the President's attorneys in the trial, has essentially admitted that was the case and simply argues that it's not an impeachable offense.
And, like it or not, we're not likely to see more than one or two Republicans cross over. Indeed, they may well be offset by red-state Democrats voting to acquit.
One could, I suppose, argue the flip side of Biden's second point: that questioning could serve the American public by shining a light on what Senate Republicans are about to countenance when they acquit the President.
But a majority of the American public already thinks Trump guilty and deserves to be removed from office. They are not, alas, distributed equally among the 435 Congressional Districts and 50 states. To the extent Senators are going to be punished at the ballot box for their vote, it's already baked in. One can scarcely imagine the American who currently thinks Trump innocent who is persuadable.