Weird Fundraising Appeals
A FiveThirtyEight-inspired message from the Democrats doesn't compute.
Using the subject line "FiveThirtyEight's new Senate forecast," something calling itself the "Official Democratic Record" (actually, ActBlue) used a slightly-outdated version of this graphic to urge me to send them some money: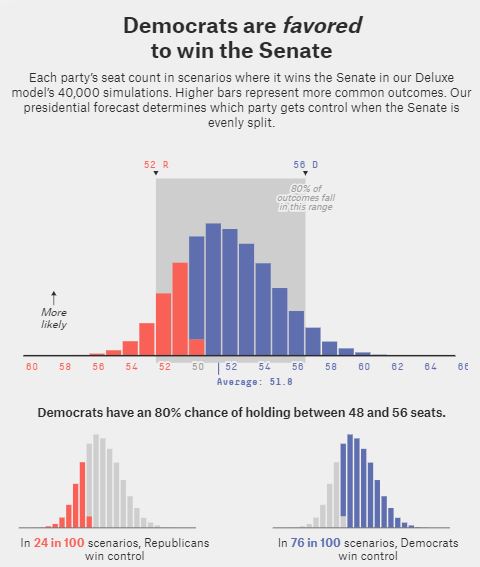 They follow this up with the pitch: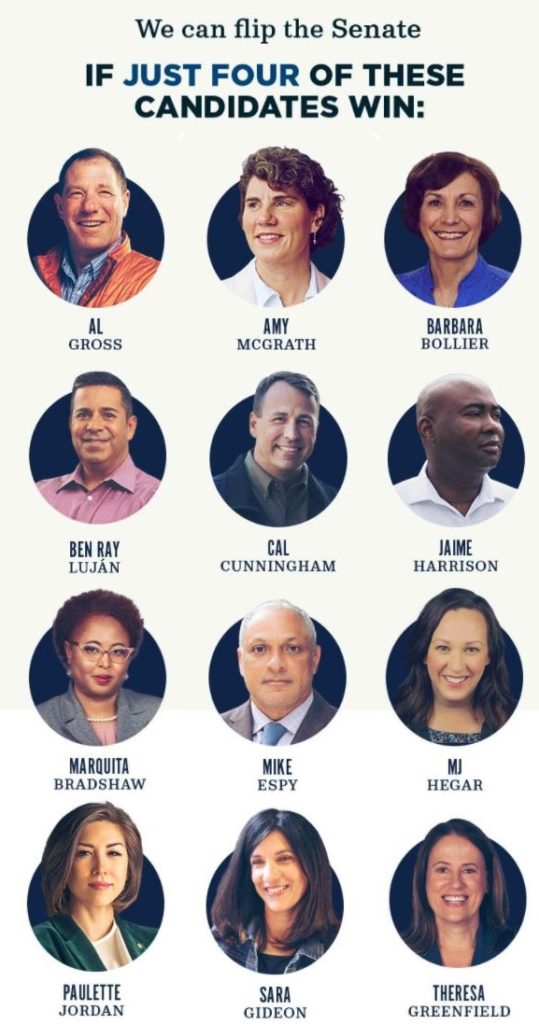 The problem, of course, is that some of these races are not like the others. Some of the listed candidates, like Amy McGrath, have essentially zero chance of winning. Others, like Ben Ray Lujan, are practical shoo-ins.
Here's the odds FiveThirtyEight puts on the most competitive races: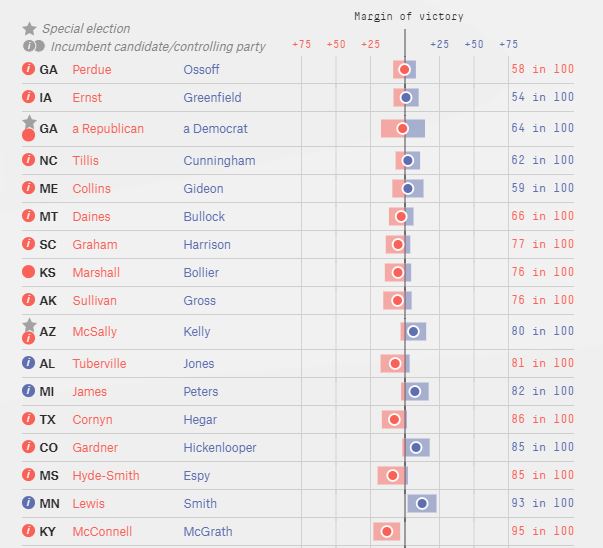 Looking at the pitched names in order:
Gross has a mere 24% chance of winning in Alaska.
McGrath has a mere 5% chance of upsetting Mitch McConnell in Kentucky.
Bollier has a mere 24% chance of winning in Kansas.
Lujan, conversely, has a 95% chance of winning in New Mexico.
Cunningham has a 62% chance of winning in North Carolina. This is among the most competitive races in the country and should get tons of money (not that it isn't already).
Harrison has only a 23% chance of upsetting Lindsay Graham in South Carolina.
Bradshaw has an infinitescimile <1% chance in Tennessee.
Espy has a tiny 15% chance in Mississippi.
Heger has a tiny 14% chance of knocking off Jon Coryn in Texas.
Jordan has an infinitescimile <1% chance in Idaho.
Gideon has a 59% change of knocking off Susan Collins in Maine, likely keeping that seat in Democratic hands until the end of time. Again, an obvious place to drown in cash.
Greenfield has a 54% chance of knocking off Joni Ernst in Iowa, making it the second most competitive race in the country. Invest in this one!
So, the good news is that four—and ONLY four—of the listed candidates have a really good chance of winning the seat. Of those, one (Lujan) is a lock-solid lock. Another (Cunningham) is likely but could use shoring up. Two (Gideon and Greenfield) are poised to win but in hyper-competitive races.
The rest? What in the holy hell?
Meanwhile, they're not asking for money for Georgia, which is THE most competitive race in the country.
If the pitch is aimed at the kind of person who reads FiveThirtyEight—and they got it right in my case—then why give the impression that you're asking me to send money to morons who don't know which races need targeting.
My initial thought was that they were just covering their bases in a mass mailout, figuring that people would be upset if their candidate wasn't featured. But they know where I live, as the town is prominently blasted in the email, imploring me to join 14 others in my community in giving.