Western 'Security Guarantees' to Ukraine Don't Say What Commentators Think
The Budapest Memorandums pertain solely to nuclear attacks.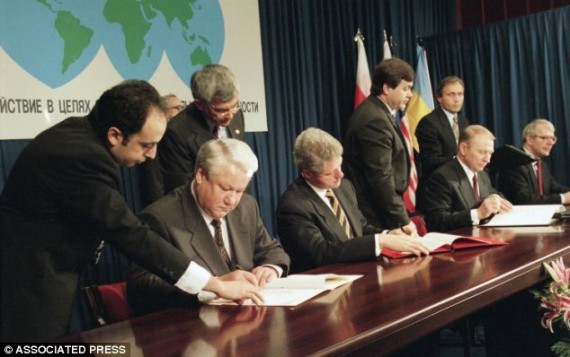 Quite a bit of commentary on the Ukraine crisis refers to Western "security guarantees" made  in exchange for Kyiv's de-nuclearization two decades ago. That analysis, alas, is not informed by the facts.
While Russia is almost certainly in violation of both the spirit and letter of The Budapest Memorandums on Security Assurances of 1994, the other signatories have no obligation whatsoever to do anything about it.
The most applicable provision: "The Russian Federation, the United Kingdom of Great Britain and Northern Ireland and the United States of America reaffirm their commitment to refrain from the threat or use of force against the territorial integrity or political independence of Ukraine, and that none of their weapons will ever be used against Ukraine except in self-defence or otherwise in accordance with the Charter of the United Nations." Russia is rather clearly in violation of this, notwithstanding Putin's claims of self-defense.
Likewise, the parties "reaffirm their commitment to seek immediate United Nations Security Council action to provide assistance to Ukraine, as a non-nuclear-weapon State party to the Treaty on the Non-Proliferation of Nuclear Weapons, if Ukraine should become a victim of an act of aggression or an object of a threat of aggression in which nuclear weapons are used." Emphasis mine. So, unless Russia uses nuclear weapons, the other signatories have no obligation to do anything. If Russia were, unfathomably, to threaten or use nukes, then the other parties would be obligated to take the matter to the Security Council—where Russia would promptly veto any proposed action.
To summarize: The only security commitment given to Ukraine by the signatories is to make whole its nuclear deterrent against nuclear attack. The fact that nuclear weapons possession might also deter a conventional attack, while possibly true, is explicitly not addressed.
Indeed, since the UN Security Council is going to actually take up the matter—for all the good that'll do (see above)—the other parties are actually going above and beyond the call of duty.