What Trump's Civil War Comments Reveal About Him
President Trump's comments about Andrew Jackson and the Civil War reveal something about how he thinks, and it's not good.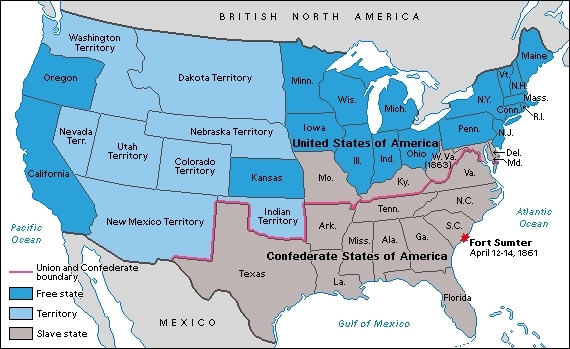 The latest comments from President Trump that are leaving much of Washington, and indeed the entire country, confused about what exactly the President is thinking involving events that happened more than 150 years ago:
President Trump mused in an interview that the Civil War could have been avoided if only Andrew Jackson had been around to stop it. Jackson had been dead 16 years and long out of office when the war started in 1861.

Mr. Trump's comments, among several he made about Jackson in an interview broadcast Monday on satellite radio, quickly drew condemnation from his critics and from historians who said they appeared to show the president profoundly misunderstanding American history.

"People don't realize, you know, the Civil War, if you think about it, why?" he told his interviewer, Salena Zito, a host on SiriusXM's P.O.T.U.S. channel, who spoke to Mr. Trump for an article that was published on Sunday in The Washington Examiner.

Mr. Trump followed up on the comment in a tweet on Monday night, arguing that Jackson saw the Civil War coming and would have prevented it had he not died 16 years earlier.

Mr. Trump has often professed admiration for the seventh president's populism and visited his tomb in March.

Julian E. Zelizer, a professor of history and public affairs at Princeton University, called Mr. Trump's comments on Jackson and the Civil War the "height of inaccurate historical revisionism."
In another part of the interview, Trump put it in the form of a question, asking "People don't ask that question, but why was there the Civil War? Why could that one not have been worked out?"
As Jon Meacham, who has written what is perhaps the most definitive biography of Andrew Jackson to date, notes, Trump's comments both about Jackson and the Civil War defy logic and the evidence:
Mr. Trump has questioned the necessity of the Civil War before, in an interview with Mr. Meacham before the election. At the time, President Trump said that he had "always felt that the South overplayed their hand," he told Mr. Meacham.

Had Jackson been alive at the start of the Civil War, Mr. Meacham said, it would be difficult to predict his reaction. It would have brought his commitment to the Union into conflict with his identity as an unapologetic slave owner. Mr. Jackson was from Tennessee, which fought for the Confederacy.

But any president would have had to contend with the South's attempt to expand the institution of slavery into territory newly acquired by the United States. It's what Mr. Meacham called the unavoidable historical question.

"The expansion of slavery caused the Civil War," he said. "And you can't get around that. So what does Trump mean? Would he have let slavery exist but not expand? That's the counterfactual question you have to ask."
As many pundits and historians have noted, Trump's comments here about Jackson and the Civil War are, to say the least, quite odd even for him. The idea that people don't ask why the Civil War happened, or what it was that led the United States down the path that made secession and war inevitable is somehow a question that people don't ask as Trump suggests is utterly absurd. That very question is something that historians, students of history, and regular Americans for whom the antebellum era is a particular area of fascination, have been asking for more than a century now, and it's likely to continue to be debated for as long as the United States exists. The common contention, of course, is that slavery and its expansion in and of itself was the reason for both events, and there is most certainly plenty of evidence to support this argument both by an examination of the events that occurred in the decades prior to the day that Confederate forces fired the first shots of the war at Fort Sumter. This evidence includes the secession resolutions of the various states and the statements of Confederate officials such as C.S.A. Vice-President Alexander Stephens, who made the infamous "Cornerstone Speech" proclaiming that the CSA was built on the idea that black people were inherently unequal to whites and that slavery was, therefore, their natural condition, contemporaneous with the founding of the Confederacy. Other more nuanced theories argue that, in addition to slavery and its expansion, other forces played a role in pulling the North and South apart and toward war. These factors included the differing economic forces that were driving the country. Whereas the North was expanding rapidly thanks to industrialization, the South remained very much the largely agrarian society it had been since the Colonial Era. In no small part, this was because the economic and political class of plantation owners and farmers that relied on slave labor held tight control over the politics on most of the states that ultimately ended up seceding and going to war against the North. Political factors, such as the fact that Southerner were able to dominate control of the U.S. Senate, are also cited in that this control, combined with the rise of abolitionism in the North starting in the 1840s, made it difficult for Congress to deal with vital national issues. As the power of the north grew with its population, the conflict between these two forces on the national political stage only intensified. As I said, these are all matters that have been debated by historians and others for a very long time, making Trump's claim that "[p]eople don't ask that question" is not only untrue but it reveals a person who doesn't really know what they're talking about.
This isn't the first time that Trump has seemed to make rather bizarre claims about events in the past, of course. At one point in the early days of his Presidency, Trump made comments that suggested he believed that the great abolitionist Frederick Douglass was still alive. Mr. Douglass, of course, has been quite dead for quite some time. On other occasions, Trump has made odd claims about more recent historical events, such as the September 11th attacks, that lead one to wonder exactly where he gets his information. This morning, for example, Morning Joe's Joe Scarborough compared Trump's Civil War comments, along with other comments he made in interviews marking his first 100 days in office, compared what we're hearing from Trump in public to his mother, who has been suffering from for the better part of the past decade. Rather than taking things down this uncomfortable path, I'd suggest that what we're actually seeing here is something we've seen before from Trump, namely evidence of a man who is profoundly ignorant of many thing and who has very little intellectual curiosity.
There have been many people who have commented about the way President Trump talks, both in public speeches and in interviews, and everyone seems to have their own theory about what's going on in his head. One that has always stuck with me is a pundit whose name I've forgotten at this point who compared Trump to a middle school student who has to write or deliver a book report about a book that they didn't read. He uses a lot of big words and asks questions that may seem profound to him but which ultimately reveal that he's just making things up in the hope that he'll say something that will make him sound profound when in reality all it reveals is the extent to which he doesn't know what he's talking about. These comments about the Civil War, for example, make me think he probably hasn't studied the war or its causes since he took history classes in school some sixty years ago, and they're consistent with other occasions on which he has tried to sound profound on a subject matter that he clearly doesn't know much about. It's unsurprising behavior from someone who has admitted publicly that he doesn't really read many books, and one imagines that this has been consistent throughout much of his life. This contrasts greatly with most recent Presidents, including Presidents Obama, Clinton, Reagan, and both George H.W. and George W. Bush, most of whom have been known to be voracious readers even while they were in office. Instead of reading in his down time, Trump appears to spend most of his time watching cable news channels and regurgitating what he hears and sees. It's as if we've elected Homer Simpson President.
There is good reason to be concerned about this given the fact that Trump is President, of course. The fact that Trump apparently lacks intellectual curiosity and hasn't been exposed to ideas outside of his own pre-conceived notions and what his advisers tell him means that he's unlikely to question advice that he's given even when he ought to be doing that. It also calls into question his own judgment and ability to deal with unforeseen events that are likely to happen over the course of the next four to eight years. Of course, these are all things about his character that anyone who paid attention to him could have recognized easily, and yet he was still elected President. Now, we're all forced to deal with the fact that a person like this is President of the United States.