When Will We Get Back to Normal?
A veteran health reporter says the end is near. But there's a huge caveat.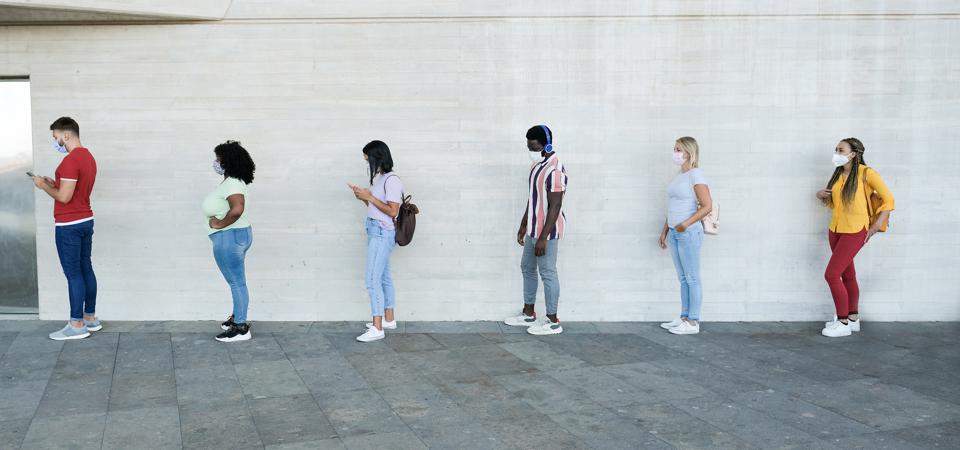 The longtime pandemic journalist, late of the New York Times, Donald G. McNeil Jr., spent months warning us that COVID-19 was much more dangerous than most people thought and telling podcast listeners that, even though restaurants were re-opening on a limited basis, he personally would not accept that risk. So, it's newsworthy that he now believes "The End IS Near. No, Seriously."
His key point, though, is that "the end" is a fuzzy, fraught concept.
[T]he Black Death and the Spanish Flu ended only as epidemics.

The pathogens that caused them didn't vanish. They're still with us. But you don't need transmission exterminated to say an epidemic is over. You just need it manageable.
What that means is local and, in many ways, personal.
My epidemic may end before yours does.

Our national herd has many sub-herds. Immunity's growth rate is variable, not just state by state, but block by block, and profession by profession. Front-line nurses and meatpackers, homebound software engineers and transitioning schoolteachers are all increasing their immunity levels by different routes.
It's also, fundamentally, psychological:
So what's "normal"? Shopping without masks? Hugging your grandchildren? Taking a flight? Catching a movie? Breaking up your pod? Reading a newspaper that doesn't contain a single Covid-19 story?

Yes, all of the above. But they all boil down to the same thing: "normality" is actually not a number like 85 percent immune. Normal means we've reached a risk-of-illness-or-death level we can accept. [emphasis in original]

Epidemiology isn't the only science that dictates when pandemics end. Psychology plays a big role.

With flu, "normal" is 12,000 to 60,000 dead per year. Some of us know that, some of us don't. As a result, some of us get flu shots, some of us don't. Maybe in the future, some of us will wear masks in December and January and some of us won't.

But at some point, we each individually decide "OK, I can live with this much risk." Then peer pressure kicks in. "Well, if you can, I can too."

It's already started. I live in an aggressively mask-affirmative Brooklyn neighborhood. But just in the last couple of weeks, I'd say that roughly 20 percent of the masks have come off — on the sidewalks, that is.

Demasking indoors is still in transition: in restaurants yes, in grocery stores no. That makes little sense, but it's how it is. Now even Trader Joe's says it will ease up on masks, though some of my neighbors are clearly unhappy about that.
All of the local grocery stores now permit the fully vaccinated to shop unmasked. Having received my second shot almost two months ago now, I do so. But it's odd, in that probably three-quarters of shoppers remain masked, even though I'm in a community where most adults are fully vaccinated. Hell, my three over-16 stepchildren have all had their second shot and my 12-year-old daughter has had her first.
At what point do we accept our illness-or-death risk? That's not a collective decision. It's an individual one.

I'm already eating at the bar at my corner beer-and-burger joint again.

On the other hand, I'm not willing to fly to India just now. Not as much out of fear of Covid but because, if I happened to have, say, a heart attack, I clearly would be unable to get a hospital bed or an oxygen mask.
That seems like a perfectly reasonable risk calculus to me but others will surely be more and less cautious.
But, again, the psychology is the key. And we're not rational beings in terms of risk calculation.
Last year, despite all the ink spilled on it, Covid-19 was our leading cause of death only in some weeks. I vividly remember when it first hit № 1: it was on April 7. Nonetheless, it still ended 2020 at just № 3, after heart disease and cancer.

This year, because the January-February surge was so bad, it will probably be № 3 once more. But never again after that. Too much immunity, not enough kindling left for another firestorm.

However, please note: with the exception of Alzheimers and freak accidents like lightning strikes, almost all those top 10 causes of death are abetted by risks some of us long ago rationally (or semi-rationally) decided to accept: smoking, drinking, overeating, driving, kissing, chainsaw-juggling and so on.

Risks increase with age: no one dies at age 13 from their first cigarette. Covid death risk also increases with age; our national nervousness is age-stratified. (We know this from watching the average age of hospital admittees drop.)

Flu, at № 9, is the closest thing on the American mortality list to Covid-19. We all know how to minimize our flu risk — flu shots. But many of us don't bother. We accept what we perceive to be our risk. Flu is objectively scary — but we aren't very scared.
There's a lot more to the piece, including lots of charts and graphs presenting data.