Where is Joe? (Revisited)
Thoughts on Biden's low profile and Trump's daily exposure.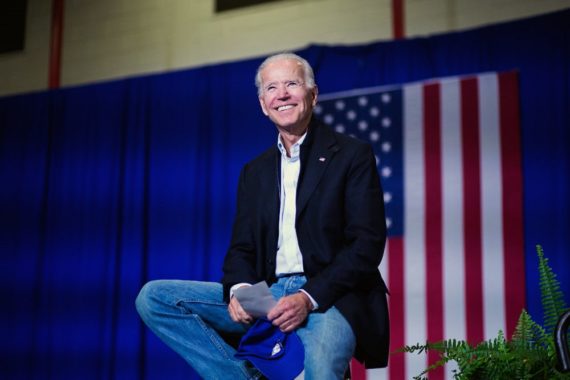 A month and a day ago I wrote a post with the title question of Where is Joe? It was based on numerous comments I had seen calling for Joe Biden to be more front-and-center in trying to provide a leadership alternative to Trump in the time of Covid-19. Concerns still seem to roil on this topic given Trump's daily dive into disorientation and deception.
My position from last month remains the same. First, it is not the nominee's job to lead. Indeed, I think it is dangerous for non-elected individuals to pretend like they are a shadow government figure. Second, Biden's job is to criticize Trump and present himself as an available alternative. He can do that pretty easily by just letting Trump talk at the moment.
Quite frankly, as James Joyner noted earlier today, the current numbers suggest that Biden is doing just fine. Indeed, I think that Daniel Drezner is correct about both worries about Trump's TV time that some have expressed as well as Biden's relatively low profile:
Furthermore, spending two hours a day at a podium does not help Trump. His antics might appeal to his base, but there's a reason other Republicans want him to cut down his appearances. They put all of his weaknesses on display. And for those who fear that this crowds out Biden, let me suggest that at this point in the race, the more Biden appears in the public mind as "Generic Democrat," the better his chances for victory as the safer "not Trump" choice.
I am not yet ready to take state-level polling for the general election all that seriously–it is just so early, especially given the way political time (heck, time in general) is moving at the moment. Note that the Senate voted on impeachment on February 5. That was not even three full months ago and it feels like a year or more, so it is hard to make any real projections to, say, September. Nonetheless, it is also the case that the broader electorate is just not paying that much attention to electoral politics at the moment and that the real issue is not Biden's policy positions as much as the fact that Biden isn't Trump.
As such, being the "generic Democrat" strikes me as very much in Biden's favor (as opposed to being Hillary "I am not well-liked" Clinton, for example).
The number that remains key to me is Trump's approval rating, which is at 43.4% according to FiveThirtyEight at the moment. His "rally around the flag" moment got him to a strong and powerful 45.8% (briefly). If the best that he can muster at a time when he has a national crisis to manage (and he is getting two hours a day in TV for free) then I honestly think his odds of reelection have to be low. This is doubly true given job loss and GDP contraction.
In regards to "rally around the flag" effects, note how governors have done during this same period of time: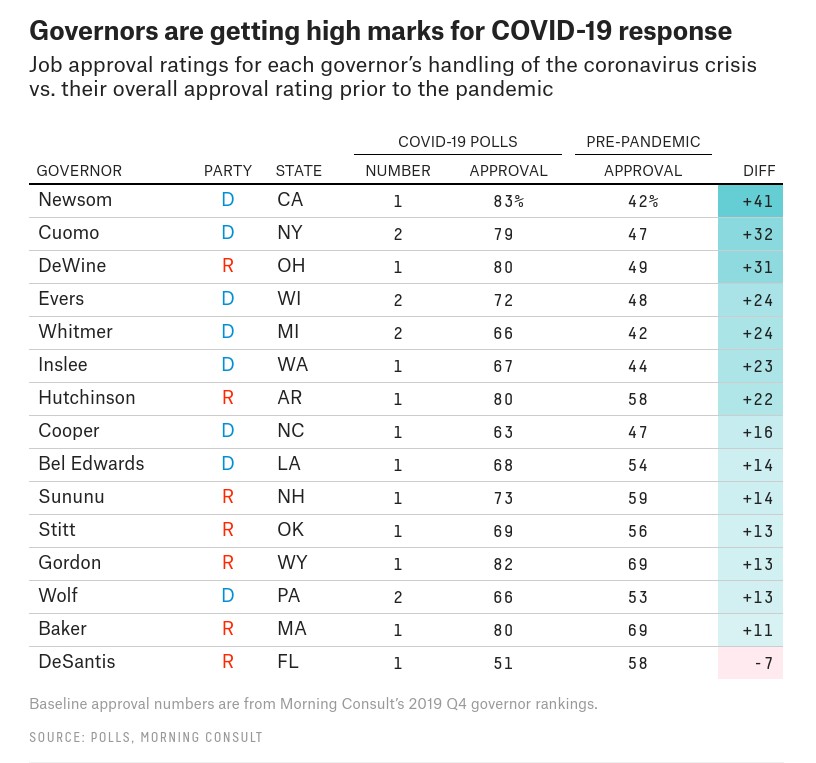 Executives who act decisively and in a way that appears in concert with the public interest tend to get bumps in approval during a crisis. That Trump received only a small, temporary bump is indicative as to a) how poorly he has handled this situation, and b) how much opinions of him are set in concrete.
(And, as a side note, clearly Michigan wishes to be liberated…)
Trump's approval scores also indicate that hand-wringing about his free TV time is misplaced. Indeed, at this point, I am not sure that he isn't just providing a remarkable amount of TV commercial materials for the DNC, the Biden campaign, and anti-Trump organizations. He is frequently incoherent and has contradicted himself over and over.
Meanwhile, given Joe Biden's gaffe-machine abilities, maybe being quiet isn't such a bad thing,
I will also note that he was pretty quiet going into South Carolina, and somehow managed to unify the party behind him not long thereafter.