Where's The Line Between Protected Online Speech And Criminal Threats?
Next term, the Supreme Court will try to decide when online speech crosses the line and becomes a criminal threat.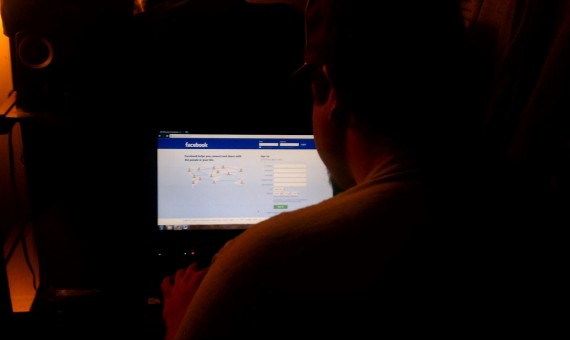 On Monday, the Supreme Court agreed to hear a case that raises the increasingly important question of when online speech that may constitute a violent threat loses the protection of the First Amendment and becomes something that can be punished criminally:
The Supreme Court agreed Monday to consider whether people who post violent or threatening language on Facebook and other Internet forums must show intent to follow through on their threats in order to be prosecuted.

Anthony D. Elonis of Pennsylvania was sentenced to nearly four years in prison for the ominous photos and violent rants he made against former co-workers, law enforcement officials and his estranged wife.

Elonis said his postings, which included the lyrics of songs by the rapper Eminem, were free speech and not specific threats to harm anyone. The justices will consider the case next fall.

(…)

The Facebook case calls on the court to deal with a new frontier in how to deal with threats posted on social media sites. Lower courts are divided over what must be shown to charge those such as Elonis, and whether there must be evidence that he planned to act on his threats before prosecution.

Elonis was 27, estranged from his wife and just fired from his job at an amusement park when he posted violent images and threatening language on his Facebook page. One was a photo of him at the park in a Halloween costume and holding a toy knife to a co-worker's throat. "I wish," he wrote.

He also mimicked a comedy troupe's routine about what constituted a threat.

"Did you know that it's illegal for me to say I want to kill my wife?" Elonis wrote. "Now it was okay for me to say it right then because I was just telling you that it's illegal for me to say I want to kill my wife."

Elonis's petition to the court said: "Although the language was — as with popular rap songs addressing the same themes — sometimes violent, petitioner posted explicit disclaimers in his profile explaining that his posts were 'fictitious lyrics,' and he was 'only exercising [his] constitutional right to freedom of speech.' "
As Mark Berman explains, in many ways this case will be the Court's first foray into the world of social media, and the questions about the relationship between online personas and the real world:
[This case]  speaks to How We Communicate Now. Many people construct identities online, personas that they try to mold in some preferred image, ultimately creating a self that exists as an outlet, a tool, a hobby, a megaphone or whatever else they want. But people throw this self into a vortex of trolls and bots and F!RST!!1! and harassment and song lyrics and hedgehog GIFs, knowing full well that intention and tone often vanish as this self passes from our reality and into someone else's. This isn't new, but it is becoming more pervasive as our digital and physical selves overlap more and more.

This case will allow the Supreme Court to determine whether  "the nature of the medium" affects how a threat is analyzed, according to a brief submitted by three groups dedicated to issues of free speech and free expression (the Thomas Jefferson Center for the Protection of Free Expression, the Marion B. Brechner First Amendment Project and the Pennsylvania Center for the First Amendment).

"If context really is a key variable in determining the point at which speech loses First Amendment protection … then lower courts urgently need this Court's guidance on how the context of online social media affects the true threats analysis," the groups wrote in the brief.

The new(ish) landscape online offers a radically different context through which to view threats. No longer are known, identifiable figures expressing something publicly; now, people "exercise near-complete control over their persona," regularly adopting usernames that cloud their identities, as the groups argued in their brief.

Again, the notion of using pseudonyms online is not new, but it's a massively different playing field because the sheer level of participation has skyrocketed. Between 2000 and 2014, the percentage of American adults who use the Internet nearly doubled (rising to 87 percent from 46 percent) (so, yes, 13 percent of American adults say they don't use the Internet). In 2000, concerns about anonymity and speech online were perfectly valid for the half of Americans who used the Internet; in 2014, concerns about online behavior and interactions are deeply important considering how much information we put online and the fact that we carry the Internet around in our pockets and purses.

(…)

Attorneys for Elonis noted in a legal filing that because online communication is "inherently impersonal," such communication is "inherently susceptible to misinterpretation." The brief filed by the U.S., rather, argues that a lower court was correct in telling a jury to determine if Elonis's posts were a real threat under the "reasonable person" standard (which posits that if Person A makes a threatening statement about Person B, a reasonable person would assume that Person B would interpret the comment as a serious threat). The case revolves around online threats and whether a person has to show intent to follow through on these threats, but the larger issue is one that could play a role in how we treat online communications going forward.
The question of when a verbal or written communication that appears to be threatening crosses the line from protected speech to criminal act is one that predates the Internet Era, of course, but it has become a far more prevalent issue now that communication is far easier and anonymity of a sort far easier to bring about. Today, we live in an era where activities like stalking can be done from the safety of a computer keyboard, and where threats can be anonymously posted with little fear that authorities will actually do anything about it. While most of this online ranting amounts to much ado about nothing, there have been far too many cases of people who made threats online only to follow up on them in the real world. It was in response to those events that statutes such as the one at issue in this case were passed into law.
The question that the Court will be dealing with next term is an interesting one, though. Essentially, it will be deciding if there needs to be evidence of subjective intent to cause harm in order to charge someone with a crime. The argument that Elonis's attorneys make, that it's difficult to tell just from the content of communications themselves what the intent of the writer actually is, is one that has merit and we do need to be careful about criminalizing someone for posting what amounts to fantasy or wild speculation. At the same time, though, the correlations that we see between online threats and actual physical harm are far too prevalent to ignore.
I have to admit that this is an issue that I don't have an immediate opinion on. Ordinarily, I'm a strong defender of the First Amendment and opposed to efforts to criminalize something that amounts to little more than words. On the other hand, cyber-stalking is a serious enough problem that there clearly needs to be some means of addressing it before it reaches the point where it ends in tragedy. It will be interesting to see how the arguments in the case develop, but if you're interested in the issue generally, the Petition For A Writ Of Certiorari and other pleadings are available at SCOTUSBlog, and  are a good starting point. In any case, this case will likely be scheduled for argument earlier in the Court's October 2014 term, meaning we could have a decision as early as January 2015.