White House And Congress Reach Compromise On Review Of Iran Nuclear Deal
After months of resistance, the White House will allow Congressional review of any deal with Iran, but it may not hamper negotiations much in the end.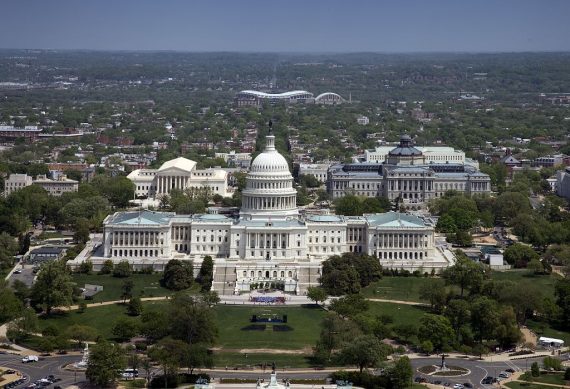 Thanks to a last minute compromise, Congress will have a role in voting on whatever deal is eventually reached regarding Iran's nuclear program, but the way the bill is structured makes it unlikely that Congressional Republicans will actually be able to wreck a final deal:
WASHINGTON — The White House relented on Tuesday and said President Obama would sign a compromise bill giving Congress a voice on the proposed nuclear accord with Iran as the Senate Foreign Relations Committee, in rare unanimous agreement, moved the legislation to the full Senate for a vote.

An unusual alliance of Republican opponents of the nuclear deal and some of Mr. Obama's strongest Democratic supporters demanded a congressional role as international negotiators work to turn this month's nuclear framework into a final deal by June 30. White House officials insisted they extracted crucial last-minute concessions. Republicans — and many Democrats — said the president simply got overrun.

"We're involved here. We have to be involved here," said Senator Benjamin L. Cardin of Maryland, the committee's ranking Democrat, who served as a bridge between the White House and Republicans as they negotiated changes in the days before the committee's vote on Tuesday. "Only Congress can change or permanently modify the sanctions regime."

The essence of the legislation is that Congress will have a chance to vote on whatever deal emerges with Iran — if one is reached by June 30 — but in a way that would be extremely difficult for Mr. Obama to lose, allowing Secretary of State John Kerry to tell his Iranian counterpart that the risk that an agreement would be upended on Capitol Hill is limited.

As Congress considers any accord on a very short timetable, it would essentially be able to vote on an eventual end to sanctions, and then later take up the issue depending on whether Iran has met its own obligations. But if it rejected the agreement, Mr. Obama could veto that legislation — and it would take only 34 senators to sustain the veto, meaning that Mr. Obama could lose upward of a dozen Democratic senators and still prevail.

The bill would require that the administration send the text of a final accord, along with classified material, to Congress as soon as it is completed. It also halts any lifting of sanctions pending a 30-day congressional review, and culminates in a possible vote to allow or forbid the lifting of congressionally imposed sanctions in exchange for the dismantling of much of Iran's nuclear infrastructure. It passed 19 to 0.

(…)

Under the compromise legislation, a 60-day review period of a final nuclear agreement in the original bill was in effect cut in half, to 30 days, starting with its submission to Congress. But tacked on to that review period potentially would be the maximum 12 days the president would have to decide whether to accept or veto a resolution of disapproval, should Congress take that vote.

The formal review period would also include a maximum of 10 days Congress would have to override the veto. For Republicans, that would mean the president could not lift sanctions for a maximum of 52 days after submitting a final accord to Congress, along with all classified material.

And if a final accord is not submitted to Congress by July 9, the review period will snap back to 60 days. That would prevent the administration from intentionally delaying the submission of the accord to the Capitol. Congress could not reopen the mechanics of a deal, and taking no action would be the equivalent of allowing it to move forward.

Mr. Corker also agreed to a significant change on the terrorism language.

Initially, the bill said the president had to certify every 90 days that Iran no longer was supporting terrorism against Americans. If he could not, economic sanctions would be reimposed.

Under the agreement, the president would still have to send periodic reports to Congress on Iran's activities regarding ballistic missiles and terrorism, but those reports could not trigger another round of sanctions.
Given the fact that the White House has spent the last several months at least pushing back on the idea of what amounted in some of its more stringent versions to a Congressional veto, it's not surprising to see the media largely spinning this as something of a set back for the Administration. In fact, the White House was continuing to lobby Democratic members of the Senate Foreign Relations Committee to vote against Corker's bill up until mere hours before the vote took place yesterday. At the same time, though, they were clearly negotiating behind the scenes to try to come up with a compromise like this because it was clear that something was going to pass the Senate and House, and that it was going to pass with at least some level of bipartisan support regardless of how much the White House lobbied against it.
Given that, what passed out of committee isn't necessarily that bad from the White House's point of view and may not do very much to hinder a final deal, assuming that one is reached by the end of June. As noted, even if both Houses of Congress pass a resolution disapproving of the deal, President Obama will still be able to issue a veto and, unless supporters can come up with a 2/3 majority in both the House and the Senate, the deal will have essentially be approved. On some level, it's a smart strategy for the White House than submitting the deal as a formal treaty since, in that case, they'd have to figure out had to get 67 votes approving the agreement in a Senate that has 55 Republicans that are likely to vote no. Instead, all they really have to worry about in the worst case scenario is finding as few as ten Democrats unwilling to override the President's veto. That certainly seems like an easier political maneuver to pull off in the end.
Even beyond the process outlined in this bill, Congress is still likely to have a significant say in future U.S. policy toward Iran, even if there is a final deal reached in Switzerland. Many of the sanctions that have been imposed on Iran are codified in the law, for example, and most of those can only be fully lifted with Congressional assent. The most that the President can do on his own is lift the sanctions imposed via executive order. Additionally, it's largely a good thing that Congress is reasserting its authority when it comes to foreign policy. Regardless of whether or not you believe it's a good idea to negotiate a nuclear deal with Iran, and I generally believe that it is, it would have been entirely improper for the White House to agree to something like this, and begin implementing it, without any Congressional oversight at all simply because, technically, the agreement isn't considered a "treaty" under the Constitution. On that point alone, this compromise is a step forward regardless of what impact it has on the nuclear talks.