White House May Hold Off On Immigration Action Until After Election
Cowardice, or politically prudent?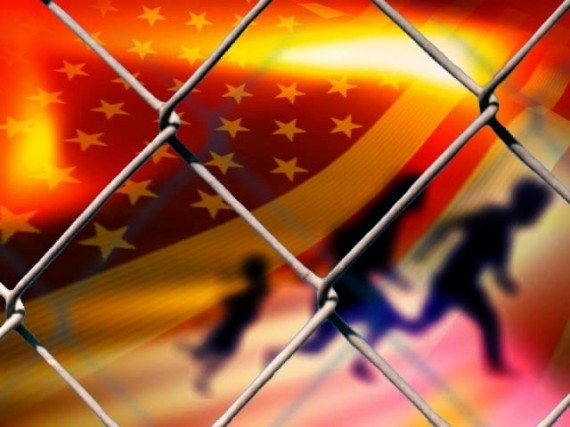 At the beginning of the summer, President Obama said that he was directing his administration to come up with steps that he could take as President to deal with immigration issues in light of the fact that the House of Representatives had made it clear that it would not be acting on either the bill that the Senate passed last year or any other bill before the midterm elections. Almost immediately, the President's announcement was cited by many on the right as another sign of the executive overreach that they have accused him of for several years now, and which is also the basis for the lawsuit that the House of Representative recently authorized to be filed against him. More recently, some Members of Congress, most especially Texas Senator Ted Cruz, hinted that if the President took any such action prior to the midterms, then Republicans in Congress would be forced to consider shutting down the government over the issue. Indeed, Cruz himself had threatened such a shutdown earlier this summer, although he and other Republicans have backed off of that talk in recent weeks and have asserted that all of the talk of shutdowns is coming from Democrats.
On the other side of the political aisle, the pressures on President Obama have been pulling him in different directions. On the one side are the groups that has pushing for immigration reform for some time now, including organized labor, and are now pressing him to at least do something similar to the Deferred Action For Childhood Arrivals program that he announced last year. On the other side, though, are party officials and, especially, vulnerable Democrats, who are concerned that executive action that was announced before the midterm elections would only serve to increase turnout from those opposed to immigration reform. While it's unclear what the President is going to do, there have been several recent hints from the White House that we shouldn't expect any action any time soon:
The White House has signaled that President Obama's pledge to reform the nation's immigration system could happen later than the end of the summer, a deadline it set earlier this year.

Obama has pledged to circumvent Congress and unilaterally overhaul immigration, and has said previously that he would do so by the end of the summer. But he and other White House officials began suggesting in recent days that any action may happen later than planned.

During a news conference Thursday, Obama suggested that a flood of Central American children at the southwestern border, which peaked in the spring and is now abating, has had an impact on the potential timing of his decision.

Some of these things do affect timelines, and we're just going to be working through as systematically as possible in order to get this done," he said.

A White House official said the timing of any potential action on immigration could influence migrations to the border.

 When asked about a timeline Friday, White House press secretary Josh Earnest did not mention the end-of-summer deadline, which officials have been touting for weeks. But he also declined to say whether Obama would delay decisions on immigration until later this fall or after the November midterms.

"That's putting the cart before the horse," Earnest said.

Earnest said Obama has not yet received final recommendations from Attorney General Eric H. Holder Jr. and Homeland Security Secretary Jeh Johnson on how to address the immigration issue. The White House had previously said that those recommendations were to be given to Obama by the end of summer.

"So those who are speculating about how those recommendations might be implemented are a little ahead of themselves," Earnest said.

Obama said Thursday that the flow of unaccompanied minors and other issues have "kept us busy, but it has not stopped the process of looking more broadly about how do we get a smarter immigration system in place while we're waiting for Congress to act."

Obama said he still believes "that if I can't see congressional action, that I need to do at least what I can in order to make the system work better."

Administration officials said earlier this month that the surge of children and Congress's failure to pass broad immigration reform spurred Obama toward taking action by the end of the summer.

However, some Democrats in tight midterm election races, including Sens. Kay Hagan (N.C.), Mark Begich (Alaska) and Mark Pryor (Ark.), have said that Obama should not sidestep Congress when it comes to immigration reform.
Based on some of the reports that have some out over the summer, if the President does take action in this area, it is likely to be something quite similar to DACA. Instead of just applying to children who have been here illegally, though, it would likely apply to spouses and family members of people who do have legal status as well as others who might fairly be said to fall into some sort of a family hardship category.  This wouldn't be any means cover all of the people who are in the country illegally notwithstanding the claims by some on the right that President Obama is planning to legalize everyone who's in the country, not the least because he doesn't have the legal authority to do that. What the President does have the legal authority to do, though, is exactly what he did with DACA; provide temporary relief to a group of people that meet certain criteria. This authority exists both thanks to the discretion granted to the Executive Branch by Congress and to the concept of prosecutorial discretion. So, whatever it is that the President is planning to do, it's pretty clear that he has the legal authority to do it, and in that regard it's worth noting that Congress has not included DACA as one of the examples of alleged executive overreach that form the basis for their lawsuit.
Leaving aside the legal merits for executive action, though, what the White House finds itself dealing with here is the politics of the matter. In some broad sense, the Presidents actions would probably be supported by the American public, although even that is unclear given the fact that his own job approval is so low that anything he does is likely to be opposed by a majority of the public just for that reason. However, the passion on this issue is almost entirely one sided, and if taking this action before the election leads to more voters who would vote for Republicans in states like North Carolina, Arkansas, Louisiana, Iowa, and Colorado to turn out on Election Day then it could end up costing the Democrats the Senate in a year when it is still theoretically possible that they could pull off holding on to enough seats to maintain control. Given that, you have to ask whether it would be worth it and, if the White House decides to hold off until after November then I can't say I blame them.