White House Press Secretary Jay Carney Stepping Down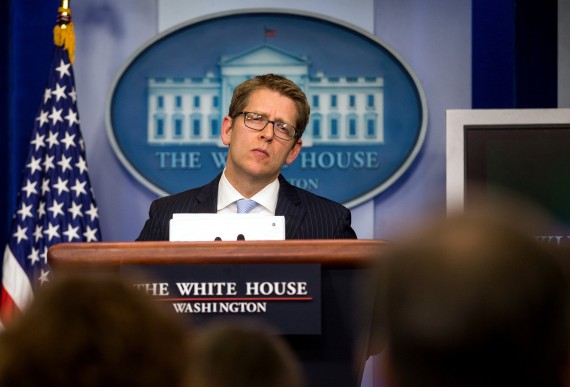 Jay Carney, who replaced Robert Gibbs as White House Secretary in 2012, is leaving the White House:
WASHINGTON — Jay Carney, the White House press secretary, is leaving his post as the public face of the administration, stepping down after shifting from two decades of reporting to politics at the highest levels, President Obama said on Friday.

Mr. Obama, who announced Mr. Carney's departure, said Mr. Carney would be replaced by the deputy press secretary, Josh Earnest.

Mr. Obama called Mr. Earnest a person of "sound judgment and great temperament."

Mr. Carney, who fielded questions from the press moments after Mr. Obama left the podium, said the timing of his departure was uncertain.

"I haven't made any decisions yet," Mr. Carney said. "I'm excited by some of the possibilities. I'm sure you guys will be among the first to know after I've decided what to do."

"It's been an amazing experience. Just so fulfilling," Mr. Carney said.

Despite coming from the White House press corps himself, Mr. Carney developed a sometimes contentious relationship with the news media, who often pressed Mr. Carney to say more than he was willing to about the president's policies and decision-making.
The fact that this was announced on the same day that the President accepted Eric Shinseki's resignation seems to be purely coincidental. Indeed, it appears that the Carney announcement, and the announcement of his replacement was mostly timed for today so that it would precede the President's upcoming trip to Europe for the D-Day anniversary.
While Carney is mum on future plans, I'm guessing he really just want to spend more time with his absurdly large Jenga set and Soviet propaganda posters.