White House: U.S. Will Leave Afghanistan If Karzai Balks On New Troop Deal
Hamid Karzai's refusal to sign a new security agreement may result in all U.S. troops leaving Afghanistan by the end of the year.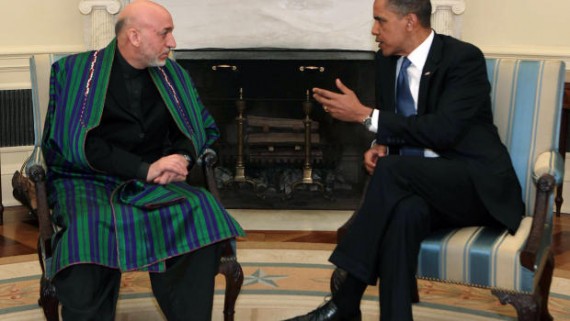 The United States is warning Afghan President Hamid Karzai that it will begin preparing for a full withdrawal by the end of 2014 if he fails to sign on to a security agreement that by all accounts has already been agreed to by the Afghan Parliament:
(Reuters) – U.S. President Barack Obama has told the Pentagon to prepare for the possibility that the United States will not leave behind any troops in Afghanistan after its troop drawdown at the end of this year, the White House said on Tuesday.

Obama said he had given the order to the Pentagon in a phone call on Tuesday to Afghan President Hamid Karzai, who has refused to sign a bilateral security agreement that the United States insists it must have before agreeing to leave a contingent of troops behind.

Defense Secretary Chuck Hagel was carrying the modified U.S. position to Brussels for discussion during a meeting with NATO defense ministers that starts on Wednesday.

"Specifically, President Obama has asked the Pentagon to ensure that it has adequate plans in place to accomplish an orderly withdrawal by the end of the year should the United States not keep any troops in Afghanistan after 2014," the White House said.

The United States has held out the possibility of leaving behind in Afghanistan as many as 8,000 troops after the formal drawdown at year's end. These troops would conduct counter-terrorism operations against al Qaeda targets and train Afghan forces.

Karzai's refusal to sign a security deal has frustrated the White House, which has been forced to abandon an earlier demand that the Afghan president sign the deal in weeks, not months.

Staking out a new position, the White House statement said "we will leave open the possibility of concluding a BSA (bilateral security agreement) later this year. However, the longer we go without a BSA, the more challenging it will be to plan and execute any U.S. mission."

And the longer both countries go without a security deal, "the more likely it will be that any post-2014 U.S. mission will be smaller in scale and ambition," the White House statement said.
This little dance between Washington and Kabul has been going on for some time now. It has been several months now since the U.S. and Afghan officials supposedly completed negotiations on an agreement that would govern the presence and role of any U.S. forces that would remain in the country after the end of 2014. That agreement has been agreed to by the Afghan Parliament. However, for reasons that remain entirely unclear, the increasingly enigmatic President of Afghanistan is refusing to take the final steps necessary to ratify the agreement. More importantly, though, it is entirely unclear what exactly it is that Karzai, who was no doubt involved in the negotiations over the agreement itself, is demanding given that he hasn't really articulated any coherent objections to the agreement. Of course, that isn't unusual for Karzai, who has often acted quite oddly when it comes to the Afghan relationship with the United States during the time he's been in office. This time, though, it would appear that he's being given a deadline.
There are some similarities here with what happened in Iraq in 2011. In that particular case, the U.S. had negotiated a security agreement with Prime Minister al-Malaki that would have allowed a small training force of American troops to stay in the country past December 31st of that year, but al-Malaki was unable to get his own Parliamentary coalition to accept the agreement that he had negotiated. As a result, all American troops left Iraq by the end of 2011. Will we see a similar evacuation in Afghanistan? Only time will tell, of course, and Karzai arguably has greater reason to want a residual U.S. force to stay around than al-Malaki and his cronies did back in 2011. However, perhaps it would be best of Karzai fails to act. At least then we'd be sure that all of our forces are out of there, like they should have been a long time ago.