Whither Beto?
Beto is fading.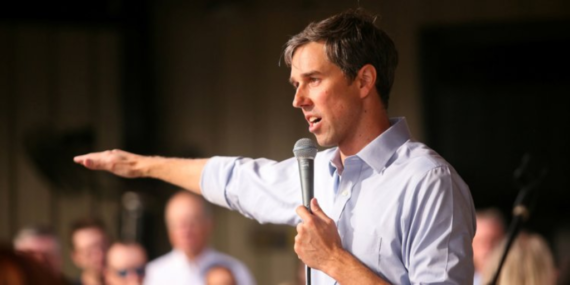 When you are months away from primary season, and you have to start talking about "reintroductions" that is likely a sign that your campaign for the Democratic nomination may not make it to the actual primaries.
Via the AP: Beto O'Rourke plans 'reintroduction' as 2020 buzz fizzles.
since his mid-March campaign launch, the buzz surrounding the former congressman has evaporated. Competing in a massive field of Democratic White House hopefuls, O'Rourke has sagged in the polls. He's made few promises that resonated or produced headline-grabbing moments, instead driving around the country meeting with voters at mostly small events.

In a tacit recognition that this approach isn't working, O'Rourke is planning to try again, taking a hands-on role in staging a "reintroduction" ahead of next month's premier Democratic presidential debate.
I suppose that a reintroduction could work, but asides from being young and being able to claim that he might could be competitive in Texas (and I have serious doubts about that, btw), I am not really sure what he offers. And it seems that whatever attention he was getting for being young and new is going to Buttigieg at the moment.
Also, via CNN: Beto O'Rourke is polling worse than ever
A new Monmouth University poll of likely 2020 New Hampshire Democratic primary voters has former vice president Joe Biden leading the pack with 36% and Vermont Sen. Bernie Sanders in second place with 18%. Former Texas US representative Beto O'Rourke was tied for sixth place with 2%.

When O'Rourke jumped into the race in mid-March, he had a boost of momentum. O'Rourke got a high number of Google searches (indicating interest in his candidacy). He raised about $6 million in his first 24 hours. Finally, he hit double-digits in a number of national polls, including CNN's and Quinnipiac University's.

Since that point, however, O'Rourke's support has declined considerably. He's running sixth in Google searches over the last 30 days behind Biden, Sanders, South Bend, Indiana, Mayor Pete Buttigieg, California Sen. Kamala Harris and Massachusetts Sen. Elizabeth Warren. His fundraising has slowed, reports say. Indeed, his fundraising may not have been as strong as initially thought. Some of the money he raised on day one could only be used for the general election. His average daily fundraising haul was considerably less than Sanders in the March days following day one of his campaign.

[…]

it's not just that O'Rourke has seen his numbers decline nationally — it's that his polls look even worse in the early caucus and primary states. I could not find a single poll in Iowa, New Hampshire or South Carolina conducted after Biden entered in which O'Rourke polled above 3%. 
At some point the Democratic field is going to have to be winnowed, and right now, at least, it doesn't look good for Beto.
I still think that perhaps winning a statewide race would be the better career move if he wants to compete for the presidency.