Who'll Control the Senate?
Forecasters give Democrats better than even odds of a majority.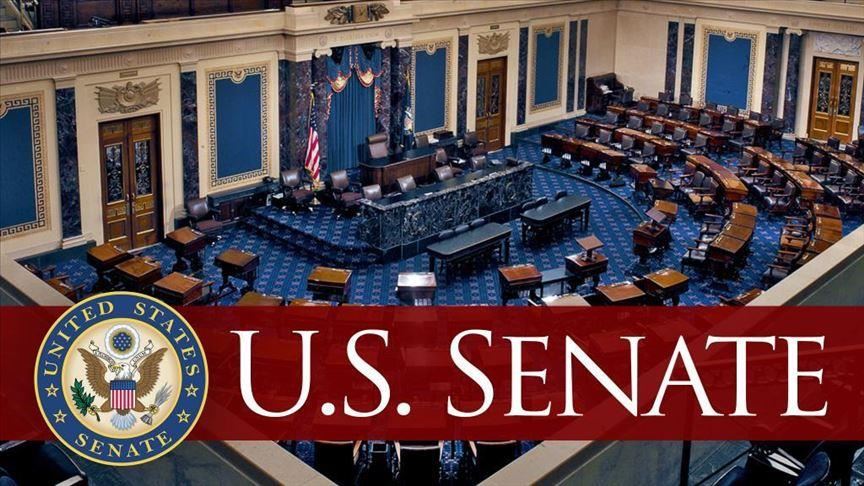 While most focus has naturally been focused on whether the Democrats can oust President Trump from the White House, the degree to which a President Biden can govern will depend on whether his party can also retake the Senate. Right now, it's just too close to call.
The Economist gives them a whopping 67 percent chance of taking a majority, with an average of 51.4 seats, but the range of outcomes is rather wide:

Obviously, it's better to be in the 47-57 range than the 43-53 range. It's possible for the Democrats to have a massive win, whereas the best Republicans can possibly do is maintain the status quo. That's good news for Democrats. But there's also an incredibly good chance of falling short of a majority.
The site has interactive graphics looking at each race that I commend to you. But here's a static snapshot: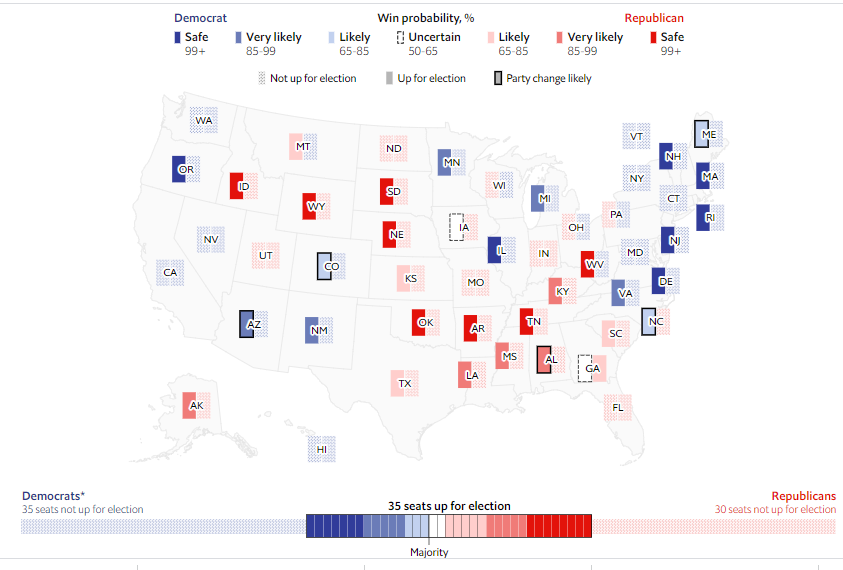 A shocking number of races are essentially tossups.
The FiveThirtyEight gang has similar odds, giving Democrats a 60 percent chance of taking control (compared to Biden's 77 percent). Moreover, they think the passing of Justice Ruth Bader Ginsburg and the resulting fight over who will choose her replacement actually helps Democrats more than Republicans in close races.
Not all Senate races line up with the presidential race
Forecasted margin in competitive Senate races, compared with the forecasted margin of the presidential race in those states, according to the FiveThirtyEight model at 3 p.m. Eastern on Sept. 22
| State | Forecasted Senate Margin | Forecasted Presidential Margin | Difference |
| --- | --- | --- | --- |
| Alabama | R+7 | R+18 | R+11 |
| Maine | D+2 | D+12 | D+10 |
| Montana | R+3 | R+10 | R+7 |
| Georgia* | R+8 | R+2 | D+6 |
| Texas | R+10 | R+3 | D+6 |
| Colorado | D+4 | D+9 | D+5 |
| Kansas | R+7 | R+12 | R+5 |
| Minnesota | D+13 | D+8 | R+5 |
| Arizona* | D+6 | D+4 | R+2 |
| Mississippi | R+13 | R+12 | D+2 |
| Georgia | R+4 | R+2 | D+2 |
| North Carolina | D+3 | D+1 | R+2 |
| New Mexico | D+15 | D+13 | R+1 |
| Iowa | R+1 | R+3 | R+1 |
| Alaska | R+10 | R+8 | D+1 |
| Michigan | D+7 | D+8 | D+1 |
| South Carolina | R+7 | R+8 | R+1 |
I honestly have no strong view on how this will unfold. One of my two popular Democratic Senators, Mark Warner, is up for re-election this year but it's a token opposition. Aside from my former home state of Alabama and Mitch McConnell's reelection bid in Kentucky, both of which the Republicans are likely to win easily, I'm not following any of the races all that closely.
In terms of rooting interest, I'm honestly a bit torn. A week ago, I was hoping for something like the Economist's best case scenario for the Democrats. The combination of a landslide for Biden and a sweeping takeover of the Senate would be a strong rebuke to the Republicans and Trumpism. While my hope is that this would result in some soul searching that would lead to something akin to the Democratic Leadership Council that brought Bill Clinton and the "New Democrats" to power in 1996, I fear that they'll just double down on the crazy.
Alas, all the talk of court-packing and other radical structural reforms has me rethinking that wish. A rebuke is one thing. But one-party control leading to a major upheaval of our governing structure—none of which was campaigned on—may well be worse for the country than divided government.