Why College Graduates Don't Write Good
Michael Ellsberg argues that "Trying to Learn Clear Writing in College is Like Trying to Learn Sobriety in a Bar."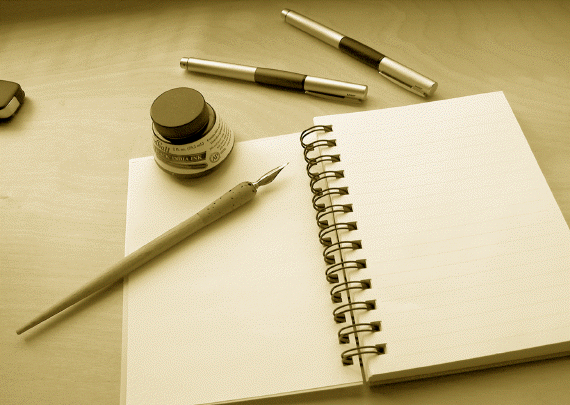 In the discussion of my post "Why More Americans Don't Major in Math and Science," regular commenter JKB points me to an essay by Michael Ellsberg titled "Why Trying to Learn Clear Writing in College is Like Trying to Learn Sobriety in a Bar."
Despite the promise of a clever title, the actual premise of the piece–that college teaches dense, formulaic writing–is nonsense. It's based on an argument made by retired UCLA English professor Richard Lanham:
Much bad writing today comes not from the conventional sources of verbal dereliction—sloth, original sin, or native absence of mind—but from stylistic imitation. It is learned, an act of stylistic piety, which imitates a single style, the bureaucratic style I have called The Official Style. . . .

Since we all live in a bureaucracy these days, it's not surprising that we end up writing like bureaucrats. Nobody feels comfortable writing simply "Boy meets Girl." The system requires something like "A romantic relationship is ongoing between Boy and Girl." Or "Boy and Girl are currently implementing an interactive romantic relationship."
Now, there's a lot of this going on. But it's not being taught to undergraduates. Ellsberg cites Lanham citing Talcott Parsons:
An element of a shared symbolic system which serves as a criterion or standard for selection among the alternatives of orientation which are intrinsically open in a situation may be called a value. . . But from this motivational orientation aspect of the totality of action it is, in view of the role of symbolic systems, necessary to distinguish a 'value orientation' aspect. This aspect concerns, not the meaning of the expected state of affairs to the actor in terms of his gratification-deprivation balance but the content of the selective standards themselves. The concept of value-orientations in this sense is thus the logical device for formulating one central aspect of the articulation of cultural traditions in the action system.

It follows from the derivation of normative orientation and the role of values in action as stated above, that all values involve what may be called a social reference. . . It is inherent in an action system that action is, to use one phrase, "normatively oriented." This follows, as was shown, from the concept of expectations and its place in action theory, especially in the 'active' phase in which the actor pursues goals. Expectations then, in combination with the 'double contingency' of the process of interaction as it has been called, create a crucially imperative problem of order. Two aspects of this problem of order may in turn be distinguished, order in the symbolic systems which make communication possible, and order in the mutuality of the motivational orientation to the normative aspect of expectations, the 'Hobbesian' problem of order.
Ellsberg correctly declares "This is not prose. This is the systematic abuse of prose." But he then adds, "Anyone hoping to learn writing should stay a thousand miles away from people who write in such a manner. That is, they should stay a thousand miles away from most university professors."
The problem with this is that this is not how professors teach undergrads to write. Rather, it's how a particular PhD sociologist wrote in a particular 1951 book aimed at his colleagues.
Complex societies, whether academic specialties or bureaucracies, develop jargon and other meta-languages as a shorthand for expressing complex ideas and signaling shared knowledge. Like any other language, it facilitates communication with those with fluency and serves as a barrier to outsiders.
Despite having a PhD in another social science, I frankly don't know what the hell Parsons is talking about in those two paragraphs. I know what a lot of the jargon means, at least in a basic sense, but it's hard to understand a complex essay if you're constantly translating it into your own language.
But I'm not the target audience.
My guess is that Parsons, a legend in his field, could have written it in a way that I could understand. But, because he's likely condensing shared knowledge that requires years of study in that passage, it may well have taken dozens of paragraphs to do so. Given that his aim was to advance knowledge in his field rather than introduce existing ideas to novice readers, he instead wrote using terminology his intended audience understood.
If an undergraduate essay contained the sentence, "An element of a shared symbolic system which serves as a criterion or standard for selection among the alternatives of orientation which are intrinsically open in a situation may be called a value," I'd immediately paste it into Google to see where it was plagiarized from. Because no undergraduate in history, including the young Talcott Parsons, ever wrote a sentence like that.
I'm constantly amazed when writers who have been to college (Ellsberg is a 1999 graduate of Brown) write about it as if it's some alien experience. There's just no way in hell Ellsberg's professors were teaching him to write dense, jargon-filled prose in the passive voice.
Indeed, if there's an argument to be made that colleges teach bad writing–and there is!–it's that professors squeeze the life out of writing in the name of formality. Amusingly, Lanham himself makes this argument in a widely-used book cited in Ellsberg's essay.
Lanham, an expert on classical rhetoric, has written a witty, counter-intuitive work that argues, plausibly, that English teachers have erred in trying to instill clarity in their students' writings. What is needed, says Lanham, is to teach, not clarity, but delight–i.e., rhythm, euphony, word play, all the belletristic devices of classical rhetoric–before we can hope to see good writing in student compositions. Once students (and journalists and bureaucrats and everyone else) learn to enjoy writing as an aesthetic game, clarity will follow automatically. Teaching clarity divorced from delight is doomed to failure.
In yet another book, Lanham makes another very important point that refute's Ellsberg's thesis:
I argue that there are two ways to look at a text: AT it, that is to say accepting its style, its verbal surface, as its way to make meaning; and THROUGH it, that is to say looking for a "content" beneath the verbal surface and independent of it. We usually think of communication as a THROUGH affair; cut to the chase, get to the substance. But in an attention economy, the substance is the style. That is the whole argument of Chapter 1. In such an economy, AT vision is as important as THROUGH vision. The essential skill, as much for an economist as for a cultural critic, is to know how to toggle from one to the other as circumstances dictate. I argue in the last chapter that this skill in toggling has stood at the center of rhetorical training since the Greeks invented formal rhetoric. So, "what should text be?" It is going to be, as it has always been, a combination of style and substance; the trick in an attention economy is to see that style and substance, and our expectations for them, have changed places.
The ability to "toggle" is crucial for anyone who seeks to communicate in writing. While there's doubtless some consistency to my style, my writing is different in an academic article versus one for a popular audience (although, I hasten to add, even my dissertation isn't as impenetrable as the Parsons passage). An email to my wife is different than one to my boss and an email is different than a formal letter.
My strong guess is that the same was true for Talcott Parsons. He's been dead since 1979, so I doubt he wrote many emails. But, if he wrote newspaper op-eds or letters to his wife, I'm guessing they were in clear, easily understandable prose.
Dan Drezner articulated a hierarchy of words a couple years back with university press books at the top, op-eds a few rungs down, blog posts lower still, tweets quite low, and various mutterings at the bottom. His rationale:
One of the biggest mistakes traditional academics make is to take all words equally seriously. That is to say, academics who do not write for a non-scholarly audience tend to assume that it takes an equal length of time and effort to compose a journal article, an op-ed, or even a blog post. In reality, it's kind of like circuit training — each activity exercises a different set of writing muscles (that said, journal articles require way more reps than other forms of writing).
As a much more successful scholar than me, Drezner spends more time writing at the top of that hierarchy than I do. But we both vary the tone, complexity, level of detail, amount of jargon, and so forth depending on where in that hierarchy we're writing.
And we'd both be very overjoyed if undergrads turned in term papers written at the level of one of our half-assed blog posts. Hell, I was happy if they could string together 160 coherent characters.