Why Does Europe Want To Keep Greece?
It's easy to see what Greece thinks it still needs Europe, it's more of puzzle why Europe thinks it needs to hang on to Greece.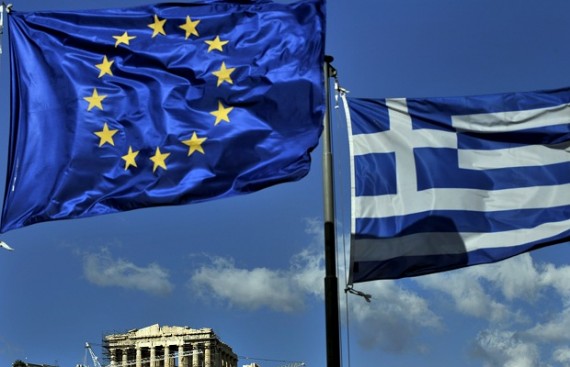 Megan McArdle wonders why the Europeans are seemingly so concerned about the future of Greece:
To answer the question about why the euro zone would want to hold onto Greece, I think you have to get into the same kind of emotional and historical attachments that Britain has to Northern Ireland, except of course that it's the euro that Europeans are attached to, not the remnants of a fading empire. And I think that this weekend we started to see the limits of those sorts of attachments. A lot of smaller countries are getting to the "I have had enough" point. Germany seems as if it might be ready to join them. It looks as if the coalition of the unwilling came pretty close to carrying the day during this weekend's marathon talks; the only thing that saved them was heroic efforts by the shrinking core that was absolutely determined to make a deal.

That suggests to me that we are now at the make-or-break moment for the Greek-Euro relationship. Either Greece will succeed with a fairly brutal austerity plan to the satisfaction of its euro-zone partners, or the next time they come to the table, the Greeks will be signing divorce papers. Because once you start asking yourself why you want to be in such a costly relationship, you've already got one foot out the door.
It's an interesting question, actually, because as I've noted before in the long run Greece needs Europe a heck of a lot more than Europe needs Greece. If it does turn out that this latest deal doesn't solve anything, which is certainly entirely possible, and Greece and Europe's bankers find themselves looking across a table at each other again, the prospect of Greece leaving the Euro is obviously something that should scare Greece a lot more than it should scare the Europeans. With Europe, Greece would largely be on its own, would still have to worry about the debts that it owes to European banks and the International Monetary Fund, would no longer be able to benefit from the reduced transaction costs of a common currency, and potentially would no longer be able to benefit from open trade and travel rules that come with a united Europe. Europe, on the other hand, would likely be only slightly impacted by a Grexit. Indeed, the economic impact of such an exit would likely be minimal in the long term, although it's probable that we'd see some negative impacts in financial markets in the short term. If there is a risk to Europe from such an event, it's a political one in that a Greek exit from the Euro could be the first in a series of dominoes that lead to a dismantling of the European Union itself, but to be honest those issues are going to exist regardless of what happens to Greece.
Given that, what exactly is it that is motivating the Europeans to try to keep Greece in the Eurozone? I think there are several interrelated motivations.
First of all, as McArdle says, there likely is some kind almost emotional attachment to the issue in that many of Europe's leaders believe that if Greece is allowed to leave then the entire Eurozone experiment will fail. That may end up happening anyway given the inherent contradictions in the idea of a common currency that covers nations as different as Greece, Italy, Spain, or the Baltics on the one hand and Germany and France on the other, but the process would likely be sped up considerably be a Grexit. Additionally, such an event would likely have a huge psychological impact in that it would make talk of the end of the Euro something that people talk about openly. In addition to this, though, I'd also suggest that Germany and the other nations in Europe have been approaching the Greek issue the way they have in no small part because they are concerned about the consequences of a potentially failed state in southern Europe. As things stand right now, it's not at all clear that the Greeks will have what it takes to save themselves. Certainly if they keep thinking they can have an overly generous welfare state without paying for it they won't. However, their fate is likely to be far worse if they leave the Euro, especially in the short term. Given the headaches that Europe has had in that area over the past twenty years, I'd suggest that limiting the possibility of Greece becoming an island of instability on Europe's southern border is forefront in the minds of leaders in Berlin, Paris, and elsewhere. Whether they end up succeeding, of course, is another question.