Why Doesn't The Middle Class Revolt?
Why isn't the American middle class and working class angrier at the 1 percent?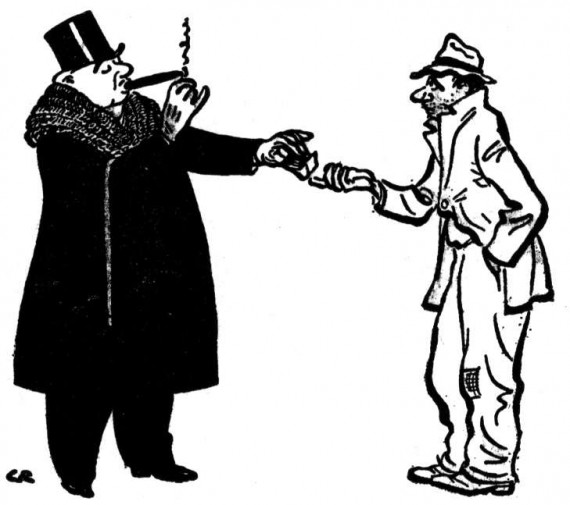 Bernard Finel is frustrated with Scott Walker's handily surviving his recall fight.
Here we have a case — a clear case documented in the Scott Walker's own words — of a governor lying to the public, using a false pretense to launch an assault on public employees, and doing so in coordination with a reactionary billionaire from out of state… and yet, he wins. I mean, wow.

[…]

It is almost as if the American middle class and working class wants to get screwed over by moneyed interests.
He dismisses the Democratic talking point that Walker's win was mostly a function of Big Money giving him an unfair advantage, instead seeing something more deeply rooted in our culture. Despite all the attention that the Occupy movement shined on the divide between "the 99 percent" and the top one percent, Americans by and large just don't resent the rich.  The conventional explanation is that most Americans aspire to be rich themselves and think, perhaps falsely, that they have the same opportunity as everyone else to do so. Bernard rejects this:
I think the more important dynamic is that poverty and wealthy now provide different visuals and different visibility.

Let's talk poverty first. I think one of the key changes in poverty over the past several decades is that it is just generally less shabby. There was a time when the poor could be readily identified — tatteredclothes, poor nutrition, desperate material privation. When the "War on Poverty" was announced in the 1960s, the face of the poor was the rural poor is Appalachia.

But, as right-wingers constantly note, being poor in American in 2012 is a different thing on the whole. Aside from the homeless, even poor Americans now have running water, electricity. They have, if not designer clothes, at least presentable ones thanks to Wal-Mart. They have a lot of material goods — TVs, appliances, cars.

Now, the essence of poverty is not much different. The oppressive weight of never quite getting caught up on bills, the constant stress knowing that one is operating right on the margin, where any illness, any layoff, can blow everything up. There is that sense of being trapped because better education seems unaffordable, unachievable. There is frustration at being unable to provide ones kids with enrichment opportunities — sports, music, camps, travel.

What makes poverty oppressive in modern societies, in short, is increasingly invisible. For a middle class family, the poor look a lot like them. Middle class folks live in nicer communities with better schools, but that is easy enough to blame on people not caring about their communities or being bad parents. But the face of poverty has changed, and the real grinding aspects of it are now mostly captured by psychological dynamics — stress, anxiety, frustration, resignation — rather than physical privation.
This is all true. But it bolsters the conservative argument rather than showing it based on illusion. The working poor have what not too long ago was considered a middle class lifestyle. Indeed, the lifestyle that Bernard describes is the one that I grew up with in the 1970s: we had a decent roof over our head, enough to eat, and a few luxuries–but we were living paycheck to paycheck and didn't have money left over for vacations and the like. That the bar for middle class living has since been raised and those well under it still feel a strong relative deprivation means that the psychological oppression of poverty remains. But most of those we define as "poor" are at least spared the physical deprivation that used to come with that label.
On the flip side, I don't think most middle class people have any idea about how the wealthy live. They live behind gated communities, vacation in exclusive hotels that are priced so that only people of means can stay, they just move in different social circles. Boats, vacation homes in exclusive areas, private schools that cost more than the annual income of many families, and so on also serve to create distance.
But that's always been the case.
Yachts have always been a luxury good; they likely always will be. Ditto, fancy private schools. The Kennedys, Rockefellers, and Bushes were never sending their kids off to school with the hoi polloi. Even in my neighborhood, there are $40,000 a year academies–and they're just day schools. And the rich have always lived in houses that normal people could only dream of.
Indeed, I'd argue that the gap has been lowered dramatically in recent years. The rapid proliferation of technology has driven the price down to the point where even the lower middle class has the latest smart phones, sophisticated automotive and home entertainment gizmos, and other luxuries that used to mark success. So, the rich have a Lexus rather than the comparable Toyota or wear Zegna rather than Jos. A. Bank; those are really pretty small differences.
Take vacations, for example. In the 1960s, when the early James Bond flicks were made, the notion of jetting off to the Bahamas or Jamaica was wildly exotic. Now, those places are teeming with working class American tourists. Hell, air travel alone has democratized radically in my memory–so much so that, even aside from the indignities of airport security, it feels like one is riding a bus.
For that matter, living in a mini-mansion in a gated community is  several steps down from owning your own estate, well out of eyesight of even your rich neighbors, and surrounded by a staff of servants.
The only difference is that Bernard now travel in circles–as do I–from which we can see how the other half–or, really, half of the one percent–live. I can't afford to live that way, but I've had bosses and otherwise rub shoulders with people who do. But those people have always existed.
In terms of the more fundamental question, middle- and working-class Americans aren't overly concerned about the fate of the poor or the relative luxury of the rich because that's not their reference point. The poor are "hidden" because most of them really aren't all that poor. And the rich are perceived to have gotten there either through genuine hard work, which is to be admired, or through inheritance, natural gifts, or other strokes of good fortune which are to be tolerated.
For people to demand change, they'll have to first come to believe that the game is rigged. Right now, Americans think that they live in the Land of Opportunity–a country where, to an extent not possible anywhere else in the world, people can climb their way to the top through a combination of talent and hard work. The fact that this isn't true and hasn't been for quite some time really doesn't matter; it hasn't yet altered popular perception. (The same is true, by the way, of our health care system, which is by almost no measure "the best in the world.")
It looked for a little while there that Occupy was going to help get that message out–and that the Democrats were going to seize on their rhetoric and message–but that doesn't seem to have happened. Indeed, Democratic stalwarts from Bill Clinton to Cory Booker have fought back at attempts by the Obama machine or the party apparatus to paint venture capitalism as an ignoble venture.