Why NATO Isn't Going to Fight in Syria
Syria isn't Libya.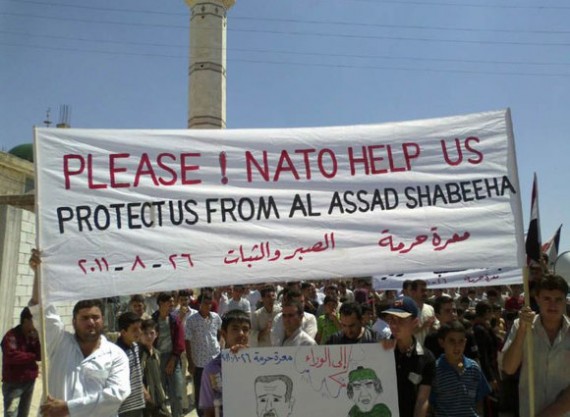 My latest for The National Interest, "NATO's Not Attacking," has posted.
NATO secretary general Anders Fogh Rasmussen reiterated Friday that the Alliance will not intervene militarily in Syria. While he repeatedly made the same assurances regarding Libya before NATO's ultimate action, there's good reason to believe him this time.

[…]

[W]ith the possible exception of Turkey, no major NATO ally has a national interest in taking on this fight. The near-universal Western view at the outset of the conflict, of a popular uprising of freedom fighters ushering in an Arab Spring, has given way to a much gloomier and pessimistic outlook.

[…]

Given the lack of viable military options or any political will to carry them out, both the Obama administration and NATO naturally insist on a "diplomatic solution." Alas, not only is it far from clear what that would look like, but the Obama administration's impetuousness at the outset of the crisis complicates it. Hill correctly notes that Obama made a critical error in August 2011 when he declared that Assad must go because, "By repudiating Mr. Assad without any nuance, the administration complicated its ability to negotiate with minority Kurds, Christians, and Druze, who are suspicious of Mr. Assad but even more fearful about the uncertainty that would accompany a takeover by Sunni-led rebels."
I'm reflexively anti-interventionist in cases where only humanitarian interests are at stake. The sheer scale of the death toll in Syria–over 80,000 and climbing fast–would likely to cause me to make an exception here if we could achieve even Libya-level good at Libya-level prices. But, as my colleague Harlan Ullman warns, this is a case where "every option is bad. Some are worse."  How bad?
We would appear to be left with the dilemma that the American public seems to have unconsciously accepted in the aforementioned poll: diplomacy is unlikely to work and the costs of military intervention—which itself is unlikely to achieve our objectives—is simply too high. Which means facing up to the "unpleasant truth" that Edward Luttwak infamously pointed to in 1999: "although war is a great evil, it does have a great virtue: it can resolve political conflicts and lead to peace."

Ullman shares the unhappy thought that, "A British member of Parliament who knows the region well says that if Assad defeats the opposition, at least 100,000 people will perish. And if Assad goes, that number could double or triple in the ensuing bloodbath." But, as we've seen recently in Iraq and Afghanistan, and to a thankfully lesser extent in Libya, Western military intervention doesn't preclude massive slaughter in ensuing sectarian violence.

There's a reverse Pottery Barn Rule in effect here: If we didn't break it, we don't own it.
That bad.