Why Our Columnists Stink
David Brooks is wistful for the noblesse oblige of the elites of yore.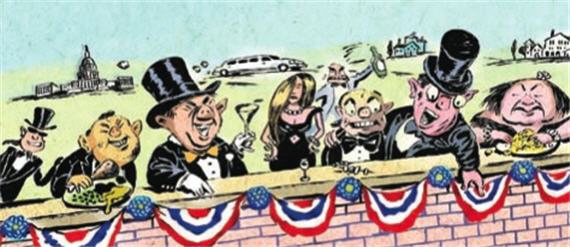 In a column titled "Why Our Elites Stink," David Brooks reviews Chris Hayes' new book Twilight of the Elites, which argues that today's meritocratic elites have rigged the game in their favor, and finds it wanting. I haven't read Hayes' book and thus have no opinion as to his analysis of the current situation. But Brooks' is of the worst possible sort, romanticizing the past while blithely unaware of his own role in the present.
I'd say today's meritocratic elites achieve and preserve their status not mainly by being corrupt but mainly by being ambitious and disciplined. They raise their kids in organized families. They spend enormous amounts of money and time on enrichment. They work much longer hours than people down the income scale, driving their kids to piano lessons and then taking part in conference calls from the waiting room.

Phenomena like the test-prep industry are just the icing on the cake, giving some upper-middle-class applicants a slight edge over other upper-middle-class applicants. The real advantages are much deeper and more honest.
It's no doubt true that today's elites engage in these activities. Those who can afford it send their kids to the best private schools or at least move to neighborhoods with the best public schools. They provide every conceivable advantage to help their kids build their resumes, improve their grades and test scores, and otherwise succeed. But it's absurd to argue that this simply gives their kids an advantage over the kids of other elites who are less diligent; it pretty much excludes those without the means to participate in this scheme from the race.
The current credential- and achievement-based meritocracy is more open than the older one based on family connections. But it's by no means open. To be sure, the truly gifted children of the poor may occasionally rise to the top despite having none of the advantages Brooks outlines–and that was almost precluded under the old system.  Still, kids whose parents are wealthy products of elite institutions have a ridiculous competitive advantage in following that same path.
The corruption that has now crept into the world of finance and the other professions is not endemic to meritocracy but to the specific culture of our meritocracy. The problem is that today's meritocratic elites cannot admit to themselves that they are elites.

Everybody thinks they are countercultural rebels, insurgents against the true establishment, which is always somewhere else. This attitude prevails in the Ivy League, in the corporate boardrooms and even at television studios where hosts from Harvard, Stanford and Brown rail against the establishment.

As a result, today's elite lacks the self-conscious leadership ethos that the racist, sexist and anti-Semitic old boys' network did possess. If you went to Groton a century ago, you knew you were privileged. You were taught how morally precarious privilege was and how much responsibility it entailed. You were housed in a spartan 6-foot-by-9-foot cubicle to prepare you for the rigors of leadership.
Countercultural rebels?! What is this, 1972?
No, the difference is that yesterday's Old Money elites at least had some inkling that their position of privilege was unearned. Today's elites, by contrast, are quite sure that they've earned it. Why, they've worked harder, gotten better grades and test scores, and are smarter and more virtuous than those who went to State U. They deserve everything they have!
Indeed, that attitude infects Brooks' column–and, indeed, his columns.
The best of the WASP elites had a stewardship mentality, that they were temporary caretakers of institutions that would span generations. They cruelly ostracized people who did not live up to their codes of gentlemanly conduct and scrupulosity. They were insular and struggled with intimacy, but they did believe in restraint, reticence and service.
This is almost certainly true of "the best" of the WASP elites. But, of course, "the best" of our current elites are decent and scrupulous in their own way, too. But let's not kid ourselves that there was once some halcyon age where our betters were so much better. Our Founding generation owned slaves, for goodness sakes, and Jim Crow persisted for generations. Nor was it just blacks, Mexicans, Indians, Chinese, Italians, and other non-WASPs that were treated poorly; lower class whites were expected to know their place, too.
Beyond that, our current elites face a far greater degree of scrutiny than their predecessors.  When the likes of Franklin Roosevelt and John Kennedy led double lives, the press corps covered it up on the grounds that it wasn't the public's business. Not only did they hide the fact that both men were carrying on extra-marital affairs while in the White House but they actually went to great lengths to cover up the fact that FDR was in a wheelchair. How much better a president would Bill Clinton have seemed in such an environment? Indeed, this applies across the board to our modern elites, not just our politicians. Sports stars and business leaders live under the glare of a spotlight unimaginable twenty, much less fifty, years ago.