Race and the Myth of Meritocracy: Supreme Court Edition
When "obviously qualified" apparently isn't enough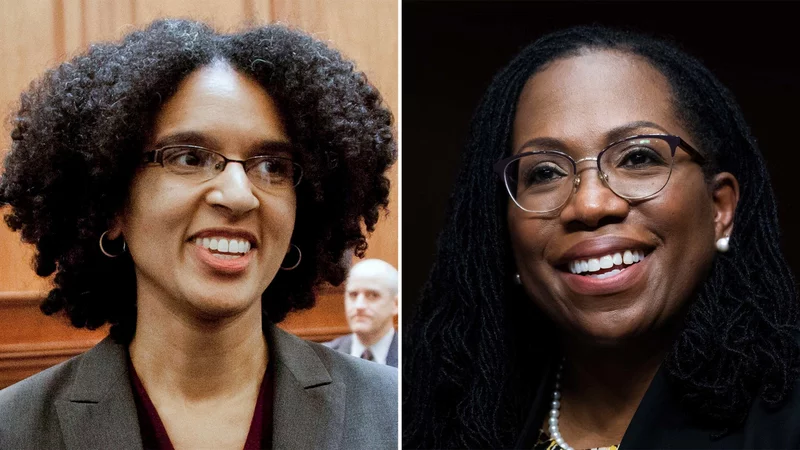 Over the last two days, there have been a lot of pixels burned on the topic of President Biden's decision to nominate a Black Woman to the supreme court. Calls of reverse-racism or identity politics have come not just from typical far-right sources like The Federalist, but center-right (and notably Never-Trump) publications like The Bulwark, in which Charlie Sykes wrote:
"In a stroke," write the editors of National Review, "[Biden] disqualified dozens of liberal and progressive jurists for no reason other than their race and gender. This is not a great start in selecting someone sworn to provide equal justice under law."

Andrew Sullivan was even harsher.

"The replacement will be chosen only after the field is radically winnowed by open race and sex discrimination, which have gone from being illegal to being celebrated and practiced by a president of the United States."

Go ahead, take umbrage at my citation of Sullivan and the reactionaries at NR. The commentary at Fox News is even worse.

But that doesn't mean they are wrong.

Think about it this way. In announcing that his pick would be constrained by racial/gender identity, Biden did indeed, tell a generation of young progressive jurists that they need not apply.

https://morningshots.thebulwark.com/p/a-scotus-reality-check
I think it's worth reading Syke's article in that it is both right (in a perfect world sense) and completely wrong (in terms of the world we live in). The argument crystalizes how far we, as a culture, still need to go in our understanding of intersectional issues (like race, gender, and more). And one of the key things standing in the way of that is our attachment to the myth of "meritocracy."
Before this goes any further, let's restate the obvious: If all the tea leaves reading is correct, and Justice Ketanji Brown Jackson is the nominee, her C.V. is impeccable and there is no question she is qualified for the court. In fact, as a former Public Defender, she would bring a perspective to the court that has been missing for three decades.
This is a point that Sykes doesn't dispute. In fact, he says as much in his conclusion:
All indications are that Judge Ketanji Brown Jackson would be an impressive choice and could go on to be a consequential Supreme Court justice.
It's the sentence that follows where the specter of meritocracy and the issues of pretending we live in a colorblind culture emerges:
But, in retrospect, Biden would have been better off putting the content of her character and her legal mind ahead of her identity.
Earlier this morning, James wrote about how Ilya Shapiro has been called out for a deleted Twitter thread in which he predicted that Biden pick will end up being "a lesser black woman." What's particularly notable is not just those tweets, but the argument that Shapiro made in 2009 about the nomination of current Supreme Court Justice Sonya Sotomayor:
Again, this does not mean that Sotomayor is unqualified to be a judge — or less qualified to be a Supreme Court justice than, say, Harriet Miers. It also does not detract from the history she would make as the first Hispanic Supreme Court nominee — if you don't count Benjamin Cardozo, a descendant of Portuguese Jews. But a Supreme Court nomination is not a lifetime achievement award, and should not be treated as an opportunity to practice affirmative action.

https://www.cnn.com/2009/POLITICS/05/27/shapiro.scotus.identity/index.html
Shapiro's critique of Sotomayor demonstrates how our adherence to the concept of meritocracy undercuts Sykes's argument. Unless I am misremembering, President Obama had not committed to placing a "Hispanic Woman" on the Supreme Court and that was still how the nomination was received. For the record, it wasn't just Shapiro who made the accusation that this was first and foremost identity politics–unsurprisingly, given his writings on race, the aforementioned Sullivan advanced a similar argument, as did writers at the National Review). One would have to be incredibly naive to think the same critique would not be deployed by many on the right (including Sullivan) if, without any pledge, Biden had just nominated a Black Woman.
And this represents the bind that our unwavering belief in meritocracy creates for people who come from backgrounds that have been, and more often than not continue to be, marginalized–not just that there is always someone more qualified, but said individual is intentionally (if not maliciously) being passed over for intrinsic and immutable characteristics like race or gender or sexuality. The person chosen is always an example of "practicing affirmative action." And the nameless, faceless, and more qualified people being passed over–through no fault of their own, of course–are from a dominant cultural group (white, straight, and usually male).
The issue with meritocracy is not so much the concept itself as how we apply it. Combined with the "Great Man/Person" theory of history and mythic storytelling, we as a culture tend to focus on the idea that ultimately there is a single "right person" for a role. We wouldn't have won the revolution without George Washington, we wouldn't have a theory of evolution without Darwin, and the only person who could ever defeat the Empire was Luke Skywalker. Of those, the first is perhaps the hardest to argue, but there are arguments to be made.1 In the case of Darwin, we know that there were others working on similar theories at the same time. And, let's not go into the debacle of whether or not the Empire was even defeated (let alone the question of one Skywalker, Luke2).
In reality, as anyone who has ever done hiring will tell you, the cases where there is a clear "only candidate" for a role are few and far between. And, as long-time commenter (and blogger in his own right) Hal_10000 points out "This whole thing of "the best candidate" is nonsense. There are dozens of judges who are qualified to be on SCOTUS. You can't really say that any of them are massively superior to the others." In fact, for most of our history, seats on the Federal Bench, not to mention the Supreme Court, have often as much about political patronage as they are qualifications (see for example the case of Bork, Robert).
What's telling, in discussions of Supreme Court nominations, are the situations in which the meritocracy argument is and isn't deployed. Was there any serious discussion if there were more qualified black candidates for the 8 seats that opened during the 24 years between the appointment of Justice Marshall and his replacement with Justice Thomas? Equally tellingly, has that question been seriously raised in the 9 previous appointments that happened in the 31 years that have passed since Justice Thomas' appointed? And when it was (see, again, Sotomayor) to what degree was the meritocracy argument implicitly couched in an "affirmative action" framework?
Therein lies the problem and the emptiness of arguments like Sykes that try to argue that, at least for the moment, accounting for race in a decision somehow invalidates the merit of the nominee. And to some degree, writers like myself help perpetuate it by feeling it's necessary to restate that a candidate like Jackson is obviously qualified.3
The United States is not, and never has been a colorblind meritocracy. Perhaps one day we will be, though that will require a number of deep and conscious (at least, until they finally become unconscious) changes to our society (the like of which, as we have seen, are often pushed against and rolled back in reactionary moments like the one we are currently in). For the moment, however, trying to act as if we are a colorblind meritocracy more often than not will only delay that important work (i.e. preventing forward steps in the name of not appearing to be symbolic "affirmative action.")–not to mention invalidate the hard work of nominees like Sotomayor, Jackson, and other "first" yet to be nominated.
---
1 – Given how talked out I think many folks are on this topic, it's entirely possible that this section may generate far more discussion than the core of this post.
2 – In retrospect, perhaps the stronger "only [x] could do [y]" counter-argument would be "only Indiana Jones could have prevented the Nazis from getting the Ark of the Covenant."
3 – I almost didn't include the "restate the obvious" section, but I thought this article read strangely without it. I think that in itself is informative. The fact that something that should be obvious must be restated points out the fact that it is not actually that obvious. That ultimately underscores the core argument I am making.