Which Black Woman Will Biden Appoint to the Supreme Court?
The 46th President will follow the lead of the 40th in making a historic appointment.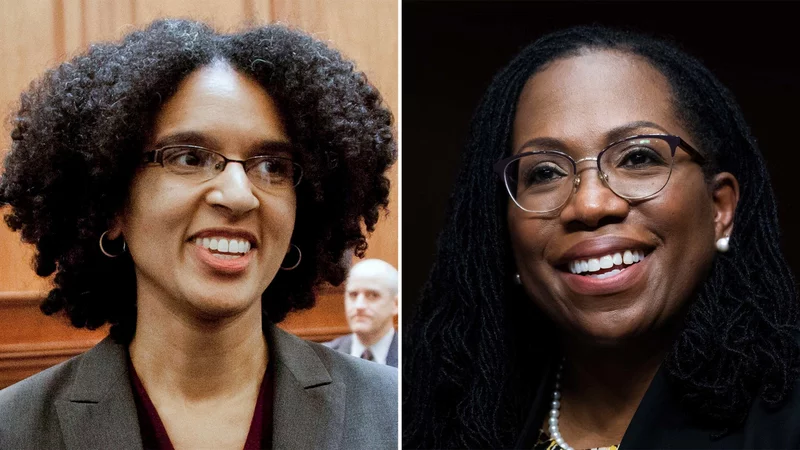 With yesterday's announcement by Justice Stephen Breyer that he's retiring, President Biden is virtually assured that he will get to put a replacement on the Supreme Court. While Mitch McConnell would surely like to stall any nomination until such time as there's another Republican President, the abolition of the filibuster for judicial confirmations means all that Biden needs are the 50 Democratic Senators, none of whom has voted against a single Biden judicial appointee thus far, and Vice President Harris.
All indications are that he has limited his options to Black women. He pledged to appoint the first Black woman to the Court during the campaign and several Congressional Democrats are reminding him of the pledge and demanding that he honor it, which he was surely going to do anyway and which the White House has already re-affirmed.
Yes, it's identity politics and smacks of tokenism. Then again, Ronald Reagan did the same thing four decades ago, pledging to break the glass ceiling and appoint the first woman, which he did in short order with Sandra Day O'Connor.
This is the same situation we were in with the Vice Presidential pick. He pledged early in the primaries that he would choose a woman as his running mate and, in the wake of the Black Lives Matter protests and after vital help from Black leaders in rallying support, he was essentially limited to a woman of color.
While "Black woman" is a much smaller pool than "woman," much less, "Democrat," there are nonetheless a considerable number of highly-qualified, easily-confirmable options available. Indeed, there are likely more qualified Black women now than there were 41 years ago when O'Connor got the nod.
NPR's Deirdre Walsh runs down the prospects,
There are a couple of dozen Black women judges currently serving on the federal bench and a handful of those names are expected to be on Biden's shortlist. But two names have emerged as frontrunners.

Federal Judge Ketanji Brown Jackson, who was also on Obama's shortlist for the court in 2016, is regularly mentioned by Democrats. California Supreme Court Justice Leondra Kruger — who was the assistant, and then deputy solicitor general in both Democratic and Republican administrations before she was nominated to California's highest court — is also considered highly qualified for the post. Both women are younger — Jackson is 51 and Kruger is 45 — giving either the opportunity, if chosen and confirmed, to serve for decades.
Jackson seems to be the frontrunner and was given a glowing endorsement by regular commenter HarvardLaw92 in the Breyer retirement discussion yesterday. Her age and qualifications are such that she would surely be on the shortlist even if Biden was simply looking for the best Democrat.
NYT's Charlie Savage has an in-depth profile:
Judge Jackson, who clerked for Justice Breyer during the Supreme Court's 1999-2000 term, was born in Washington, D.C., and grew up in Miami. She graduated from Harvard College and Harvard Law School.

She worked several legal jobs early in her career, including as a staff member for the United States Sentencing Commission and, from 2005 to 2007, as an assistant federal public defender in Washington. In 2012, President Barack Obama nominated her to serve as a district court judge in the capital.

During her eight and a half years on the Federal District Court bench, Judge Jackson handled a number of challenges to executive agency actions that raised questions of administrative law. She also heard several cases that attracted particular political attention.

Among them, in 2019, she ruled that Donald F. McGahn II, the former White House counsel to President Donald J. Trump, had to obey a congressional subpoena seeking his testimony over Mr. Trump's efforts to obstruct the Russia investigation.

"Presidents are not kings," she wrote, adding that current and former White House officials owe their allegiance to the Constitution. "They do not have subjects, bound by loyalty or blood, whose destiny they are entitled to control."

[…]

After Mr. Biden elevated Judge Jackson to the appeals court in 2021, she was part of a three-judge panel that heard Mr. Trump's challenge to a congressional subpoena for White House records related to the Capitol riot. In December, less than a month after that case was docketed before them, they ruled that Congress could see the documents. The Supreme Court this month affirmed that outcome, completing the dispute's unusually rapid resolution.

Judge Jackson has two daughters and is related by marriage to Paul D. Ryan, the former House speaker and Republican vice-presidential candidate. Her husband, Patrick G. Jackson, is a surgeon and the twin brother of Mr. Ryan's brother in-law. At her 2012 confirmation hearing to be a district court judge, Mr. Ryan testified in her support, calling her "clearly qualified" and "an amazing person."

"Our politics may differ, but my praise for Ketanji's intellect, for her character, for her integrity, it is unequivocal," Mr. Ryan said. "She is an amazing person, and I favorably recommend your consideration."
By all accounts, a nomination is expected quickly with confirmation going through in short order:
Senate Majority Leader Chuck Schumer is aiming to process Biden's nominee swiftly — within roughly a month, according to a source familiar with his thinking. This is the same timeframe Republicans followed to move Barrett's nomination through the Senate in the fall of 2020.

"In the Senate, we want to be deliberate. We want to move quickly. We want to get this done as soon as possible," Schumer said.

This development also gives Senate Democrats some breathing room to change the subject from recent failed efforts to advance voting rights bills and social spending legislation. The Supreme Court confirmation process will move to the front burner, and likely move priorities like negotiating a scaled-back version of the Build Back Better policy bill to the back burner. Democrats will want to secure a political win for the president, before turning back to trying to get the major climate and child care bill through ahead of the midterms.

Once Biden announces his selection, the White House will formally submit the paperwork to the Senate. The Senate Judiciary Committee requires nominees to fill out a questionnaire detailing their background, education and judicial record. The FBI performs a background check and briefs members of the Senate committee on its findings.
Jackson and Kruger would both likely sail through but Jackson is all but a shoo-in:
In Judge Jackson's case, she has gone through a similar process recently. She was confirmed to her current position by a 53-47 vote, last June, with three Republicans — Sen. Lindsey Graham, R-S.C., Sen. Susan Collins, R-Maine, and Sen. Lisa Murkowski, R-Alaska, voting with all Democrats.