Why Veterans Can't Fit In On Campus
An Atlantic story on veterans returning to college is both poignant and miscast.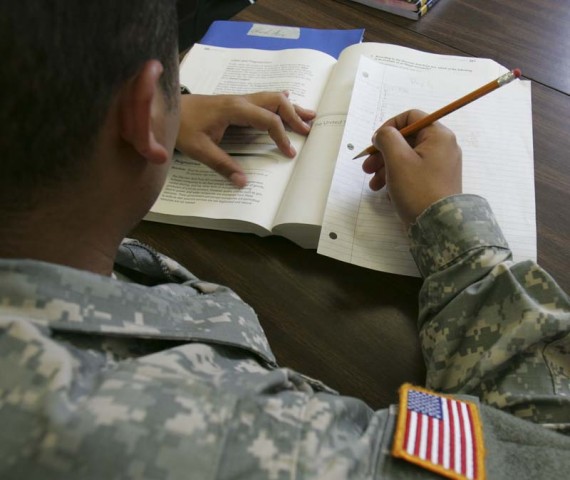 An Atlantic story on veterans returning to college is both poignant and miscast.
I first encountered the author, Alex Horton, several years ago when we were booked, along with Phil Carter, on an NPR Veterans' Day debate. More recently, we've interacted on Twitter since he left the Army, went to college, and started working for the VA.
I didn't have time to read his piece, "Lonely Men on Campus: Student Veterans Struggle to Fit In," when it posted yesterday morning but was a bit bemused by some of the discussion of it I was seeing on Twitter. After all, I'd gone back to campus after a few years in the Army myself and found myself neither lonely nor struggling to fit in. Or, at least, any more than I had been the first go-round.
But he's not really talking about veterans per se, or even combat veterans; rather, he's talking about a group with much less in common with other students.
[Josh] Martell spent just over three years in the Army, including a 15-month tour in Iraq as an infantryman. Now 27, he has since left the military, and his second daughter was born earlier this year. He juggles his welding job and family with a full load of courses at the University of Wisconsin-Green Bay, where he majors in communications.

He doesn't talk about his encounter with a jury-rigged bomb — or any war stories for that matter — with his classmates. Most of them were worrying about prom dates and acne while Josh trudged through open sewers, took sniper fire, and saw his fellow soldiers mangled and killed. He definitely doesn't mention the time four roadside bombs detonated next to his Stryker assault vehicle in rapid succession, where each explosion felt closer to the one that would tear open the steel underbelly like a sardine can and vaporize the men inside.

But it's not just the discussion of war he omits from other students. He has quarantined himself almost entirely. He shows up for class, takes notes, and leaves, most of the time without communicating with students or professors. In the first three months of his first semester at UW-GB, he never said more than a few words to anyone. "I'm almost 10 years older than everyone. I'm not a college kid partying on the weekends. Who would want to be my friend?" he told me over the phone as his own kids played in the living room.
I'm sure that Martell's experiences in Iraq would make fitting in with a bunch of snot-nosed 18-year-olds for whom dragging their asses out of bed in time for class is the most grueling responsibility they've ever had challenging. But he's older than I was when I went back to graduate school and has a welding job and two children! The fact that he's a veteran isn't his major obstacle here.
Ditto our next case study:
Some veterans choose to blend in, but that's impossible for Jason Mendieta. At 6'2″ and 300 pounds, he looks more like a misplaced bouncer than an undergrad student at Redlands University, a private school an hour's drive east from Los Angeles. His thick black hair and Nicaraguan descent challenge the stereotypical image of a combat soldier as a redneck with a southern drawl. Even his wartime injuries won't give him away. Jason, 28, earned a Purple Heart during his first tour after shrapnel from an explosion burrowed into the left side of his body. The scars aren't visible anymore, and neither are the tiny bits of shrapnel still embedded in his skin.

The grueling physical punishment of house-to-house guerilla warfare prepared him for a slot on the Redlands football team as an offensive lineman. Athletes and commentators have been known to make crude associations between football and war; enormous men shove each other in the trenches; the quarterback leads the air attack; defensive blitzes are a nod to Hitler's 1939 offensive. The vernacular even bleeds into merchandising. Ads for Nike's Pro Combat gear line show sinewy players under custom pads as if they were the chainmail of our day. Mendieta — a professional of actual combat — sees more subtle associations between the military and football.

"Football held it together for me. There was a lot of teamwork, a lot of camaraderie," he said. "It was really helpful." The discipline of the sport helped Mendieta stay focused on his studies in the field of international relations. School was new and exciting as he absorbed economics and posted about realist theory on his Facebook page. But Mendieta's savings from his two deployments dried up, and he needed an income to support himself through school. He hung up his cleats to work the night shift at UPS, a decision Mendieta says his privileged classmates likely won't face during their studies.

No longer part of the close-knit team, Mendieta's only social outlet melted away, and with it, interest and motivation in his schoolwork. He now struggles to maintain a crowded schedule on an average of four hours of sleep a night. Like Martell, Mendieta hasn't made any lasting friends. He stays on campus long enough to attend class, then he promptly leaves, walking past banners and posters carrying the school slogan: "Dare to be Different."
Again, the fact that he's served in the Army and been wounded in combat are factors in his isolation. But it's far from obvious that this is the main obstacle for a 28-year-old who's attending an expensive private school while working the night shift at UPS to pay his way through.
Universities have long been a place where young people develop an identity, or a purpose in life. Students load up on debt as they find out who they are and what they can achieve. But for older students with wartime experience, those lessons have already been learned amid a procession of struggle and sacrifice that's impossible to reproduce in a classroom. A personality molded in the crucible of war doesn't easily bend to the institutional tenets that universities push in glossy brochures. That leaves student veterans not only detached from other classmates, but from the schools their classmates take pride in attending.
Look, I'm sure that the rah-rah of some college campuses is lost on a grown ass man returning from war. But isn't that just as true for any non-traditional student? Almost by definition, someone who starts college at 28 is simply different from their cohorts who started at 18. They were probably already different coming out of high school in terms of academic aptitude, family structure, socioeconomic status, or some combination of factors. And they then spent several years working in jobs that were probably lousy and low-paying. That means they show up on campus with emotional scars and bitter experience rather than the stupid optimism of kids who don't know better.
Again, there's no doubt that factoring in "getting shot at" or "seeing my friends get blown up" complicates things. But most veterans don't have those experiences. And even most of those who do come away from it without any permanent damage.
Oddly, it turns out that the key to fitting in is . . . making an effort to fit in.
Lund figured out the formula for an easier time after the military: find a social group, stay active, and make friends, even if they're not veterans. That's also the advice Brian Hawthorne regularly gives out. An Iraq veteran and board member of Student Veterans of America, Hawthorne held down a job while finishing a graduate degree in political management at George Washington University. "I don't think a lot of veterans want the college experience, and use the age gap as an excuse not to participate. And I think that's a dangerous thing," he told me. "When parents send their 18 year-old off to college, they say to them, 'Try everything.' So why don't we tell veterans that?" Hawthorne probably didn't try everything, but he fell into a social circle at the international relations fraternity on campus, which helped him get over the sense of isolation he felt with civilian students.
I was an undergrad during Reagan administration, so most of the veterans I encountered on campus had never been shot at. Still, we had several students who did 3 or 4 years in the service and got out and went to school. We had a handful of them in my ROTC detachment. Others wanted nothing to do with military life again and just went to class. Others joined fraternities and tried to make up for lost time.
Universities may be logistically suited to helping veterans return to the civilian world. But the disconnected social experience and age discrepancies turn many veterans off from approaching school in that way. Universities are beginning to understand this growing issue as the veteran population on campus steadily rises. A psychologist dedicated to serving student veterans has an office at the University of Texas at Austin. Spaces and buildings exclusively for veterans, like the ones at Montana State University, provide room for study and decompression. Purdue University has put up grant money to help student veteran groups in Indiana fund support and resource centers. Student Veterans of America, a national network of 500 student-run groups, works with universities to expand services and encourages its members to leave the dorm and integrate with the rest of the campus.
Which probably makes sense for very young veterans who are still single. Then again, it makes just as much sense for other non-traditional students; I'm not sure what having previously worn a uniform has to do with anything.
Many people begin lifelong friendships at college, but Jason Mendieta may leave Redlands with an empty address book. It's doubtful Martell will break his quiet streak. Others may drop out all together: A recent study at Arizona State University suggests the power of social relationships directly impacts a veteran's decision to stay in school. Post-traumatic stress and multiple deployments are thought to unravel the ability of some to make it through to graduation. Without the right support, veterans may not only forgo the campus clubs and house parties but leave before they get their diplomas. They won't only squander taxpayer money, but an opportunity to recalibrate their professional and personal lives after their service.
It's criminal that we haven't done a better job of figuring out how to deal with post-traumatic stress and aren't providing maximum resources to the minority of veterans who suffer with it. We owe it to them.
Otherwise, though, veterans aren't necessarily special here. Again, people who don't go on to college right out of high school are a different breed of cat than those who did. Many didn't belong in college to begin with. For that matter, a huge chunk of those who do go to college right out of high school don't graduate and many of those who do don't make the most of it.
Having served honorably in the military—or even heroically under fire—doesn't mean that you're smart, gregarious, or studious. Being a veteran doesn't guarantee you smooth sailing the rest of your life.